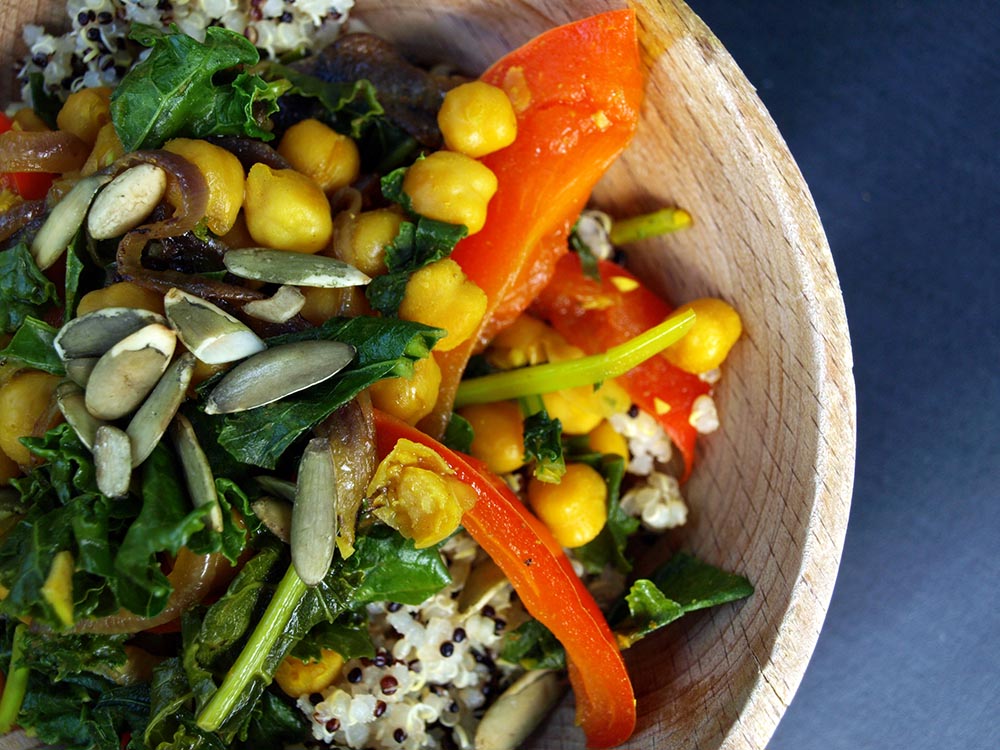 This week I was in the Mohave Desert in CA and in Baton Rouge, LA for work. I don't know about everyone else…but when I travel I end up eating.  A lot.  And not healthy foods.  I sure try…I pack instant oatmeal packets (not the gluey stuff–the good stuff brought to you by the folks at Better Oats), granola bars, and nuts.  I buy bananas to get me through the day.  But I always end up getting so hungry by the end of the day that I stuff my face at dinner.  Ugh.  Anyway, this meal was what I was craving when I came home from my trip this week…a perfect way to get back on track.  Quick and easy, flavor-packed, and so pretty I could cry.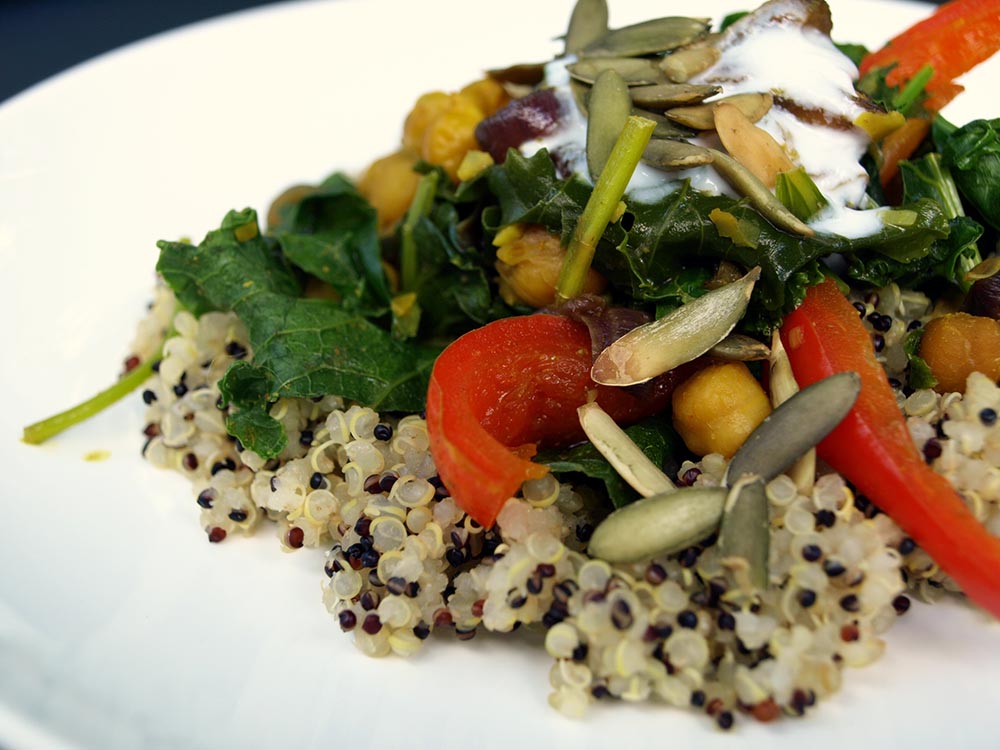 Chickpea and Greens Curry with Black and White Quinoa
1 tsp tumeric
1 and 1/2 cups canned or (cooked dried chickpeas), drained and rinsed
Sea salt
2 Tbsp coconut oil
1 small red onion, thinly sliced
1/2 large red bell pepper, sliced
3 cloves garlic, minced
2 tsp ground cumin
1 tsp ground coriander
1 tsp minced fresh ginger
4 cups bitter greens (I used kale and lambs quarters), cut into 1/2 inch ribbons
1/4 cup chopped herbs (cilantro works great if you have it)
3 cups cooked quinoa (I used 2/3 white and 1/3 black)
1/4 cup pumpkin seeds, toasted
In a small saucepan, bring 1 cup of water and tumeric to a boil.  Add chickpeas and a pinch of salt and simmer for 5 minutes.  Tuen off heat and set aside.
Heat oil in a large skillet over medium heat and cook onion, stirring until softened, about 4 minutes.  Add pepper, garlic, cumin, coriander, and ginger and cook, stirring, about 5 minutes more.  Stir in all the greens and chicpea mixture and cook until greens are just wilted.  Season with salt.  Remove from heat and mix in chopped herbs.
Divide quinoa among four bowls and top with vegetable curry and toasted seeds.