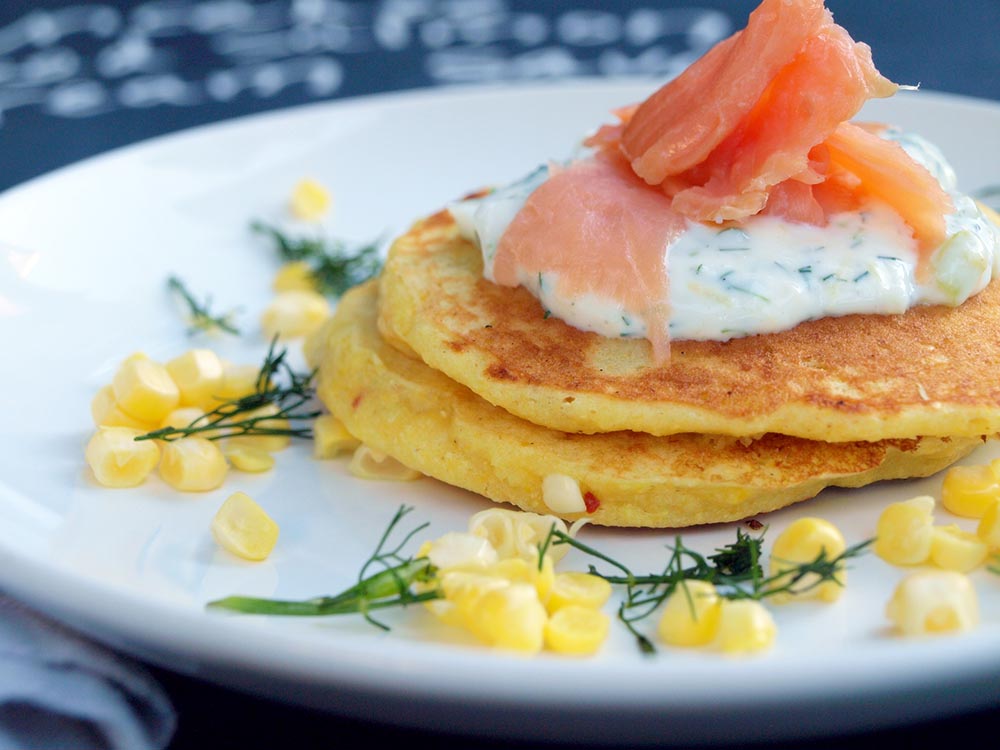 My friend, Richard, told me that dozens of people were lined up last Saturday morning in Grand Haven.  What were they lined up for?  Can you guess?  Dutch Love corn.  That's right, folks.  Corn season has arrived!  And I found the perfect corn…Hamm family farms at the Fulton Street Farmer's Market has great corn (along with pretty much everything else, from fava beans to okra to purple french beans to several varieties of basil…).  Even better, I found the perfect recipe to use my corn in.  This months issue featured corn cakes with a lemon chive sauce and smoked salmon.  I didn't have chives on hand so used dill instead with great results.  Walk…no, run to your farmers market, pick up some Dutch Love corn, and make this dish.
This dish is great savory but if you want something sweet, omit the red pepper and serve the corn cakes with maple syrup.  They may be even better that way….!  I should know…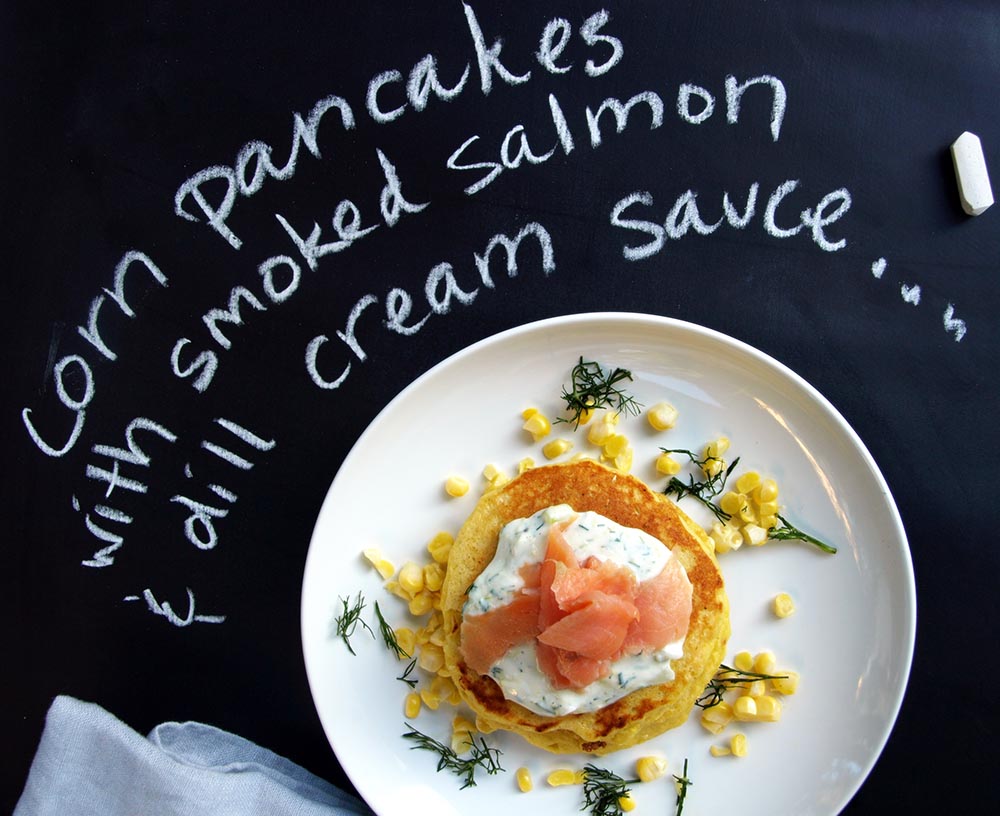 Corn Cakes with Lemon-Dill Sauce and Smoked Salmon adapted from Cooking Light August 2012
1/4 cup light sour cream
2 tablespoons chopped fresh dill
1 teaspoon grated fresh lemon rind
2 1/4 ounces all-purpose flour (about 1/2 cup)
1/2 cup yellow cornmeal
1 teaspoon sugar
1/4 teaspoon baking soda
1/4 teaspoon kosher salt
1/8 teaspoon ground red pepper
1 1/4 cups fresh corn kernels, divided (about 3 ears)
2/3 cup low-fat buttermilk
3 tablespoons butter, melted
1  large egg
12  thin slices cold-smoked salmon (about 6 ounces)
1. Combine first 3 ingredients in a small bowl; chill.
2. Weigh or lightly spoon flour into a dry measuring cup; level with a knife. Combine flour and next 5 ingredients (through pepper) in a medium bowl. Combine 1 cup corn kernels, buttermilk, butter, and egg in a blender; process until coarsely pureed. Add pureed corn mixture to flour mixture, stirring until just combined. Fold in remaining 1/4 cup corn.
3. Pour about 2 tablespoons batter per pancake onto a hot nonstick griddle or nonstick skillet; spread gently with a spatula. Cook 3 minutes or until tops are covered with bubbles and edges look cooked. Carefully turn pancakes over; cook 3 minutes or until bottoms are lightly browned. Arrange 2 pancakes on each of 6 plates; top each pancake with 1 slice salmon and 1 teaspoon lemon-chive cream. Serve immediately.