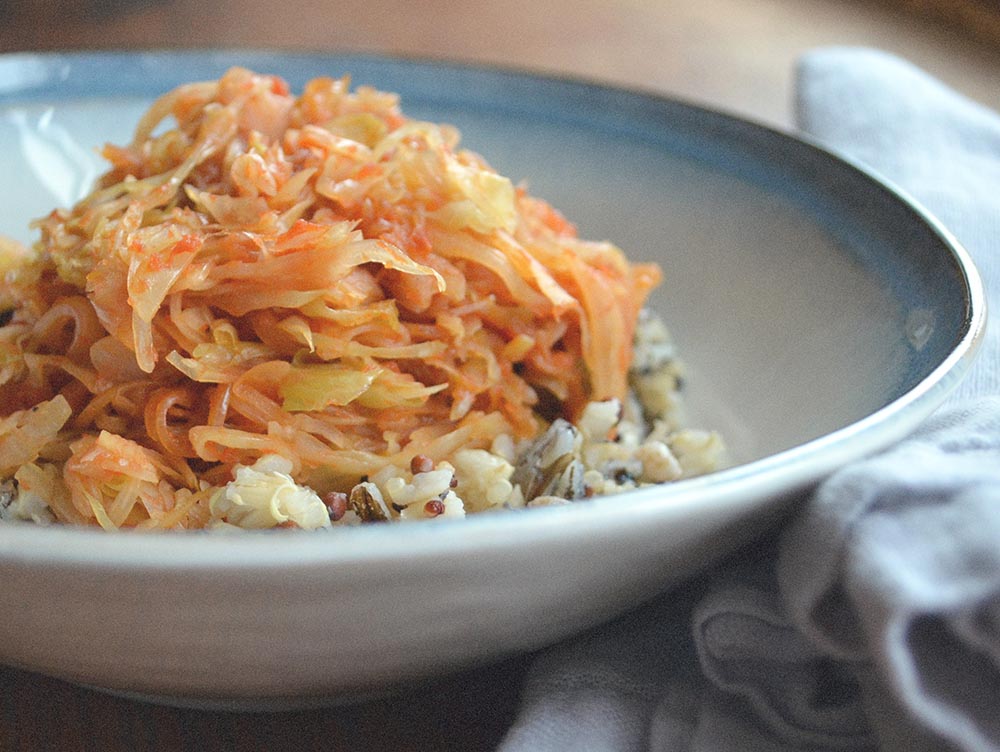 At the risk of being totally unoriginal, I am going to share a Martha Stewart recipe because it is my absolutely favorite way to eat cabbage.  I think I ate this for three days straight a couple of weeks ago and I could have kept on going but alas, the head of cabbage had to meet it's end.
This was one of my go-to detox dishes and a surefire way to convince anyone to enjoy cabbage.  I served mine over my grain blend (with short-grained brown rice, farro, quinoa, and radish seeds).  Note that Martha's recipe lists ginger as optional.  It is a must, in my opinion!
Keep this recipe in your back pocket for when you 'get back on track' in January.  Light and healthy, yet warming.  Great as a main dish or side–I'm planning on serving these with some perogies on the day after Christmas.  Mmmmm.
Shredded Sauteed Cabbage; from Martha Stewart
4 1/2 teaspoons vegetable oil
 1 medium onion, sliced
 1 tomato, chopped
 1 inch of fresh ginger, peeled and minced (optional)
 1/4 teaspoon crushed red-pepper flakes
 1 small head of green cabbage, cored and thinly sliced (about 10 cups)
 1 1/2 teaspoons coarse salt, plus more for serving
 Heat a 14-inch skillet over medium-high heat, and then add the oil and onion. Saute to soften the onion slightly, about 2 minutes. Stir in the tomato, ginger if using, and red-pepper flakes. Cook for an additional 2 minutes.
Add the cabbage and 1 1/2 teaspoons salt. Stir to combine. Cover, and reduce the heat to medium low. Cook, stirring occasionally as the cabbage begins to collapse. Add a little water, 2 tablespoons at a time, as needed if the cabbage becomes too dry. (This depends on the moisture level of the cabbage. You don't want it too wet.) Cook for approximately 13 minutes, or until the cabbage is just tender. Salt to taste and serve.