Have you guys heard of Bryant Terry?  If you haven't, I'm thrilled to introduce you.  Although his Vegan Soul Kitchen cookbook is vegan (obviously), this wonderful chef belongs in any kitchen.  He offers "Fresh, Healthy, and Creative African-American Cuisine" in this particular book along with a soundtrack for each recipe–how cool is that?  I love this book because not only are the recipes solid, his family stories are great and you get a big dose of culture as you cook.
The first recipe I tried was this Sweet Potato Puree With Coconut Milk. I am pretty daring so I decided to take a gamble the first time trying it and made a double batch for a huge potluck party.  I felt a little sheepish bringing in a big bowl of what looked like mashed sweet potatoes but that feeling soon disappeared when I had people seeking me out for the recipe.  In two months time this recipe has entered the "well loved" recipe pile and has made it to a few events.  This week, it will find itself onto another holiday table for Christmas–methinks it will become a tradition.
Somewhere in the process of this recipe, something magical happens.  It may be the extra step of roasting the sweet potatoes, or the agave sweetener (which I love), or the creaminess from one of my pantry favorites, coconut milk.  But I don't want to know what does it–this dish is perfectly delicious.  So close your eyes and enjoy!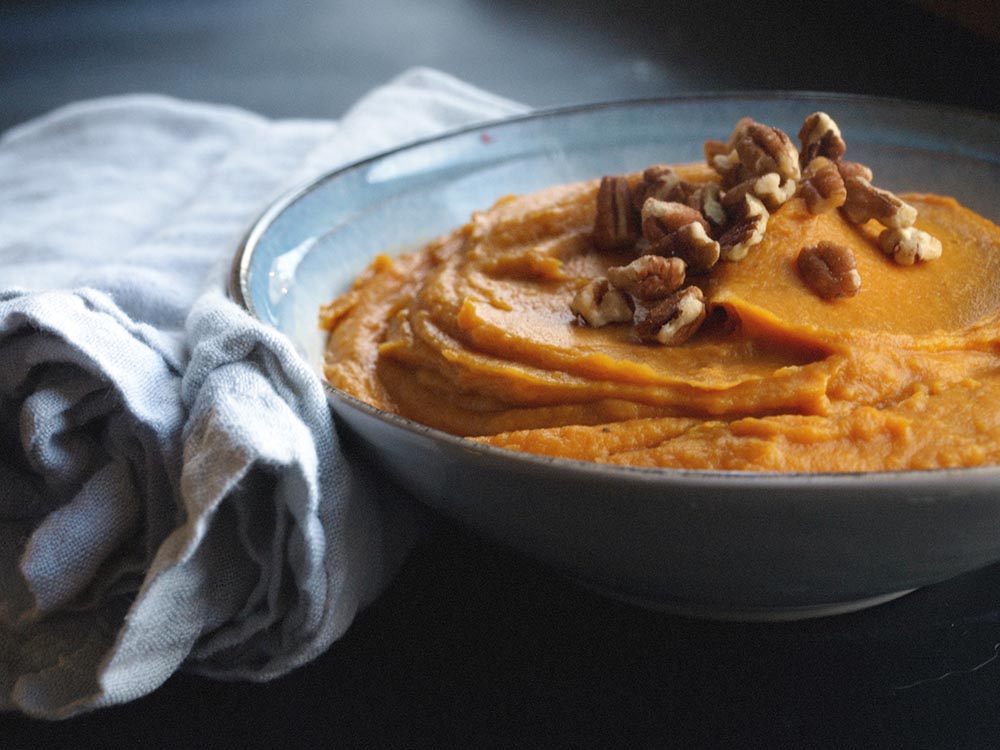 Roasted Sweet Potato Puree with Coconut Milk; adapted from Bryant Terry's Vegan Soul Kitchen
4 pounds sweet potatoes, peeled and cut into 1-inch chunks
4 tablespoons agave nectar
4 tablespoons coconut oil
1/2 teaspoon coarse sea salt
1 can coconut milk, warmed (use the full fat version for best results)
A few tablespoons of chopped pecans to serve (optional)
Preheat oven to 400°F.
In a large bowl, combine the sweet potatoes, agave nectar, coconut oil, and sea salt.  Toss well.
Transfer the sweet potatoes to a parchment-lined baking dish or roasting pan and roast for 40 minutes, stirring every 10 minutes.
Remove from oven.
In a food processor fitted with a metal blade, combine the sweet potatoes with warmed coconut milk.  Puree, adding a little hot water if needed (my sweet potatoes were dry and needed a little bit more liquid) and transfer to a serving dish.  Top with some pecans if using.