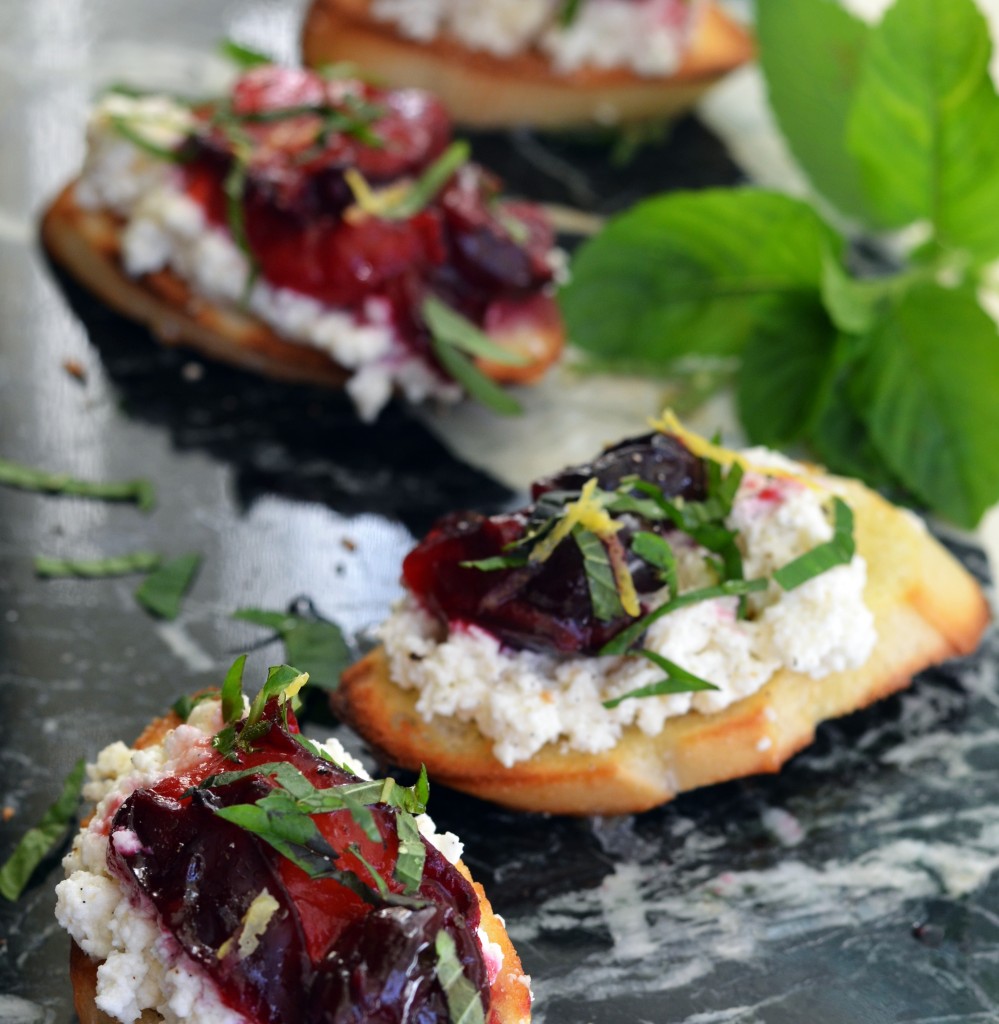 Oh be still my heart!  We are in the midst of Michigan fruit season, my favorite food season of them all.  Strawberries just exited the farmer's market stage left.  That is, other than in the Upper Peninsula, where the U-Pick strawberry season at Ostanek's Strawberry Farm just started on July 4.  Call 906-446-3050 to hear a detailed voice message from the owner regarding the status of strawberries – updated at 8:30 pm each day…a lovely personal touch that makes me think fondly of the U.P.  Here in downstate Michigan, blueberries are in full swing and the cherries are in their last week.  This recipe makes good use of cherries in a very crowd pleasing way in the form of an appetizer.  It went over well at our annual potluck with friends at Portage Lake this weekend.
If you are looking for more recipes on how to use up your cherries, check out Cooking Light's list of cherry recipes here.
Try these toasts with peaches or pears when in season.  Or try them savory with salted ricotta, cherry tomatoes, and basil.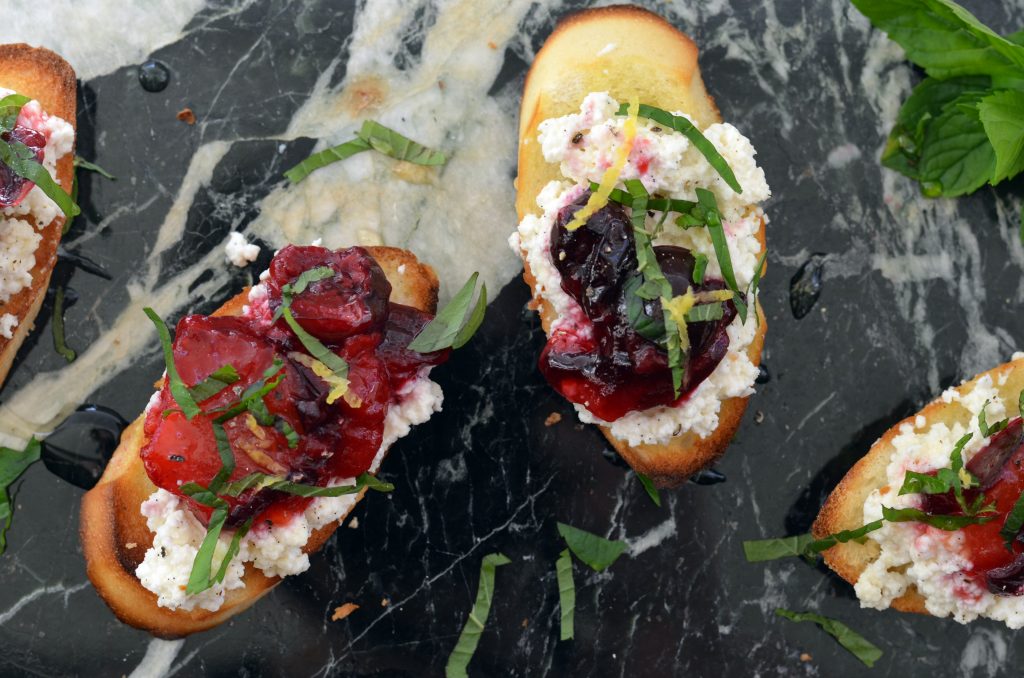 Honeyed Ricotta Toasts With Cherry Plum Compote
Ingredients
1/2 gallon whole or 2% milk
dash of salt
Juice of 1 lemon
1 and 1/2 tablespoons of honey
Seeds from 1/2 vanilla pod
About 20 cherries
1 plum
5 or 6 mint leaves, shredded finely
1 tsp lemon zest, optional
Honey for serving
Instructions
To Make Ricotta:

Heat milk and salt on medium in a thick bottomed saucepan until it gets to a just-boiling state. Stir frequently to avoid burning the milk on the bottom of the pan. Once the milk begins to bubble slightly, remove from heat. Add lemon juice; stir gently until mixture starts to curdle. Let stand 5 minutes.
Pour mixture into a colander lined with 2 layers of cheesecloth. Let drain for 5 minutes.
If you want thicker ricotta, simply allow to drain longer. The longer you drain, the more dense it will be.
Scrape inside of half of a vanilla bean into ricotta. Stir honey into ricotta. Set aside.
You can make ricotta ahead. Just cover and chill up to 3 days.

To Make Compote:

Pit cherries and slice in half. Slice plums thinly into half moons.
Heat nonstick skillet on medium-high and add cherries and plums to pan. Cook for a few minutes, stirring frequently, until the cherries and plums are caramelized slightly. Remove from heat.

To Assemble Toasts:

Cut baguette into 1/2 inch slices on the bias and grill or toast lightly.
Spread 1-2 tablespoons of ricotta onto each toast.
Top with 1 tablespoon of cherry-plum compote.
Top with a sprinkle of shredded mint leaves and lemon zest (optional).
Drizzle with honey and serve.
https://honeycreekkitchen.com/honeyed-ricotta-toasts-with-cherry-plum-compote/
Copyright www.dinnerwithaura.com