Wowee–already week 13 of the Food Matters Project!  This week we made Roasted Asparagus and White Bean Soup, chosen by Adrienne from Adrienne Eats.  I made mine two ways–chunky and pureed.  Click here to see what the other members of the project made!
After a week spent away on a business trip, it was fantastic to come home in time for the weekend to get back into my normal swing of things.  There is something very calming and reassuring about the weekly FMP recipe.  I know that no matter what else is going on, I am going to take part of my weekend to make something new.  What a great thing to add to my routine.  This soup was simple yet elegant, and captured two of my favorite things about spring:  leeks and asparagus.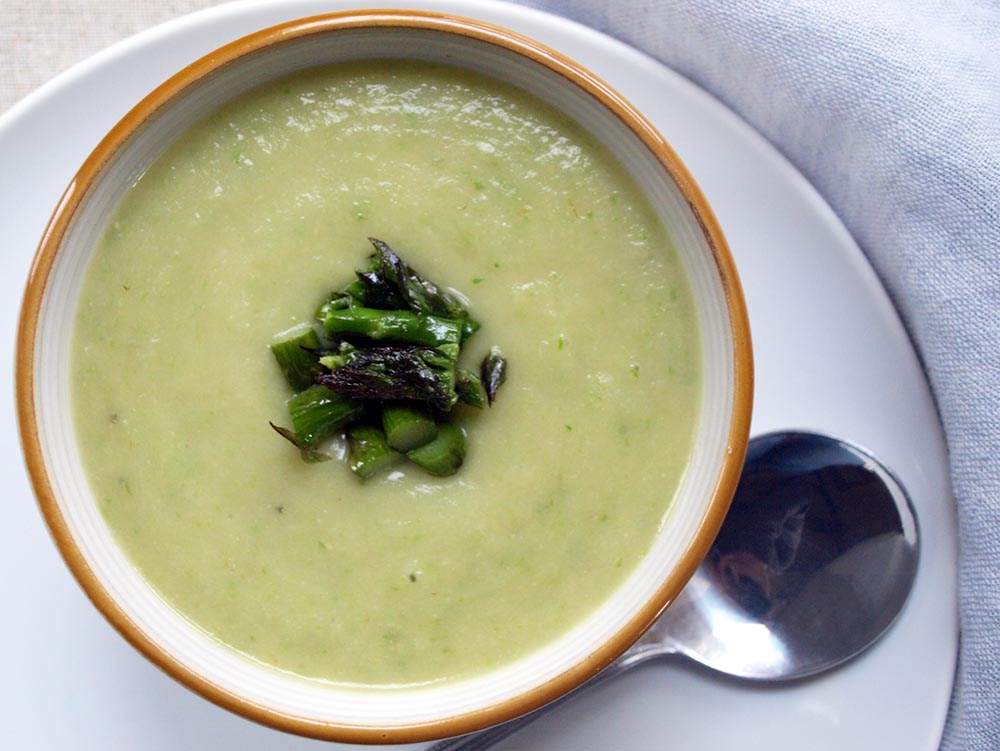 This soup combines the creaminess of white beans and potatoes with the brightness of asparagus and leeks.  Bittman offers up a couple of suggestions for the final makeup of the dish–chunky or pureed.  I decided to make it two ways, one with the soup slightly mashed for creaminess but the asparagus intact and one with the soup pureed completely.  I loved both and may have even enjoyed the pureed soup better but my dining companion declared the pureed soup to be a bit too "baby-foody" for his taste.  To each his own, I guess!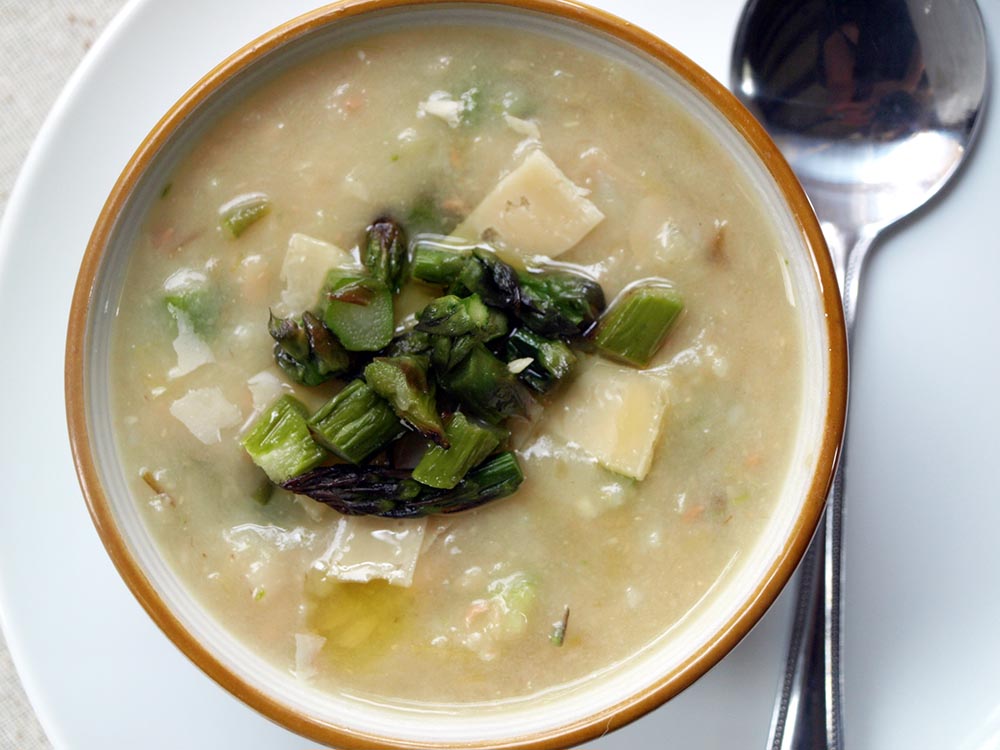 One thing to keep in mind with the preparation of this dish is to wash the leeks thoroughly.  This won't be as big of an issue if you are using wild leeks but this (now) city girl had to buy a gigantic leek from the grocery store and clean it well.  The best way I have found to clean leeks is to slice the white and light green part thinly and plunge in a bowl of cold water, swishing and then draining several times.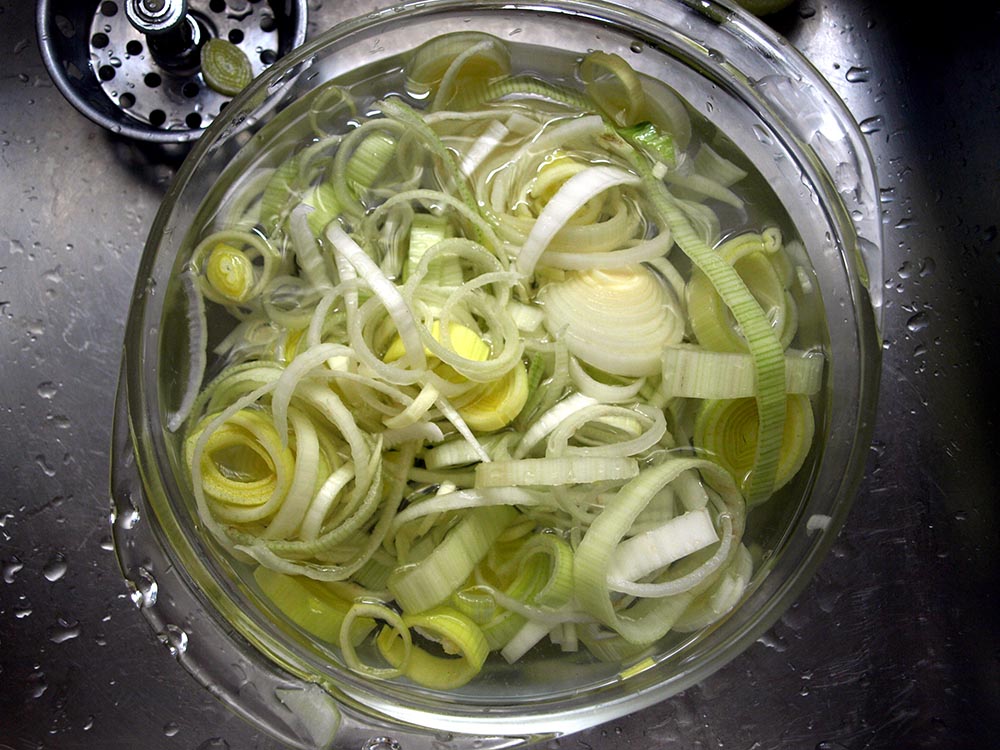 As a finishing touch, I chopped up a few asparagus spears and used them as garnish.
Roasted asparagus and white bean soup
Recipe from The Food Matters Cookbook by Mark Bittman
4 tbsp olive oil, plus more for garnish
2 leeks, well-rinsed and thinly sliced
1 tbsp minced garlic
1 tbsp chopped rosemary, or 1 tsp dried
salt and pepper
2 baking potatoes, peeled and chopped
3 c cooked or canned white beans, drained, liquid reserved
6 cups vegetable or chicken stock, bean cooking liquid, or water, plus more as needed
about 1.5 lb of asparagus, peeled if thick
One 2-oz piece Parmesan cheese
Makes 4 servings
Heat oven to 450. Put 2 tbsp of oil in a large pot or Dutch oven over medium-high heat. When it's hot, add the leeks and cook, stirring occasionally, until softened a bit and beginning to color, 3 to 5 minutes. Add the garlic and rosemary and cook for another minute. Sprinkle with salt and pepper, add 1/2 cup of the broth, and stir to loosen the bits of vegetable that have stuck to the bottom of the pan.
Add the potatoes, about half the beans, and the stock. Bring to a boil, the lower the heat so that the mixture bubbles steadily. Cover partially and cook, stirring infrequently, until the potatoes are disintegrating, 20 to 30 minutes; add more liquid as necessary so the mixture remains soupy.
Meanwhile (or ahead of time), put the asparagus in a shallow roasting pan, drizzle with the remaining 2 tbsp oil, and sprinkle with salt. Roast, turning the spears once or twice, just until the thick part of the stalks can be pierced with a knife, 10 to 15 minutes. Remove from oven to cool a bit. Meanwhile, use a vegetable peeler to shave slices from the piece of cheese.
When the soup is ready, mash the potatoes and beans a bit. Chop the asparagus and add it to the pot along with the remaining beans to warm through. Taste and adjust the seasoning. Serve each bowl with some shaved cheese on top.
Pureed Asparagus and White Bean Soup: After you add the chopped roasted asparagus in Step 4, carefully puree the soup in batches in a food processor or blender or with an immersion blender; or simply mash with a potato masher. If you prefer, puree only the beans and broth and add the chopped asparagus before serving.