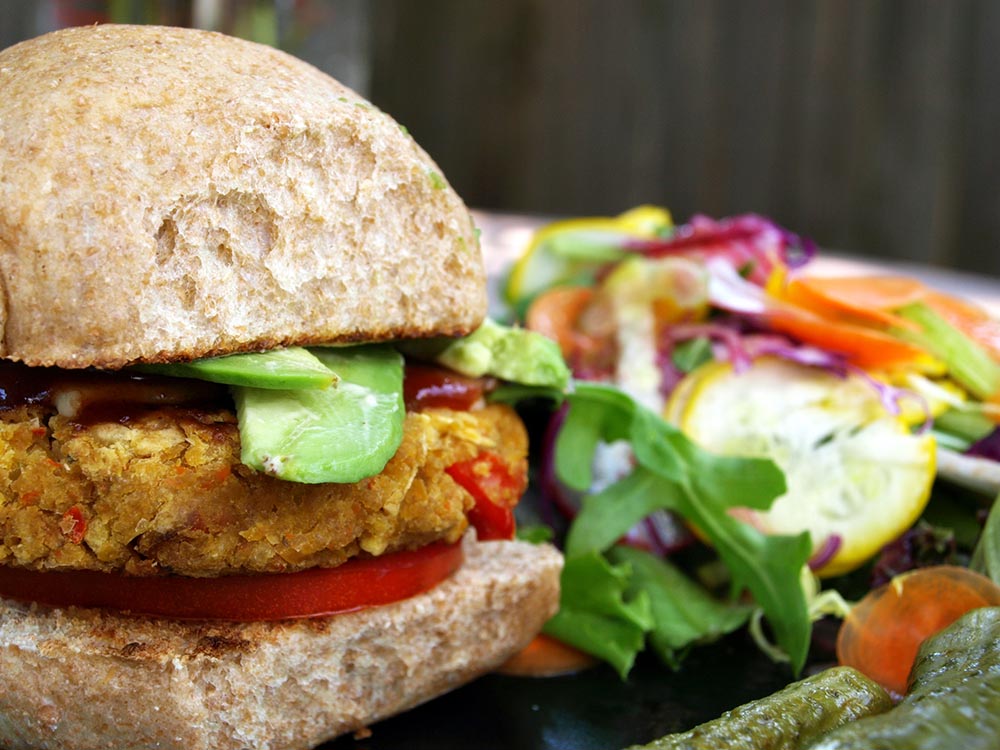 With so many variations on homemade veggie burgers, I wonder how I ever used to make a place for processed Morningstar veggie burgers in my diet!  This chickpea burger recipe is something I whipped up to tackle an overabundance of chickpeas that I had cooked up.  Glad I did–not only was this recipe incredibly easy, but it was tasty and healthy to boot.  Feel free to add spices, change up the veggies based on what you have in the fridge, and top with whatever you want!  Make it easy and have fun introducing a real veggie burger into your rotation.
Chickpea Burgers
1 tablespoon ground cumin
2 teaspoons canola oil
1/2 cup onion, diced
3 cloves garlic, minced
1 carrot, diced finely
1/2 red bell pepper, diced finely
1 15-ounce can chickpeas, rinsed or the same amount of cooked chickpeas
1 egg
1/2 cup panko bread crumbs
1/2 teaspoon salt
1/4 teaspoon freshly ground pepper
4 whole wheat buns
Mixed greens or lettuce
4 slices tomato
Thinly sliced onion
Avocado, thinly sliced
Whole grain mustard
Barbecue sauce
Heat oil in frying pan and add cumin.  Toast for 30 seconds or so, until cumin is fragrant.  Add garlic, onion, bell pepper, and carrot and cook 5-6 minutes until beginning to soften.
Place 3/4 of the chickpeas in a food processor with 1/2 of the vegetable mixture, 1 egg, and panko bread crumbs.  Blend until smooth.  Smash remaining chickpeas in a bowl.  Add remaining chickpeas and sauteed vegetables to the puree and mix.
Heat oil in a pan over medium heat.  Form patties from the chickpea mix and place on pan.  Cook for about 4 minutes on each side until browned and cooked through.
Place on whole wheat buns and top with onion, lettuce, tomato, avocado, mustard, and barbecue sauce.  Mmmmm!