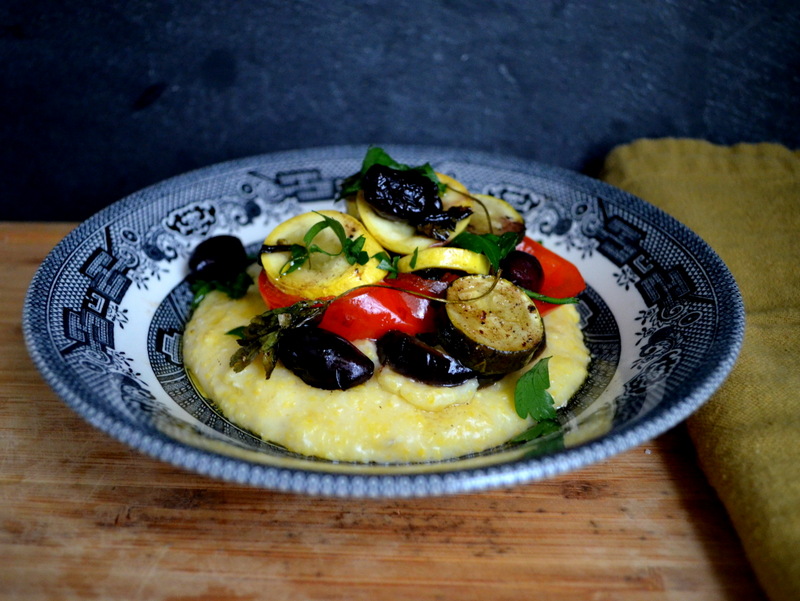 This was a stand-up meal.  Let me explain…sure it's nice to have a "sit-down dinner."  But a stand-up meal can be even better.  Sometimes I have every intention of sitting down to eat but take a first bite and forget about everything else.  I just stand in the kitchen at the counter and eat until it's gone.  This was that kind of a meal.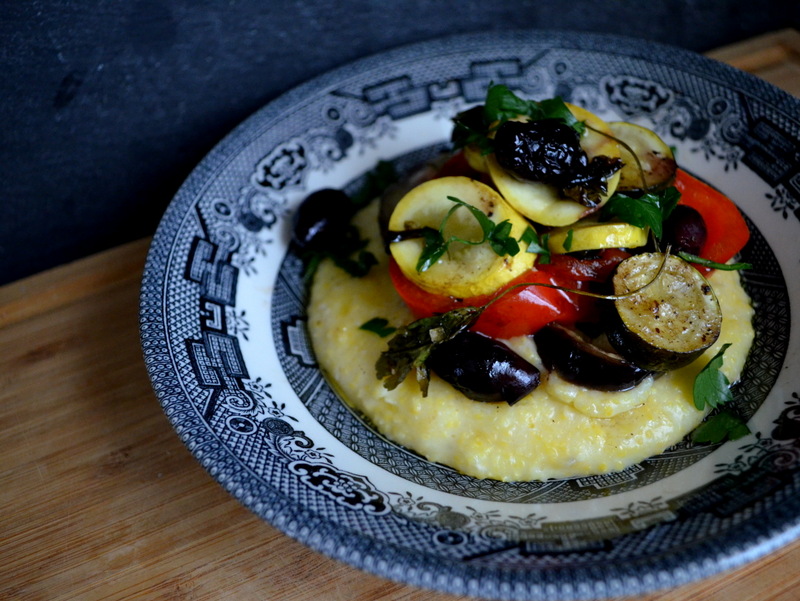 I must admit, I had low expectations going into this.  The last time I cooked a meal en papillote (meaning to bake ingredients wrapped in a foil or parchment paper pouch) I made a beautiful arrangement of light and bright vegetables, drizzled them with olive oil, lemon, and parsley, and topped with rainbow trout.  Sounds great, right?  Well, it turns out that this girl does not…I repeat, does NOT like trout.  And even after I decided to push the trout to the side of my plate, I found the beautiful veggies to be too trouty for my tastes.  Beautiful idea, bad execution.
This week, my friend Nancy (hi, Nancy!!!) from Texas, proud contributor to the fun and funky food blog, Funkytown Foodies, chose Provencal Vegetables and Chicken in Packages for the Food Matters Project recipe.  I almost thought about skipping it or even concocting something with similar ingredients but in a different format.  I'm so glad I didn't!!  I know a lot of you would say that this looks good…if only it had meat.  Well, you are in luck!  This dish is really easy to make with chicken or fish.  To see how Nancy, did it, head over to her blog for the instructions.
Cooking "en papillote" is basically just baking ingredients in a pouch, usually made of folded parchment paper.  You can buy parchment pouches if you'd like (they are way overpriced, though, in my opinion) or just take two sheets of parchment paper and crimp the edges.  That's it!  Cooking this way is very easy and the cleanup is the best part (hint:  there is no pan cleanup!).  This is a great way to cook just veggies or veggies with chicken or fish.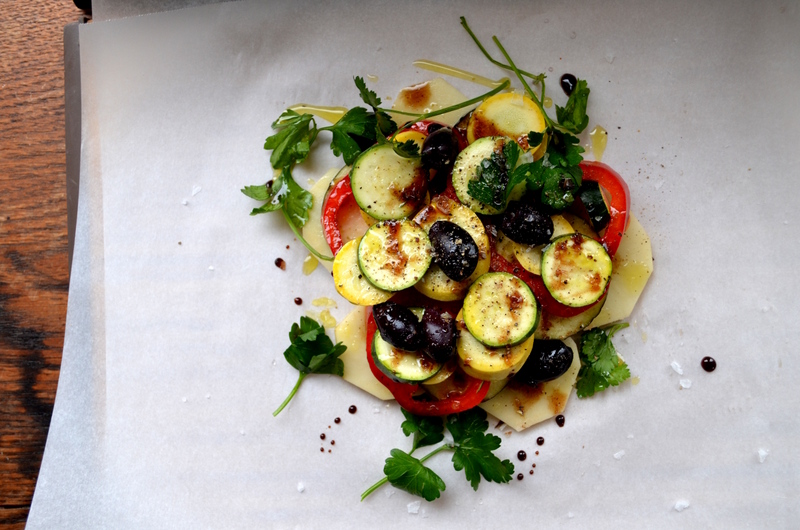 I devised a vegetarian version, using Provençal vegetables (zucchini, summer squash, potato, eggplant, red bell pepper, onion, and Kalamata olives ended up in mine), drizzled with some olive oil, a touch of balsamic glaze, pepper, sea salt, and some parsley.  Once the pouch was crimped, I stuck it on a cookie sheet in the oven for 35 minutes and the result was marvelous…it exceeded my expectations.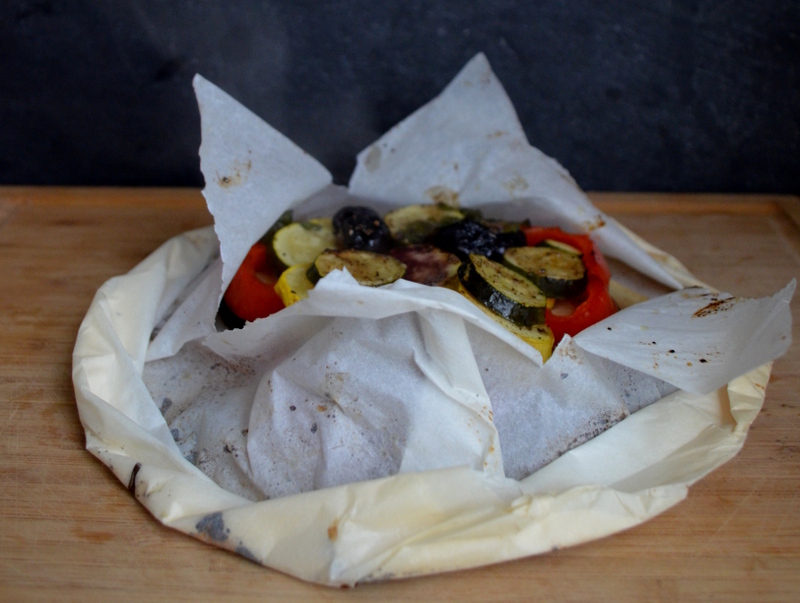 I decided to serve mine on top of creamy polenta.  The combination was crazy delicious.  I barely got through taking photos before digging in.  One of the most pleasant surprises was that the potato slices, which I had placed on the bottom, got browned and flavorful.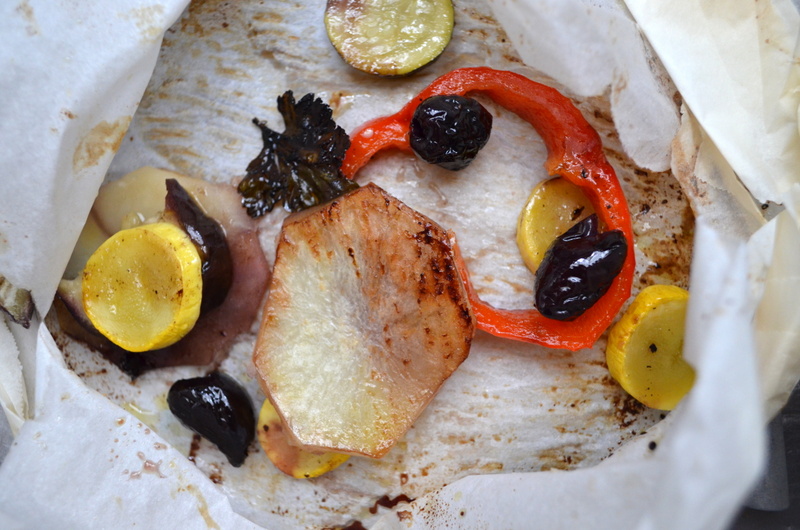 This is a dish that will be made time and time again!  Guaranteed.  I hope you enjoy it as much as I do!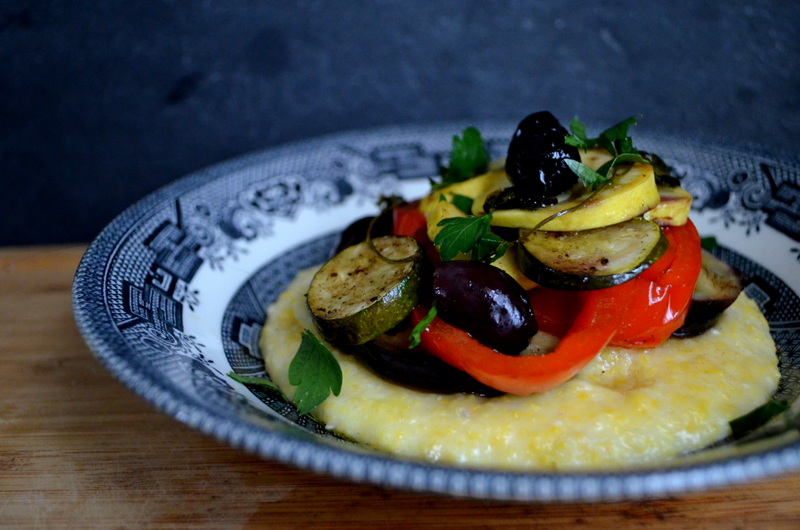 Provencal Vegetables En Papillote with Creamy Polenta; Serves 4
For the vegetables:
1 red bell pepper, cored and sliced into 1/4 inch thick rounds
1 baby zucchini squash, sliced into 1/4 inch thick rounds
1 summer squash, sliced into 1/4 inch thick rounds
1 baby eggplant, sliced into 1/4 inch thick rounds (I recommend salting the slices, letting sit for 20 minutes, then rinsing and dabbing dry.  This reduces the bitterness)
1 russet potato, peeled and cut into 1/4 inch thick rounds
1 small onion, sliced into 1/4 inch thick rounds
1 clove of garlic, minced
10-15 kalamata olives, pitted
2 Tbsp olive oil
1 Tbsp balsamic glaze (or just a little splash of balsamic vinegar will do)
1 Tbsp fresh parsley leaves (I left the leaves whole)
Generous pinch of flaky sea salt
Generous sprinkling of ground pepper
Heat oven to 375°.  For this amount of veggies, I make two pouches.  Tear 4 pieces of parchment paper (about 14″ x 14″ for each piece).  Arrange once piece onto a cookie sheet and stack your veggies, olives, and garlic onto the paper.  Drizzle with olive oil and balsamic and season with parsley, salt, and pepper.
Once all the veggies are stacked nicely on the paper, add another sheet of paper to the top of the veggie stack.  Taking the bottom piece of paper and the top piece of paper together on one edge, begin crimping around the stack until you have a completely enclosed pouch that looks like a round pasty (yoopers, you know what I am talking about!).  Do the same for the second pouch.
Place the pouches on a cookie sheet and bake for 35 minutes.  In the meantime, make the polenta (see recipe below).
Pull out of the oven and let sit for a moment.  For a dramatic presentation, have everyone's bowls ready to go with polenta and cut these pouches open on the middle of the table.  Steam and the fragrance of these veggies will pour out.  Your guests will be delighted!  Top the polenta with some veggies and a drizzle of olive oil.  You can add some fresh grated parmesan to the top if you like.  Sprinkle with some fresh herbs and enjoy!
For the polenta:
4 cups water

Salt to taste
1 cup medium-grain yellow polenta
3 tablespoons butter
1/2 cup parmesan cheese, grated
pepper to taste
Heat water to a boil over high heat.  Have a whisk ready and quickly whisk in the polenta.  Whisk for a moment to discourage clumping.

Lower heat to a simmer, add the butter, a large pinch of salt, and a small pinch of pepper.
Cook on low heat, stirring occasionally, for 25 to 30 minutes.
Taste the polenta and add salt or pepper to your preference.  Stir in the parmesan cheese.