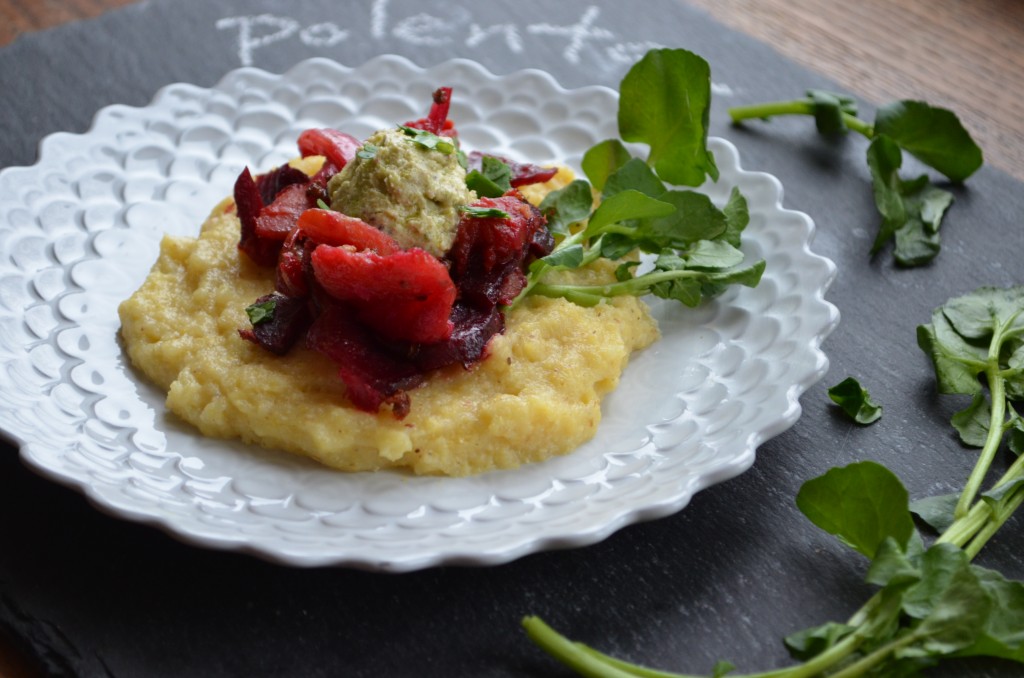 Alright, the secret's out.  I love polenta.  I'll take a big gob of polenta any day over a bed of pasta or rice.  And so many dishes taste fantastic spooned over polenta that it is hard to go wrong.  Some of  my favorite ways to eat polenta are:  with marinara and goat cheese, with roasted vegetables, with Provencal vegetables en papillote, with fried eggs and spinach, with fried eggs and avocado, with a tomato-vegetable stew…the list goes on.  Polenta is also gluten-free.  And really beautiful, if you ask me.  It makes for a quick meal that is impressive enough to serve for guests.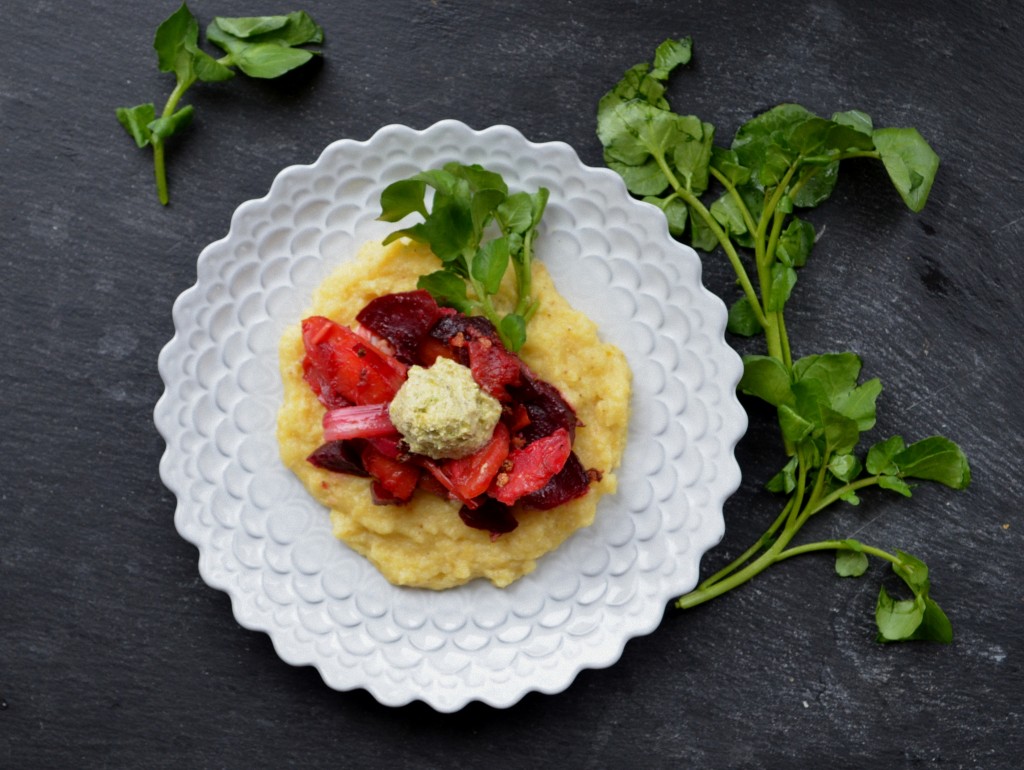 The recipe I'm adding to my polenta-files today is Parmesan polenta with Roasted Root Vegetables and Pistachio Goat Cheese.  This is a simple meal to make but the results are creamy, filling, and decadent.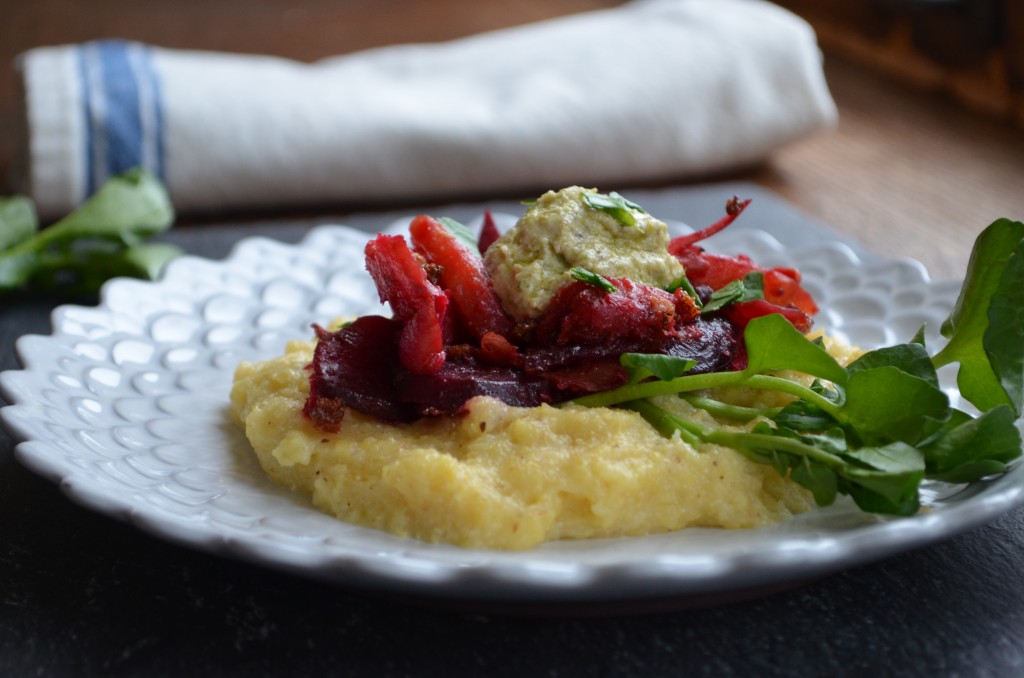 Parmesan Polenta with Honey-Roasted Root Vegetables and Pistachio Goat Cheese
Serves 4
For the root veggies:
1 large beet

2 carrots
1 parsnip
1/2 celery root
1 leek, white part only, sliced 1/4 of an inch thick
2 tablespoons honey
2 tablespoons olive oil
generous pinch of sea salt
Heat oven to 400°.  Put veggies in a covered baking dish and drizzle with olive oil, honey, and a generous pinch of salt.  Bake for 30 minutes and test for doneness.  The veggies should be silky but still hold their shape.  Pop back in the oven for 10 minutes if the veggies need more time.
For the polenta:
4 cups water
Salt to taste
1 cup medium-grain yellow polenta
3 tablespoons butter
1/2 cup Parmesan cheese, grated
pepper to taste
Heat water to a boil over high heat.  Have a whisk ready and quickly whisk in the polenta.  Whisk for a moment to discourage clumping.
Lower heat to a simmer, add the butter, a large pinch of salt, and a small pinch of pepper.
Cook on low heat, stirring occasionally, for 25 to 30 minutes.
Taste the polenta and add salt or pepper to your preference.  Stir in the Parmesan cheese.
For the pistachio goat cheese:
Olive oil
6 ounces fresh goat cheese
1 cup shelled pistachios
Pepper
Salt
Combine the goat cheese and pistachios in a food processor. Sprinkle with salt and pepper and, with the machine running, drizzle in 2 tablespoons of olive oil. If the mixture doesn't come together, add more oil until the filling is smooth and fluffy. Taste and adjust the salt and pepper if needed.

Transfer the goat cheese mixture to a pastry bag or a zip-lock bag with the corner cut off (or you can just use a teaspoon for this). Squeeze or spoon dabs of the filling onto the roasted root veggies.