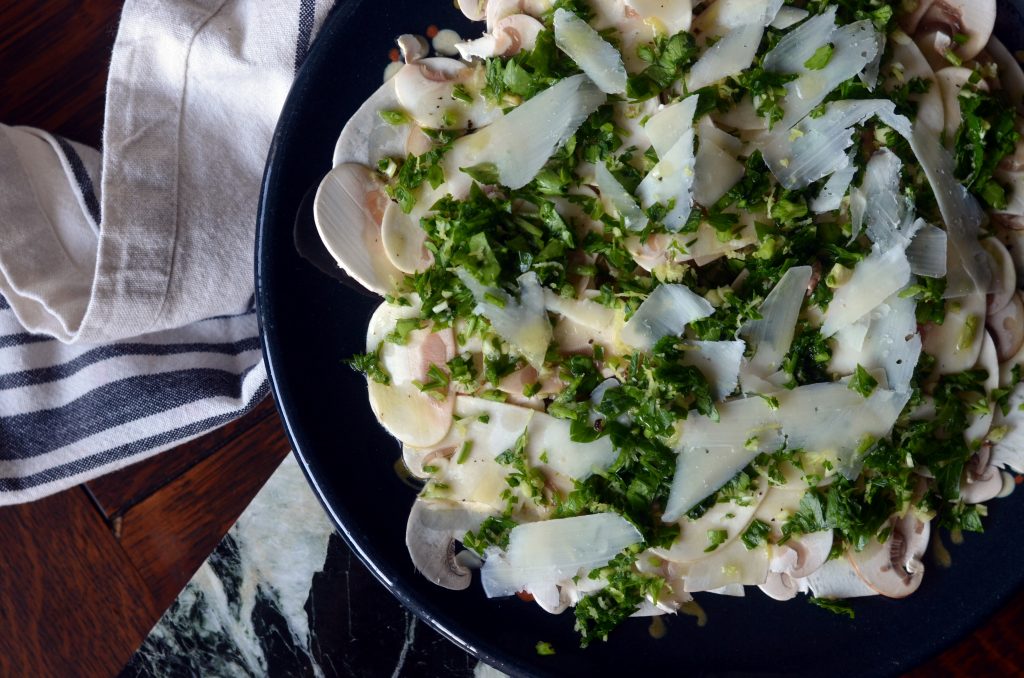 December is right around the corner and we've had our first taste of snow.  Mornings are covered in frost crystals and I know Jack Frost will make a visit to us soon.  My little herb garden has seen better days so today I decided to harvest all of the parsley and put it to good use.  This salad was the perfect way to use it up.  Cooking Light aptly calls this salad "the perfect antidote to the winter blues."  And served with Cooking Light's Ribollita, it was a perfect meal on a cold wintry night.
Now, I've never been a fan of raw mushrooms.  I normally encounter raw mushrooms as afterthoughts in lackluster side salads with cheddar cheese, croutons, and a cherry tomato or two.  They just don't do anything for me.  But the image of this salad was so pretty that my eyes convinced me to try it out.  I love when food surprises me and this salad did just that.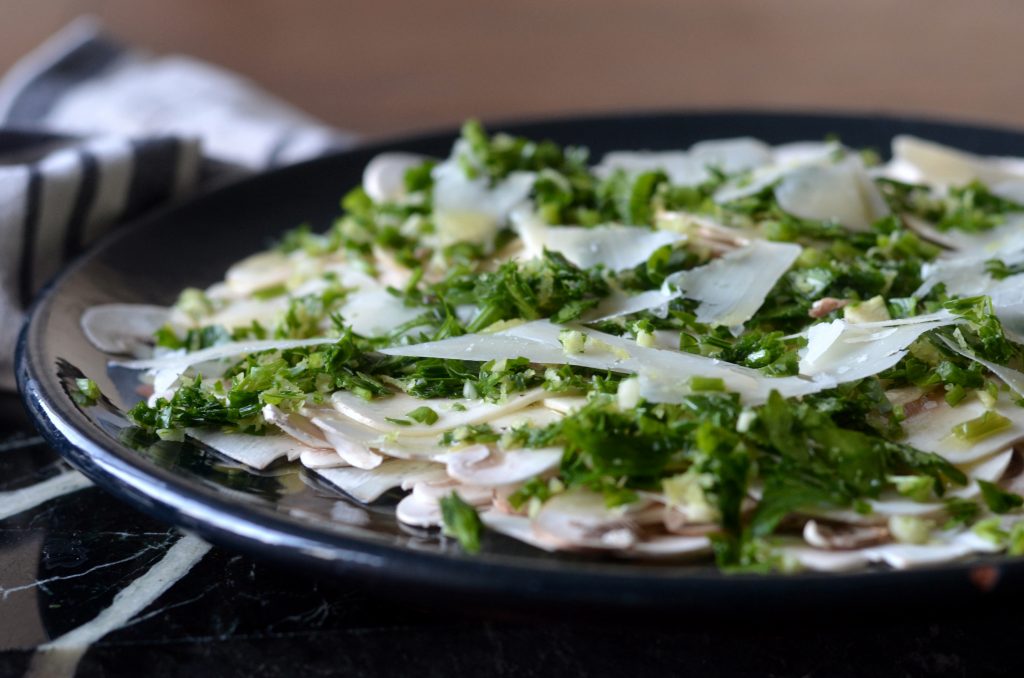 I used my mandoline slicer to make the very thin cuts of white button and cremini (baby bella) mushrooms.  You can use a knife if you don't have a mandoline slicer but have a sharp knife and good knife skills.  Use a vegetable peeler, cheese shaver, or mandoline slicer to make the wispy thin parmesan cheese shavings.
Cozy up, and enjoy!
Mushroom Carpaccio With Gremolata and Shaved Parmigiano; A Cooking Light Recipe
Ingredients
3 large button mushrooms, about 2 1/2 to 3 inches in diameter (sometimes called "stuffers")
3 cremini mushrooms, about 2 1/2 to 3 inches in diameter
1 cup fresh flat-leaf parsley leaves, finely chopped
1 tablespoon grated lemon rind
2 garlic cloves, minced
3 tablespoons fresh lemon juice
1/4 teaspoon kosher salt
1/4 teaspoon coarsely ground white pepper, plus more for garnish
3 tablespoons extra-virgin olive oil
2 tablespoons shaved Parmigiano-Reggiano cheese
Instructions
Gently wash and dry mushrooms. Trim the very bottom ends of mushrooms, leaving stems intact. Cut mushrooms vertically into very thin slices; arrange on a platter so they overlap slightly.
Combine parsley, rind, and garlic in a bowl.
Combine juice, salt, and pepper in a bowl.
Gradually add oil to juice mixture, stirring constantly with a whisk.
Drizzle juice mixture evenly over mushrooms; sprinkle with parsley mixture and cheese.
Let stand at room temperature for at least 15 minutes before serving.
https://honeycreekkitchen.com/mushroom-carpaccio-with-gremolata-and-shaved-parmigiano/
Copyright www.dinnerwithaura.com