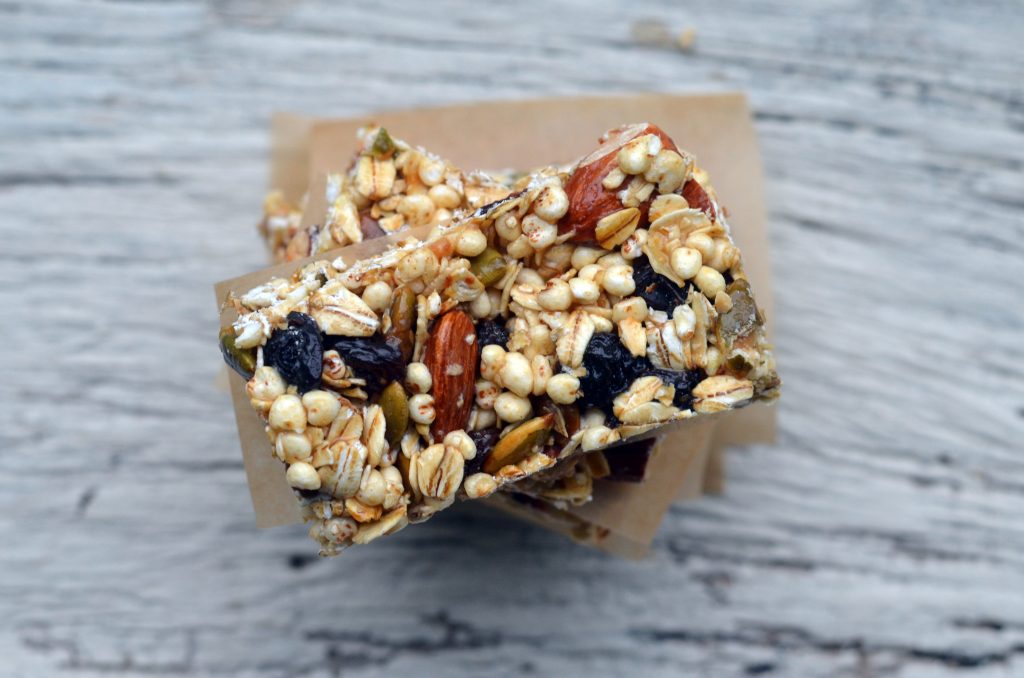 When I was pregnant and shortly after I had my son fifteen months ago, I received a great deal of advice.  Some of the advice was game changing, like the advice to get an Ergobaby carrier so I could "wear him down" to sleep while still getting some things done.  Some of the advice clearly works for some babies but not mine…like the advice to put River in his crib and allow him to soothe himself to sleep.  Let me just say that after many, many, many attempts and variations, he wants nothing to do with that business (and who would, when they can fall asleep with their head on mama's warm chest, listening to the thump thump of her heart?).  And some of the advice was just plain weird, like the time I was told by a well-meaning stranger at a concert that I should take a washcloth and rub vigorously to "toughen up my nipples" before I had my son.  Seriously.  A stranger told me that.  I can't make this stuff up.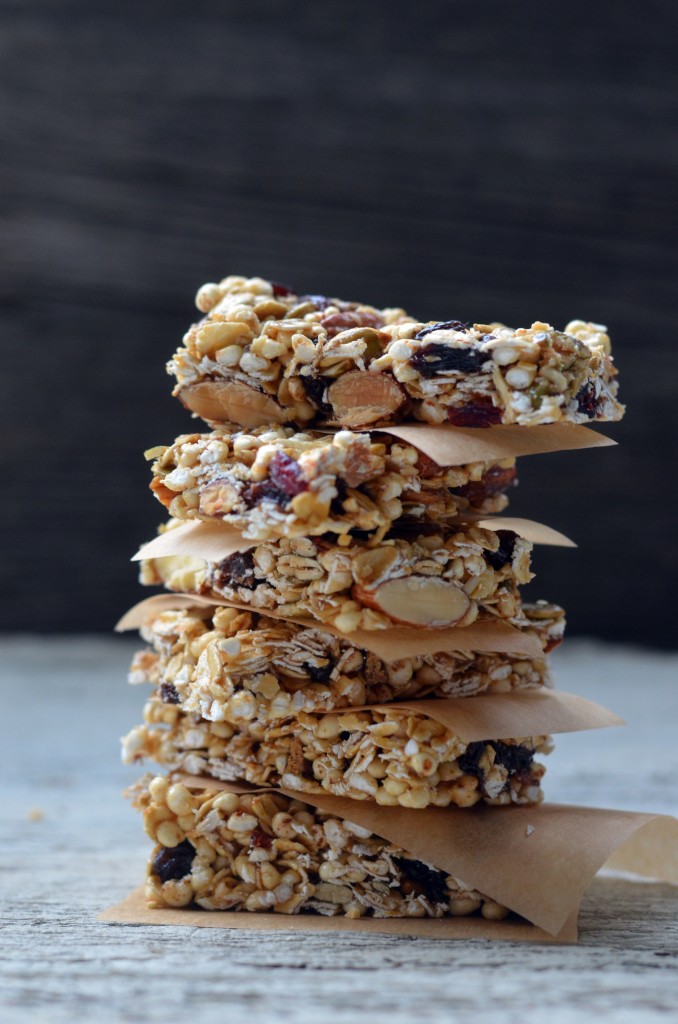 Two pieces of advice that have been truly invaluable during this time have been 1) to take care of myself and 2) to embrace routine.  Both are often easier said than done but over time I have found some great ways to streamline my day and make sure my basic needs are met so I can be a good caregiver and worker.  As a food lover and still-nursing and pumping mom, that means making sure that I have snacks and lunches prepped and packed for the week every Sunday.  I'm all about making one big batch of snacks and lunches to last through the weekdays.  Freezable dishes?  Even better.  This recipe for granola bars provides me with a healthy snack that is easy to make ahead of time, easy to pack, provides a great boost of energy, and is freezable.  A super food.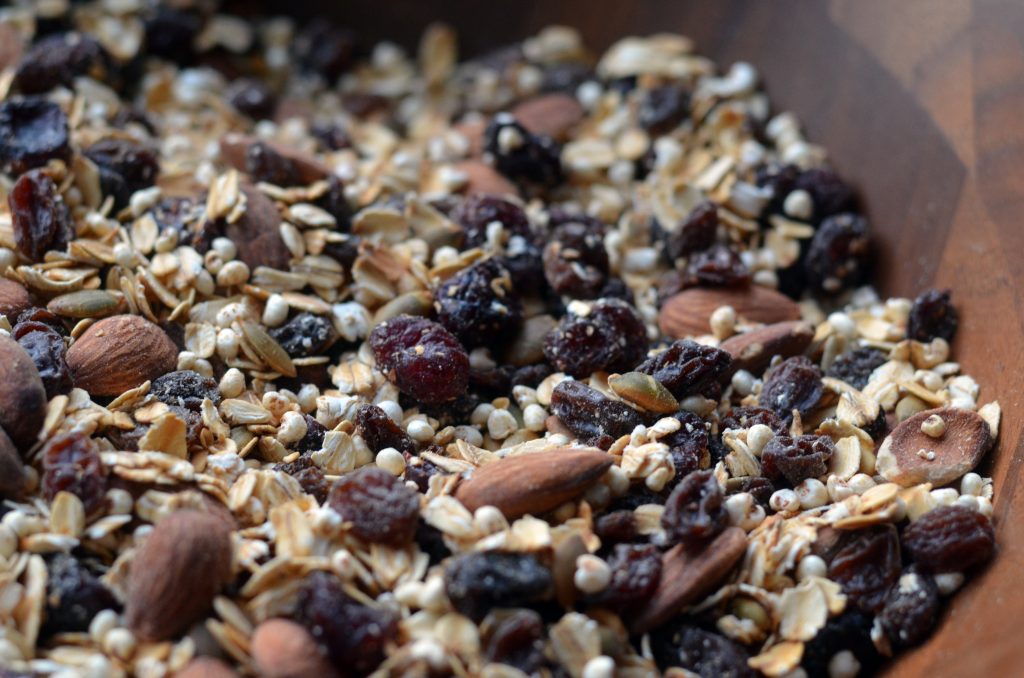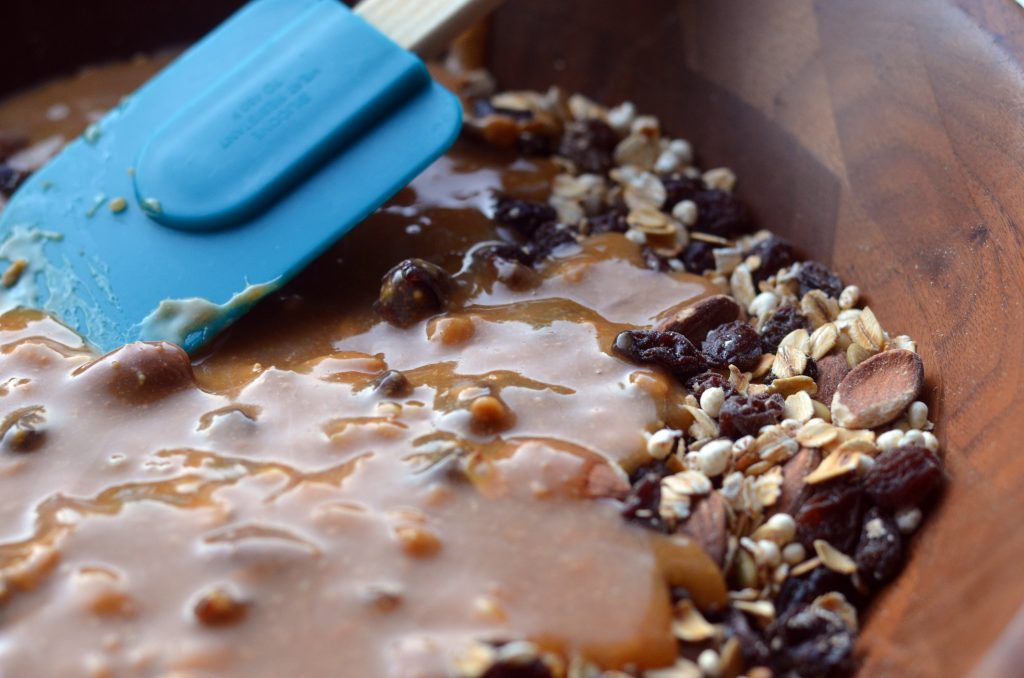 When I started out on my task of creating a granola bar recipe, several recipes I encountered online required baking the bars.  I found that it was very difficult to get a consistent end result that was not dry or too chewy.  After much tweaking and taste testing, this granola bar recipe is the result of my efforts.  It requires roasting the grains and nuts ahead of time to add flavor without drying or hardening the bar.  After the grains and nuts are roasted, it only takes a few moments to stir the dry and wet ingredients and to pat them in the pan to set.  Easy.  Delicious.  Cheaper than a Kind bar.  My favorite granola bar yet.  I hope you love it too.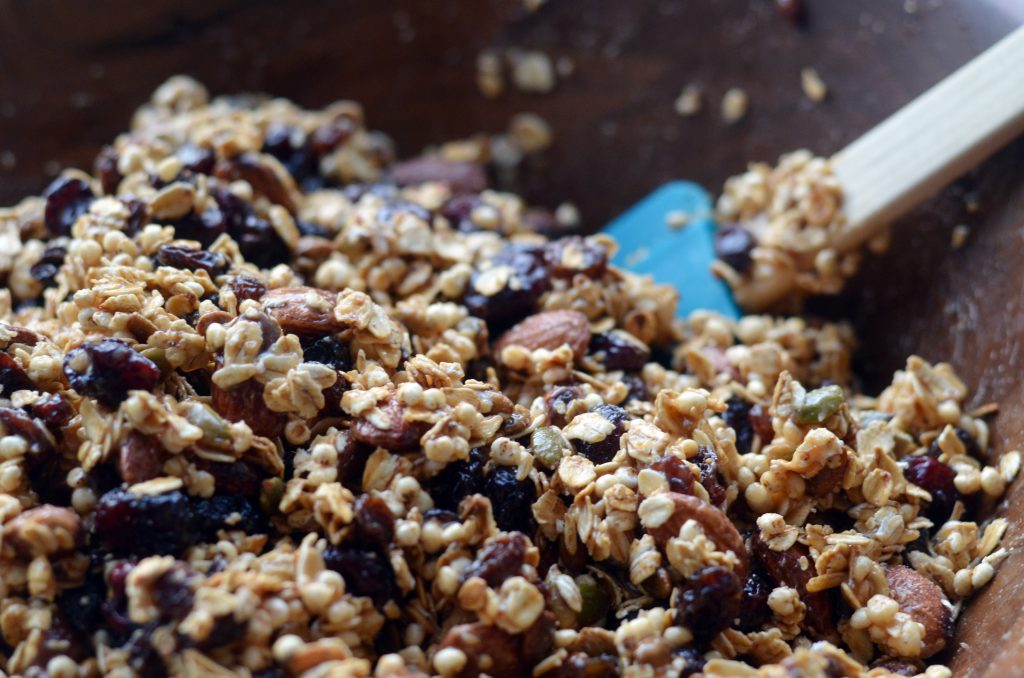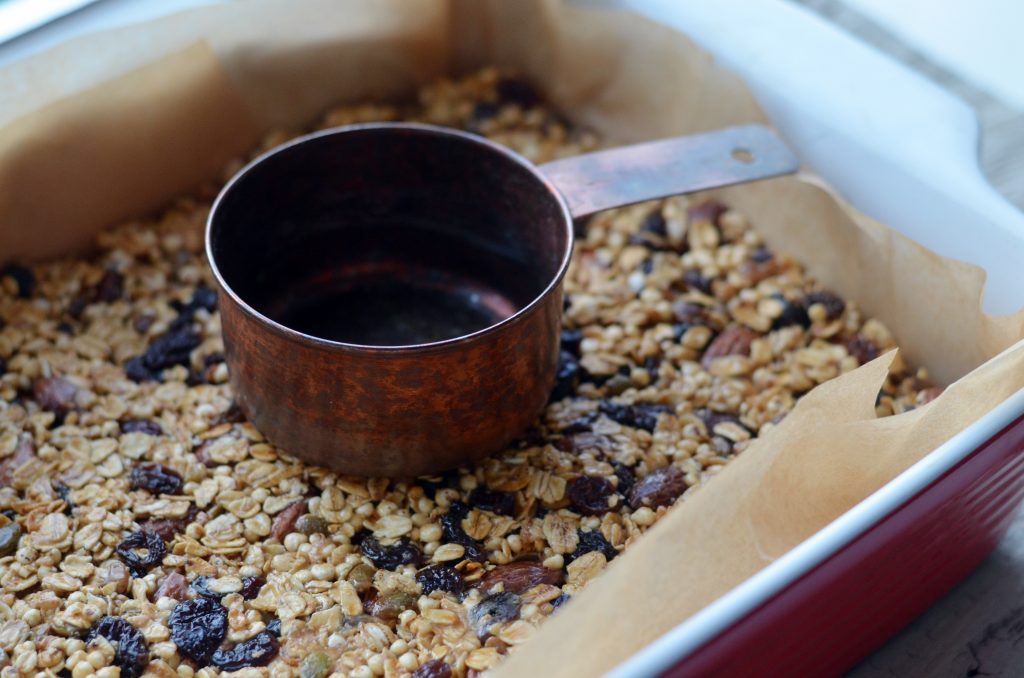 Have a sweet tooth?  These granola bars are naturally sweet from the brown rice syrup and touch of honey.  Still hankering?  To turn this into more of a dessert granola bar, add a handful of dark chocolate chips to the mix.  You won't regret it!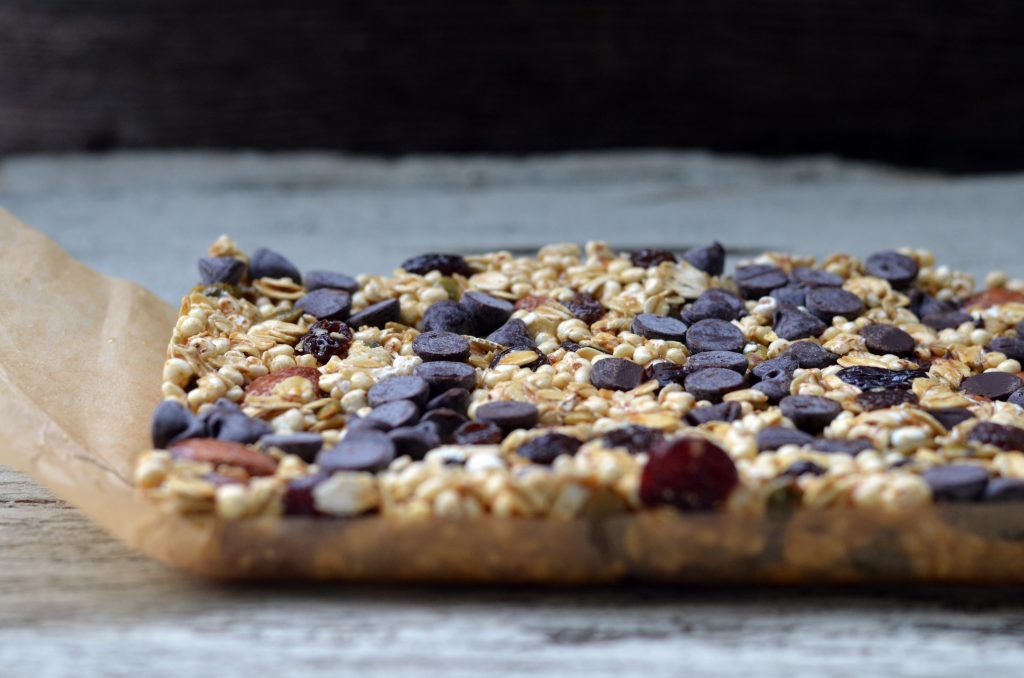 Homemade Fruit and Nut Granola Bars
Ingredients
3 cups rolled oats
1 cup puffed millet (optional – you can use another cup of rolled oats if you don't have puffed millet)
1 cup slivered almonds
1/2 cup whole raw almonds
1/2 cup raw pumpkin seeds (pepitas)
2.5 cups dried fruits such as raisins, cranberries, etc.
2 Tbsp honey
1/2 cup peanut butter (I like to use crunchy)
2/3 cup brown rice syrup (I buy at iHerb.com)
Instructions
Put the oats, millet, almonds, and pumpkin seeds on a large sheet pan. Spread to distribute evenly. Roast at 350 degrees for 13-15 minutes until crispy but not browned.
Meanwhile, heat the honey, peanut butter, and brown rice syrup on low in a saucepan. Heat just enough to easily be able to mix the peanut butter with the sweetener.
Put the dried fruit into a large bowl. Add the roasted grains and nuts and mix. Pour the liquid mixture onto the dry mixture and stir well to combine.
Pour the mixture onto a sheet pan or a 9x13 baking pan lined with parchment paper. Press the mixture into the pan hard enough to ensure the mixture will adhere and be able to be cut into bars. I recommend using a flat bottomed measuring cup or bowl to press the mixture into the pan!
Place the pan into the fridge to cool off for an hour.
Cut the bars into squares or rectangles.
These also freeze very well so you may freeze any extras you have.
Makes about 24 bars.
https://honeycreekkitchen.com/homemade-fruit-and-nut-granola-bars/
Copyright www.dinnerwithaura.com