"You're a spicy mama!" I heard as I tucked into my sandwich.  No, this statement did not come from a creepy old dude commenting on my mom bod. It came from my son who delights in the expression every time I reach for the hot sauce, which happens more nights than not thanks to my brother's generous gifts of homemade "top shelf, premium" hot sauce.  On this particular occasion, I was adding some heat to my family-friendly pan-fried tofu banh mi to balance out the perfect combination of salty, sweet, and heat that makes this sandwich so completely satisfying.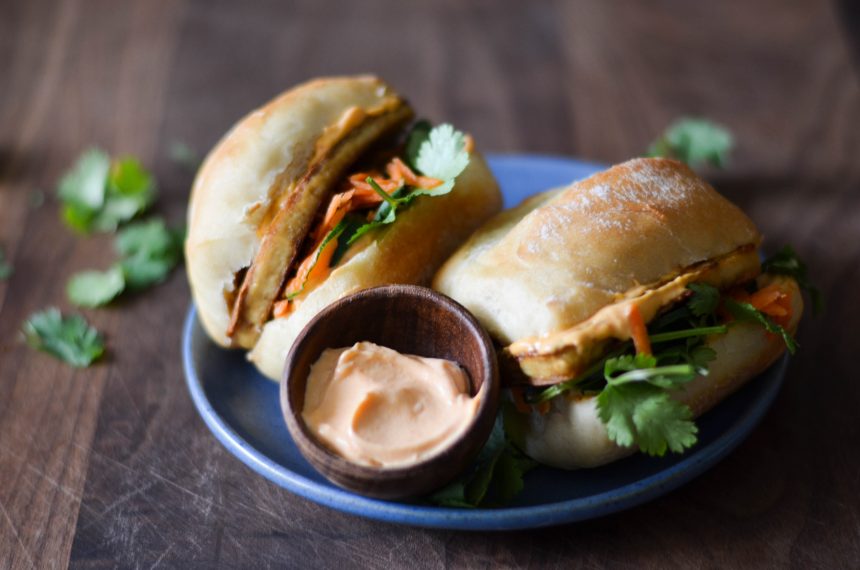 Why You Will Love This Banh Mi Sandwich
Banh mi sandwiches are traditionally Vietnamese street food that have become a favorite of mine over the years for so many reasons.  First, the flavor combination just makes my tastebuds sing.  Second, you can adapt this sandwich to suit the tastes of your family.  You can adjust the heat levels, swap out veggies for the pickled veggies, use a variety of bread types, and even swap out the protein, as I'll explain in a moment.  Third, it is so quick and easy to assemble!  If you pickle the veggies ahead of time this dinner comes together in 20 minutes or less.  And who doesn't like that at the end of a busy day?
I've made this sandwich twice this week. Once was kind of a "cheat" on a busy weeknight with Trader Joe's Traditional Carnitas (in my store they are in the refrigerated section by tofu, tempeh, and raviolis) heated in a skillet and splashed with a bit of Red Boat Fish Sauce at the end of cooking.  Seriously so good.  The second time, and featured in the photos, I use some skillet fried tofu and it was just as good and a little bit healthier. Next, I might try some seasoned, fried, tempeh and I bet it'll taste just as good. The key is to make sure you have some slightly sweet quick pickled veggies, some sriracha mayo, lots of cilantro, and a good bun to put it all on.  The bun is key – too soft and the whole thing falls apart but too hard and the taste and textures just feel off.  When in doubt, some fresh french bread, lightly toasted, will do the trick.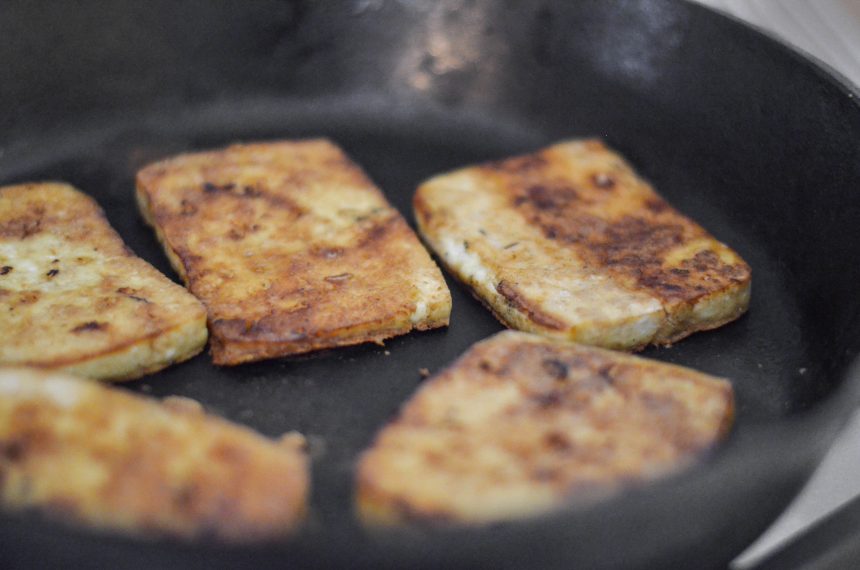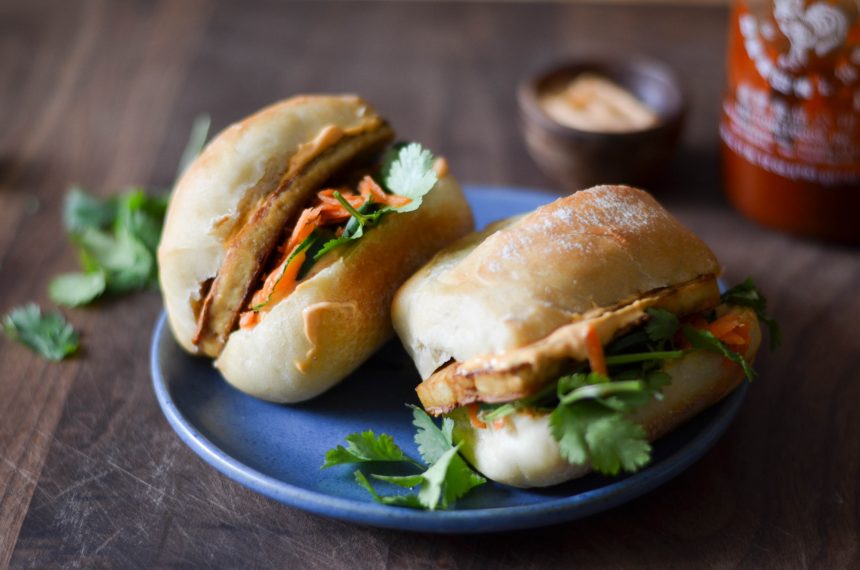 Easy Pan-Fried Tofu Banh Mi Sandwich
Ingredients
For the tofu:

1 (14-ounce) package extra firm tofu - I used Trader Joe's extra firm
Olive oil to fry tofu
4 tbsp tamari soy sauce
1 tbsp good quality fish sauce (optional)

For the Quick Pickled Veggies:

1 small daikon radish, sliced thinly into rounds
2 small carrots sliced thinly into rounds
1 baby cucumber sliced thinly into rounds
1/2 cup rice vinegar
1 tbsp sugar
1/8 tsp salt

To assemble sandwiches:

Good quality rolls or a french baquette, cut to sandwich sized portions
1/2 cup mayonnaise or vegannaise
1 tsp sriracha, or more to taste if you like it spicy
1/2 cup cilantro, rinsed and patted dry
Instructions
Place veggies into a bowl or jar with vinegar, sugar, and salt. If your veggies are not covered with liquid, add more rice vinegar to cover. Let sit for at least 1/2 hour.
Meanwhile, slice tofu into 1/4 to 1/2 inch slices. Pour 2 tbsp of the tamari into the bottom of a shallow baking dish or into a silicone baggie and place tofu slices on top. Pour the rest of the tamari onto the top of the tofu and let sit for at least 15 minutes, flipping the tofu once midway through.
While the tofu is marinating, mix mayonnaise and sriracha together and set aside.
Heat a skillet (I like to use cast iron for cooking tofu) to medium-high heat. Add the olive oil to the pan and place tofu pieces into the skillet. With a 12 inch skillet, you will need to cook two batches of tofu. Cook for 3 minutes and flip the tofu using a thin metal spatula. Cook another three minutes and remove from heat. Splash a little fish sauce (if using) on the tofu while it is still hot. Add more oil to the pan and cook the second batch.
Assemble sandwiches. Lightly toast your bun or french bread, spread with sriracha mayo, tofu slices, quick pickled veggies, and a small handful of cilantro. Serve with extra sriracha mayo and some thinly sliced jalapeno if you like extra spice.
https://honeycreekkitchen.com/easy-pan-fried-tofu-banh-mi-sandwich/
Copyright www.dinnerwithaura.com