Ever since my big brother sent a gigantic Pickl-it jar to me for my birthday (with a card that said, "From the best brother in the world") I've been in the mood to make and eat fermented foods.  I've always been a little nervous about fermenting things myself but this gadget takes the mystery (and fear) out.  I've got a big jar of sauerkraut going right now…can't wait to try it out!
The only bummers about this jar are that a) it is huge so I have to make A LOT of one thing at one time and b) I want others so I can pickle other foods simultaneously.  Recently, while lacto-fermenting a batch of mixed veggies (cauliflower, carrots, celery, and radishes, which turned the batch a nasty pink color…lesson learned) I had a hankering for Kimchi.  Much to my delight, I found a recipe that didn't require any elaborate process, unless you call hanging out in the fridge for a week elaborate.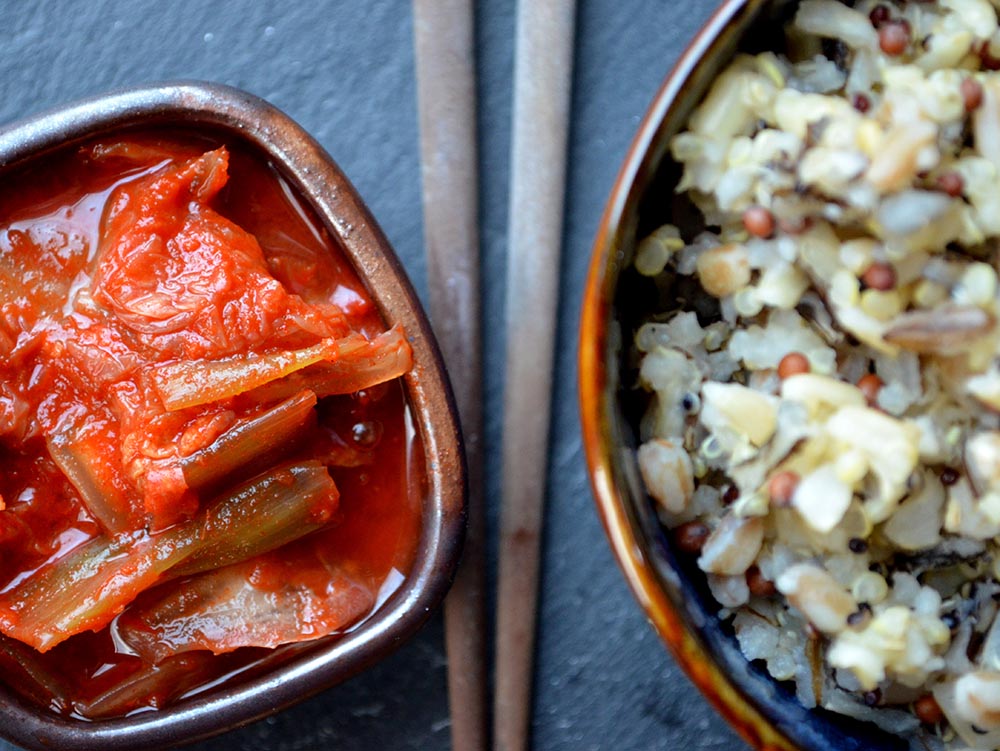 This recipe, from Serious Eats, was exactly what I had in mind.  I wanted an authentic recipe and I wanted to know how to make it without shrimp paste, which I find to be a bit much for me.  This recipe shows you not only how to make it without shrimp paste, but how to make it vegetarian!  I'm fine with fish sauce so made my version with it but it was great to find out that you can use miso as a fine substitution, which I will surely try for next time.
I had some kimchi yesterday with my special grain blend for a snack.  To make my grain blend, cook wild rice and brown rice with water to cover for 25 minutes.  Add farro, black and/or white quinoa, and radish seeds.  Cook another 15-20 minutes covered on low heat.  Turn off and let sit for 10 minutes before fluffing.  The radish seeds are my favorite part.  they pop in your mouth and are so fun to eat!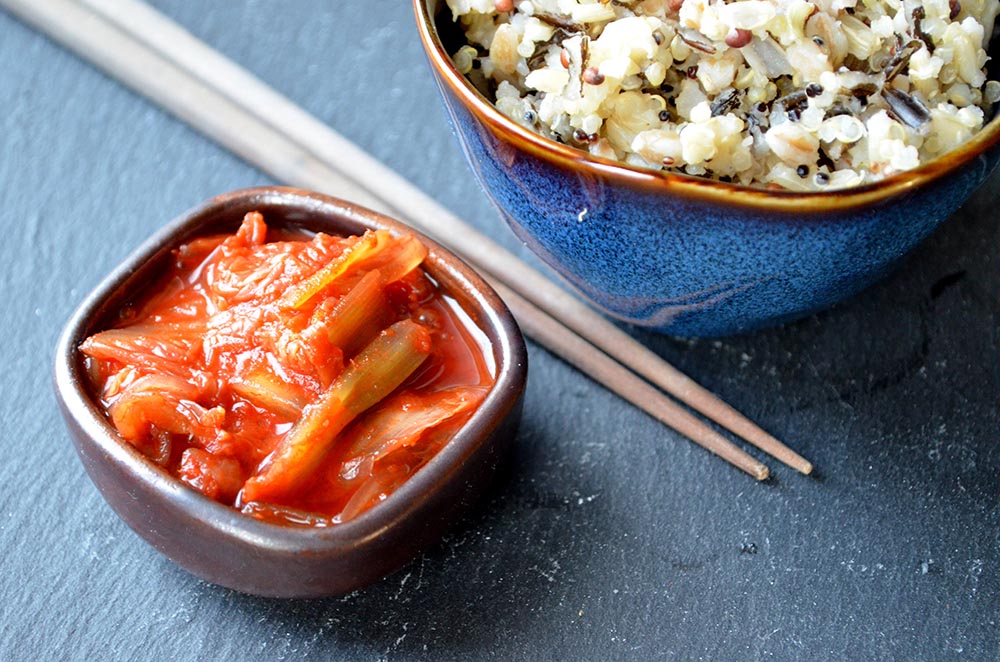 Homemade Kimchi; from Serious Eats
Ingredients
1 large head napa cabbage, cored and separated into individual leaves, about 1 pound total
1 small daikon radish (about 4 ounces)
8 scallions, greens roughly chopped, whites reserved separately
Kosher salt
8 cloves garlic
One 2-inch knob ginger, peeled
1/2 cup Korean chili powder (kochukaru)
2 tablespoons white or red miso paste
1 tablespoon sugar
Place cabbage leaves, daikon, and scallion greens in a large bowl and sprinkle with 2 tablespoons kosher salt. Toss to combine, cover, then let sit at room temperature until cabbage is wilted, at least 1 hour and up to 12. It should release about 1/4 to 1/2 cup liquid.
Meanwhile, combine scallion whites, garlic, ginger, chili powder, miso paste or fish sauce, and sugar in the bowl of a food processor or blender. Process until rough paste is formed, about 30 seconds total, scraping down sides as necessary.

Once cabbage is wilted, add chili mixture and turn to coat. Add 1 cup water to mixture. Taste liquid and add more salt as necessary (it should have the saltiness of sea water). Pack kimchi into mason jars, pressing down firmly to pack tightly and using a chopstick to release any air bubbles trapped in the bottom of the jar. Cover the kimchi with its liquid.

Seal the jars tightly and allow them to sit at cool room temperature for 24 hours, then transfer to the refrigerator. Allow to ferment at least 1 week before eating (see note). Kimchi will last for up to 1 month after opening. Alternatively, place directly in fridge and taste daily starting after the first week until it's as sour as you like it. Consume within 1 month.
Notes: This kimchi will get more and more sour as it ages. It can be eaten immediately, but is optimal at around 3 weeks. For a more traditional kimchi, replace the miso paste with 1/4 cup fish sauce or 2 tablespoons jarred brined tiny shrimp. It's normal for the kimchi to produce lots of gas as it's fermenting. Your jar's lids may pop open when you open them and bubbles may appear in the liquid. Do not be alarmed.
As for the kochukaru—Korean dried chili powder, this is perhaps the only ingredient that can be a little tough to track down, but it's absolutely essential. Korean chilis are a lot more about flavor than heat. You can pack a whole load of chili powder into your kimchi before you end up with a significant amount of heat. I haven't found any other pepper with a similar flavor profile and heat/aroma ratio.