Welcome to another Food Matters Monday!  Today's recipe choice, selected by Lexi at Lexi's Kitchen, is something that will surely find its way onto my (healthier) holiday spread.  It is creamy, simple, delicious, and so much better than many of the creamy dips out there.  I'll take this over Rondele any day!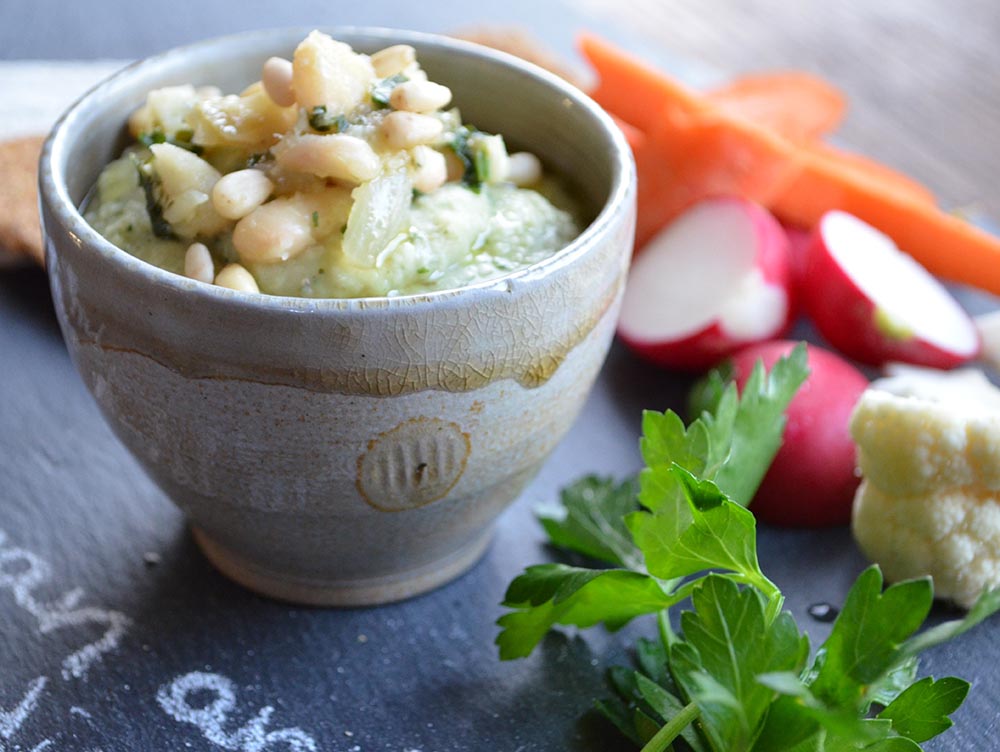 This was also a great opportunity for me to pull out some of my pre-cooked beans to use.  I recently read something about cooking beans in Super Natural Every Day that inspired me.  Heidi suggested cooking beans and storing them in the freezer in freezer bags so they are quickly ready to use.  I had been storing my cooked beans in Pyrex but it always took so long to thaw out the block of beans so this new method was worth a shot!  I cooked up some garbanzo beans, mung beans, white beans, pinto beans, and black beans, all in separate large pots (I felt a little crazy with so many pots bubbling away but I knew that the result of my madness would pay off!).  I let each pot cool, drained the beans (let sit in the colander for a couple of minutes until all the liquid is gone), and scooped beans into sandwich, quart, and gallon freezer bags.  Now I have beans of all types for any size recipe: larger recipes (soup), medium recipes (like this bean dip), and single portion sizes for when I just want to add some beans to a stir fry or salad.  Genius!
I modified the original recipe to give it a little more oomph with some garlic and fresh lemon juice.  I also had a celery root hanging around and begging to be put to good use so I cooked that up and pureed it with everything.  If you love celery root as I do, it is a great addition but completely optional.  This dip is great without it too.
Check out what the other Food Matters Project participants came up with here.  They are a creative lot!  For visual inspiration, check out the FMP Pinterest board.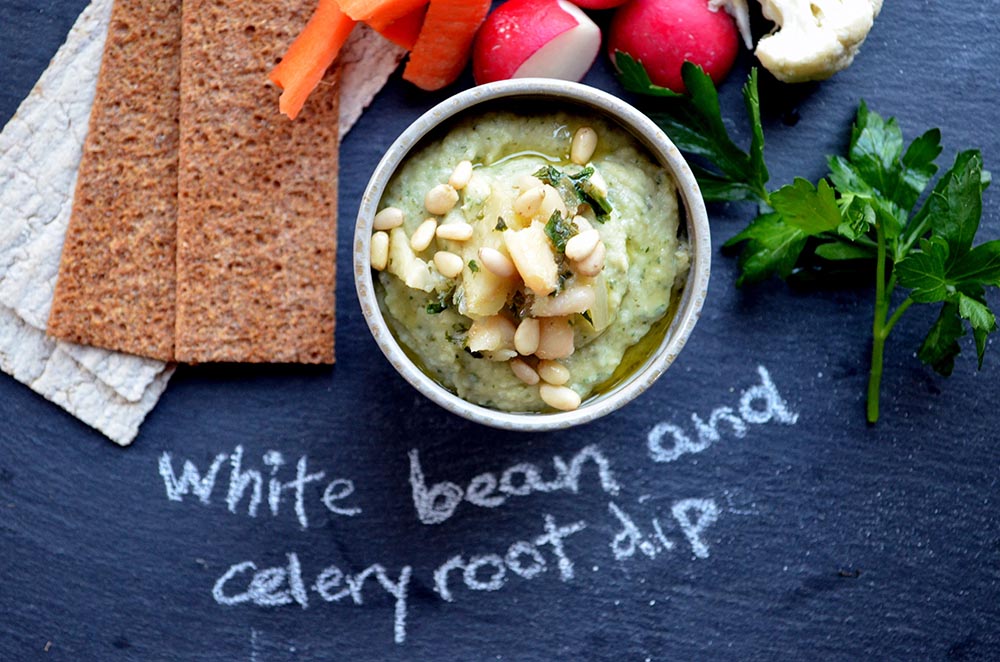 White Bean and Celery Root Dip With Fresh Herbs; adapted from Mark Bittman's The Food Matters Cookbook
Note from Bittman:  This puree has a stunning green color from all of the fresh herbs and is the perfect dip-warm, cold, or at room temperature-for toasted bread or crudites.
1 tablespoon olive oil, plus more for garnish
1 leek, white part and some of the green, trimmed, well rinsed, and chopped; or 1 onion, chopped
1 clove of garlic, minced
1 cup chopped mixed mild herbs, (I used parsley, cilantro, and mint but you can also try basil or chervil as options)
1 tablespoon chopped fresh oregano, tarragon, or thyme
3 cups cooked or canned cannellini, navy, or other white beans, drained, liquid reserved
1 small celery root (optional)
Juice of 1 lemon
About 1 cup bean-cooking liquid, stock or water, or more as needed
Salt and black pepper
Crudites and crackers to serve
Put the oil in a large skillet over medium heat. When hot, add the leek and cook, stirring occasionally, until it is soft, about 5 minutes. Add the chopped herbs and garlic and cook a minute or 2 more.
In the meantime, add cubed celery root to a small pot with water to boil.  Boil for about 10 minutes or until very soft but not breaking apart.
If you want a smooth dip, transfer the beans, leek/herb/garlic mixture, lemon juice, and celery root to a blender or food processor and process, adding as much liquid as you need to make a smooth but not watery puree. If you want a lumpier texture, mash the beans right in the pan with a fork or potato masher, adding liquid slowly to get them as soupy as you like.  Note:  I saved a couple of spoonfuls of the un-processed bean mixture to top the dip with.  I also added a sprinkling of pine-nuts.
Sprinkle with salt and pepper; taste and add more if necessary. If you want your dip hot, heat and serve immediately or keep warm over low heat for up to an hour or so. Garnish with a drizzle of olive oil if you like.  This dip also tastes quite good cold!  I served mine with carrots, cauliflower, radishes, and rye crackers.  Mmm!