Another Monday another Food Matters Project adventure.  This week our host, Jacqui, chose Beans and Greens Burritos–check out her beautiful blog:  www.goodthingsgrow.com.  Really inspiring photos and recipes.  To see a couple dozen variations on burritos, head to  The Food Matters Project site.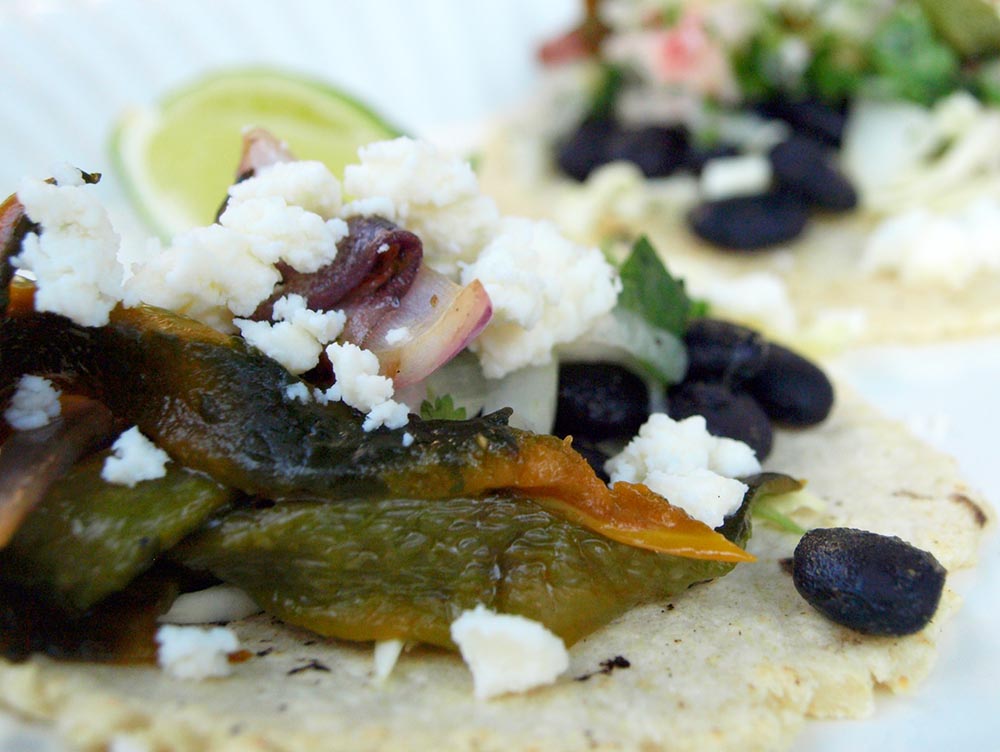 I decided to go the taco route for my beans and greens meal.  I visited the Super Mercado Mexican on Division Ave. in Grand Rapids and was happy to find a tortilla press (finally my tortillas won't look like they have arms!) and some perfect avocados for guacamole.  I also bumped into some jicama and immediately knew what I was going to use it for:  jicama and pineapple slaw.  Finally, some tomatillos and some poblano peppers found their way into my basket.  It was so fun to make the homemade tortillas–they take just some masa flour, water, and a pinch of salt and about 3 extra minutes on top of the time it takes to prepare store-bought tortillas.  Having the press made the work quick and easy–much more so compared to rolling out the dough.
For toppings I offered:  roasted poblano peppers and onions with garlic and oregano, fresh tomatillo salsa, jicama-pineapple-radish slaw, black beans with cumin, guacamole, queso fresco, sour cream, shredded cabbage, and shredded chicken.  Jessie, Carrie and I piled our fresh, hot tortillas with our choice of toppings and dug in.  A great meal with great company to close the Memorial Weekend holiday!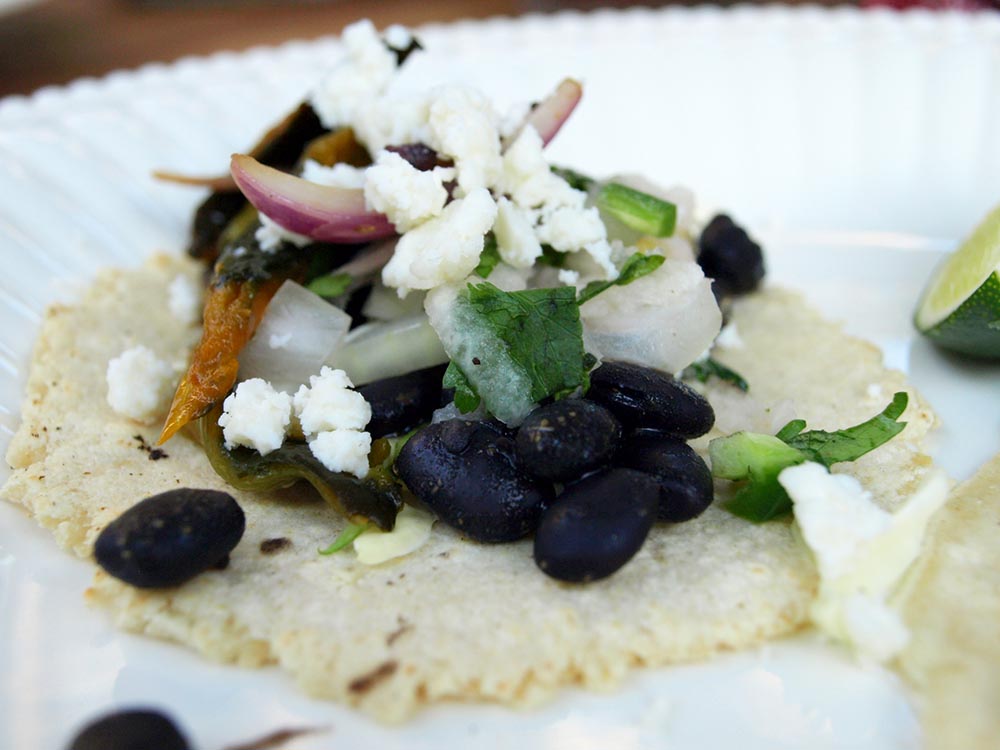 Rajas Poblanas; adapted from June, 2012 issue of BonAppetit
2poundsfresh large poblano  chiles
1onion, quartered, cut crosswise into 1/4-inch  slices
4garlic cloves, minced
2teaspoonsdried oregano, preferably  Mexican
Kosher salt
Preheat broiler and place chiles on a rimmed baking sheet.  Roast, turning occasionally,  until tender and nicely charred all over, about 10 minutes.
Transfer chiles to brown paper bag and close bag.  Let steam for 15 minutes. Peel chiles. Halve lengthwise; discard seeds. Cut  crosswise into 1/4-inch strips.
Heat a large dry heavy skillet or cast iron griddle over medium-high heat. Add  onion; cook, stirring often, until beginning to char, about 10 minutes. Add garlic;  cook until fragrant, about 1 minute. Add oregano and salt to taste.
Add chiles; cook until flavors meld, about 5 minutes.
Read More http://www.bonappetit.com/recipes/2012/06/rajas-poblanas-taco-filling#ixzz1wDiZ2gy9
Tomatillo Salsa
2 cups chopped tomatillos
1/2 large white onion
1 tsp minced garlic, or to taste
1 fresh, hot chile, seeded and minced, or to taste
1/2 cup chopped fresh cilantro
2 tsp ground cumin
2 Tbsp lime juice
Salt and black pepper
Place tomatillos and onion in a saucepan with water to cover.  Bring to a boil and cook for 5 minutes.  Drain the water and let cool.  Puree tomatillos and onions and add remaining ingredients.  Let rest for half an hour to let the flavors meld.
Jicama-Pineapple Slaw
1/2 cup pineapple, diced small
1/2 cup jicama, grated
2 radishes, grated
1/8 cup cilantro, chopped
juice of 1/2 lime
1 Tbsp rice vinegar
1/2 jalapeno, seeded and minced
Salt to taste
Mix all ingredients in a bowl and let sit 1/2 hour for flavors to meld.