Having someone ask you to make a recipe for them is one of the greatest compliments a cook can get.  So when Carrie asked me to make a batch of these blueberry muffins for her, I was flattered!  It took me a few months but I finally made some last night.  I pulled the recipe from Real Simple magazine in the summer of 2011 and it is a well-used recipe already.  Reasons why I am a huge fan of these muffins?  First, they are very easy to make.  It only takes about 15 minutes to pull them together and pop them in the oven.  Second, I always have blueberries in the freezer for smoothies and snacks so one of the main ingredients is always on hand.  Third, they are very yummy.  And finallly, they are actually very healthy!  The ingredient list has flax seed, oatmeal, nuts, whole grain flour, orange juice and yogurt.  They come in under 200 calories per muffin and are great for breakfast or a snack.  I make some modifications to the recipe depending what I have on hand–see recipe for my notes!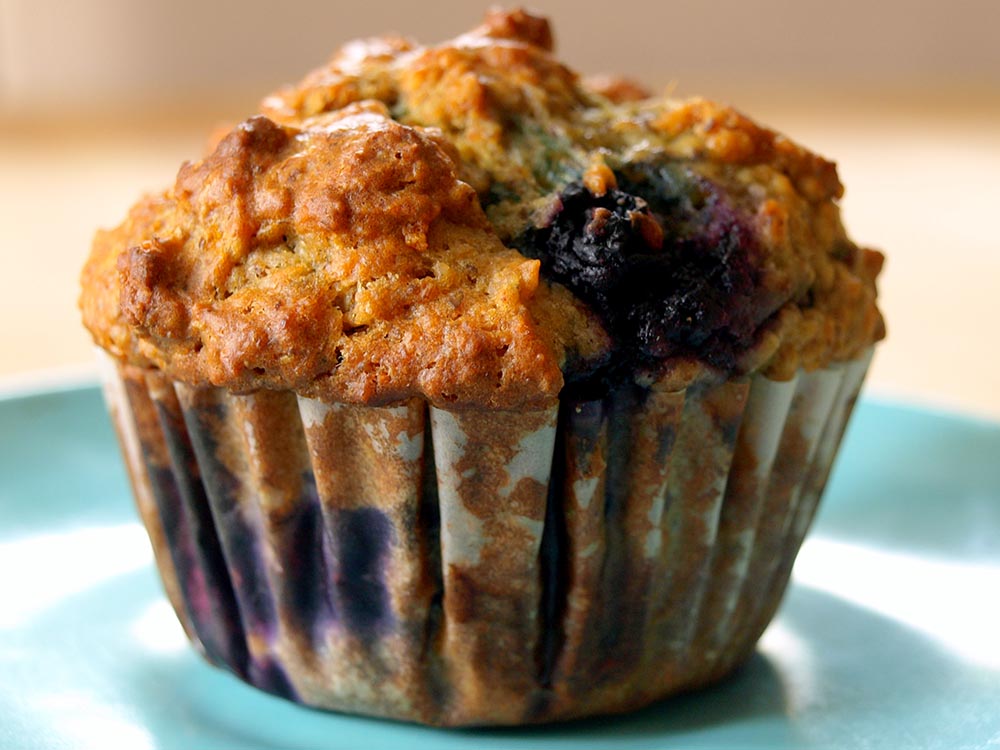 Ingredients
1 1/4 cups whole-wheat flour, spooned and leveled* (I use King Arthurs White Whole Wheat)
1 cup old-fashioned rolled oats
1/4 cup flaxseed meal (available at natural-food stores)
1/4 cup pecans (I use whatever nuts I have on hand and have even omitted them before)
1 teaspoon baking powder
1 teaspoon baking soda
1/2 teaspoon kosher salt
1 cup plain low-fat yogurt
1/2 cup packed light brown sugar (If you are looking to lower your sugar intake, reduce the amount of sugar by half.  I accidentally did this with this batch and they still turned out great).
3 tablespoons unsalted butter, melted
1 tablespoon grated orange zest, plus 1/4 cup orange juice (I use an organic orange so I am not getting the pesticides they spray oranges with into the muffins via orange zest).
1 teaspoon pure vanilla extract
Directions
Heat oven to 375° F. Line a standard 12-cup muffin tin with paper liners. In a food processor, process the flour, oats, flaxseed meal, pecans, baking powder, baking soda, and salt until finely ground.
In a large bowl, whisk together the yogurt, sugar, butter, orange zest and juice, egg, and vanilla. Add the flour mixture                                 and mix just until incorporated (do not overmix). Fold in the blueberries.
Divide the batter evenly among the muffin cups. Bake until a toothpick inserted in the center comes out clean, 22 to 25 minutes.