Today I made Aloo Gobi Aur Mater a.k.a Cauliflower with Potatoes and Peas (much less adventurous-sounding).  I wanted to share it here because it is a very cheap and easy dish to pull together and leaves a very small number of dishes in your wake:  a wok, a wooden spoon, a knife, measuring spoons and a cutting board–not bad!  I got it from my "Indian Vegetarian Cooking" book by Sumana Ray.  This book has never steered me wrong when I am in the mood for Indian food.  It has chapters on snacks, pulses (lentils and beans), vegetables, rice, bread, sweets, and chutneys and relishes.  Back in the day I remember making a feast out of this book for a dinner party with a professor and his wife.  More to come from this cookbook!  I had mine over red and white quinoa.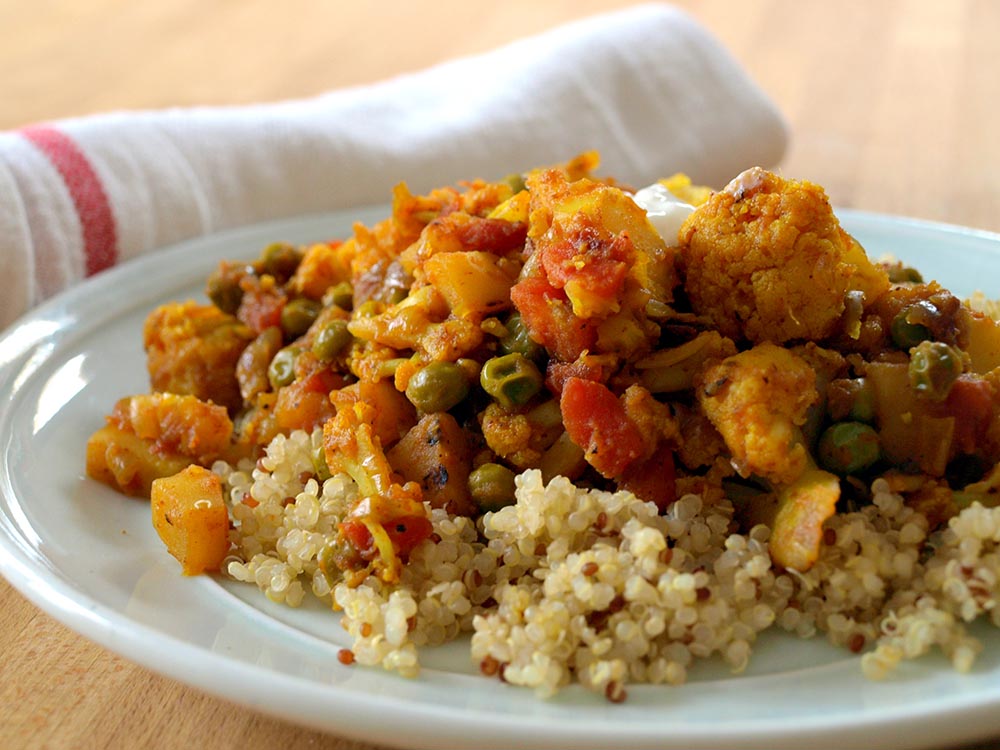 Ingredients:
4 tbsp oil (I use about 1, not 4)
2 medium onions, finely chopped
4 cups potatoes, diced into 3/4 inch pieces
1 small cauliflower, cut into 3/4 inch pieces
1/2 tsp turmeric
1/3 tsp chilli powder (I think they mean the hot kind, not the Mexican spice blend)
1 tsp ground cumin
2 tomatoes, chopped (you can used diced canned tomatoes just fine here)
1 tsp salt
1/4 tsp sugar
1 cup peas
1/2 tsp garam masala spice blend (optional)
Heat the oil in a wok or deep skillet over medium high heat.
Add the onions and fry for 3-4 minutes until light brown.
Add the potatoes and cauliflower and stir.  Add the turmeric, chilli, cumin, tomatoes, salt and sugar.  Stir and fry for 2-3 minutes.
Add the peas, cover and lower heat to medium low and cook for about 20 minutes until the potatoes and cauliflower are tender.  During the cooking period stir the vegetables a few times to stop them from sticking.
Sprinkle with garam masala before serving (optional).