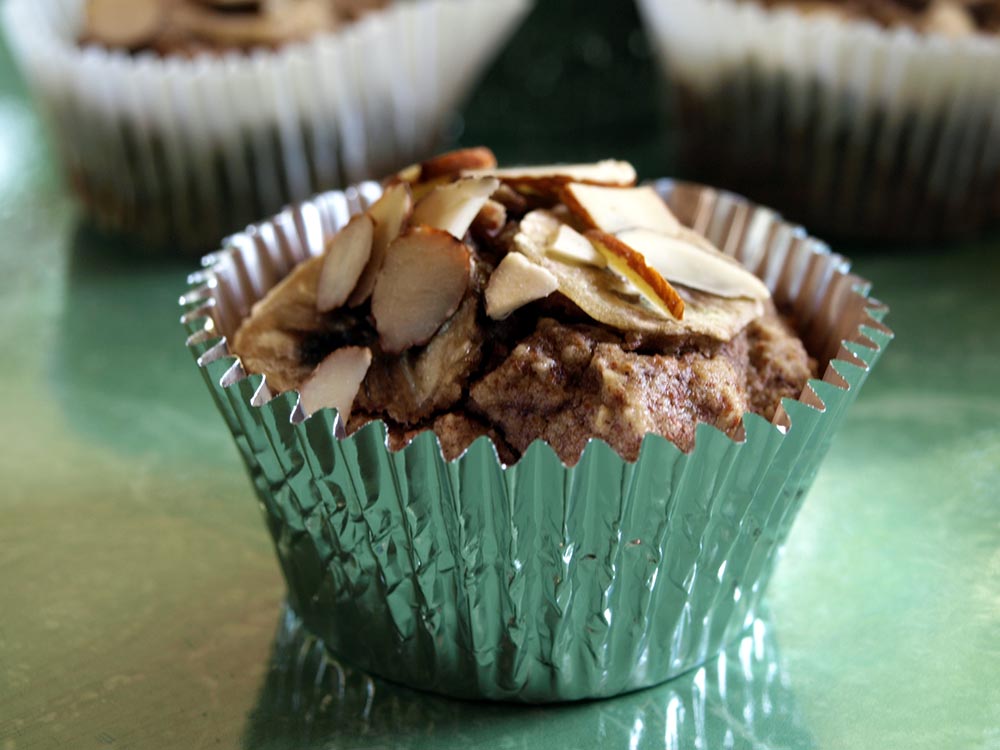 First, a disclaimer…these muffins were not even close to my idea.  A little bird (Arielle) told me about these little nuggets of healthy goodness.  She found them on Honest Fare (which by the way, if you have never seen, please do yourself a favor and check out Gabi's amazing blog).  Gabi found the recipe on Stone Soup, another fantastic blog featuring healthy and delicious foods.  Well it seems that good news travels fast!  So I'm spreading the word.
If you are looking for a super-sweet and buttery dessert here, move along.  These are a bit healthier and considerably less sweet than your indulgent desserts.  If you are looking for a healthy snack during your day, a pick-me-up after yoga, or a healthy nibble running out of the house in the morning, these guys are for you.  These muffins manage to get along without flour, oil, or butter (!).  The flour is replaced with almond meal, which is basically just finely ground almonds.  If you don't have a food processor, you can buy almond meal at specialty stores.  If you are lucky enough to live near a Trader Joes, they sell almond meal for about $4 a pound–a steal!  I've made several desserts with almond meal and they never fail to disappoint–they lend a dense moistness to cakes that is unlike any flour cake I've tried.
I pulled the recipe from Honest Fare, changing just a few minor things:  a) the units of measurement on a couple of items and b) I also revised the recipe to be for muffins only.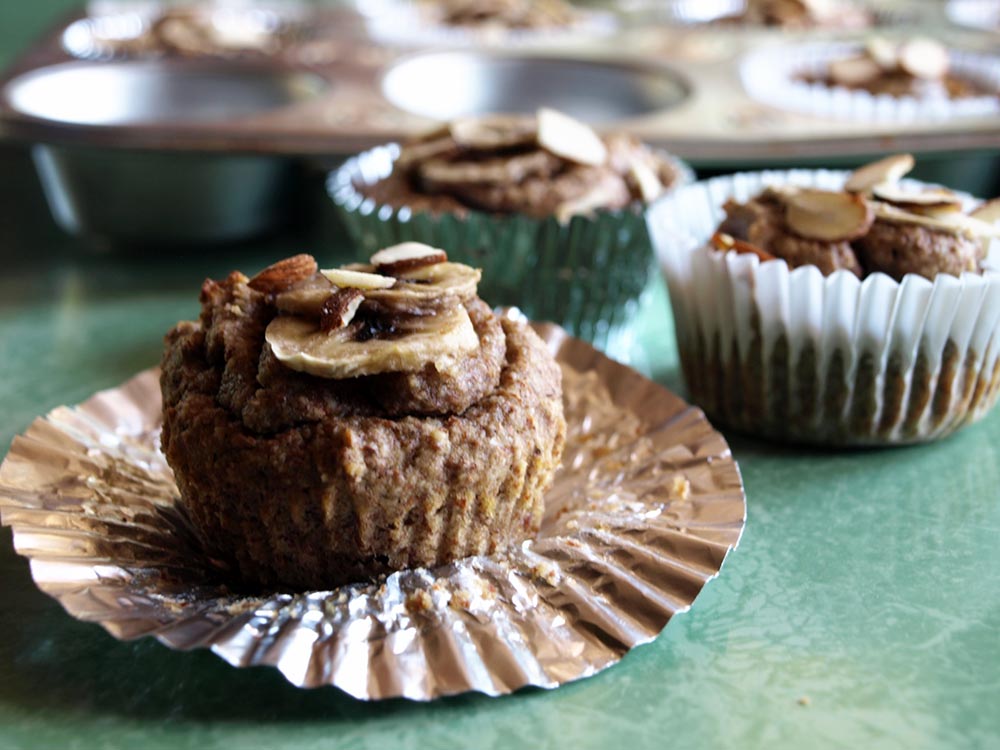 Healthy Almond Meal Banana Muffins
Prep time: 10 minutes. Cook time: About 30 minutes or until skewer comes out clean.
I like to use lightly spotted bananas for this recipe, if you use very ripe ones it may take a tad longer to cook through. I like the salty crunch of the coarse sea salt on top, but that's up to you too.
2 and 1/4 oz sliced almonds and some extra for topping
1/2 tsp baking powder
2 eggs
6 Tbsp sugar (I used maple syrup)
1/2 tsp cinnamon
3 bananas (approximately 1/2 lb peeled) + extra slices for topping
Pinch of coarse sea salt (optional for topping if you like)
Preheat oven to 300F. Grease muffin tin and dust with flour or line muffin tin with cupcake liners.
If making almond meal from scratch, pulse almonds and baking powder in food processor until finely ground, but be careful not to go too far or you'll end up with almond butter. Set aside in bowl.
In a food processor or blender, process eggs, sugar, bananas and cinnamon for about 5 minutes or until pale and really fluffy. Pour over almond meal and stir through.
Top with thinly sliced bananas and almonds. Bake about 30-35 minutes (or until top is browned and skewer comes out clean). You just don't want to overcook in the oven because they'll continue to cook a little as they cool.  Sprinkle on sea salt immediately after removing from oven.