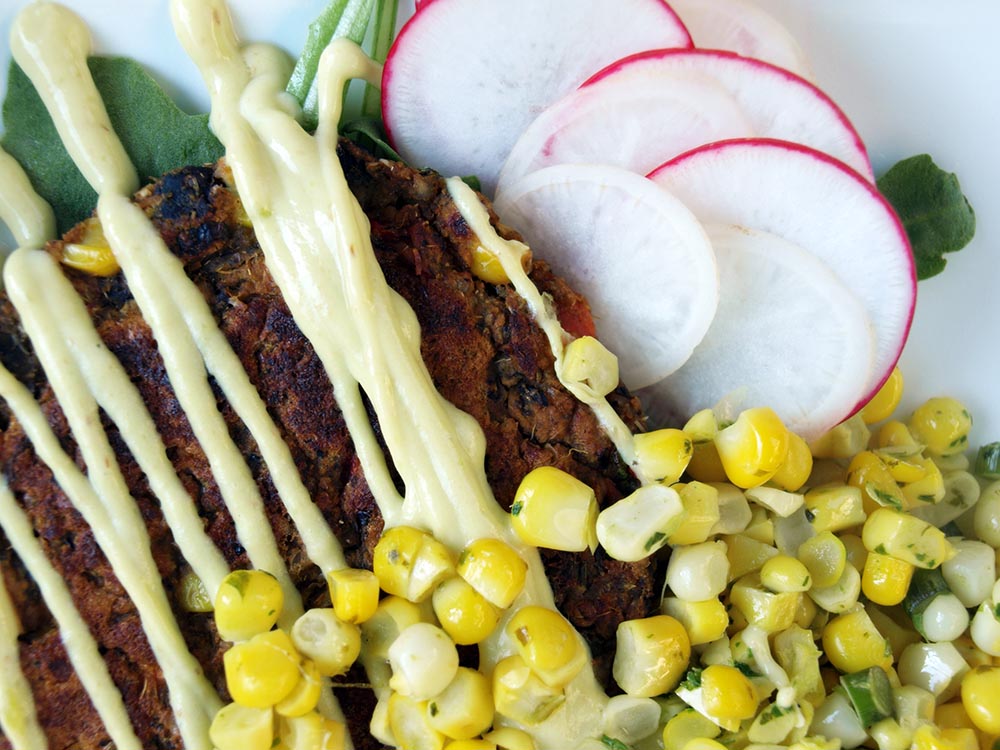 What's a girl to do when she's got sweet potato, already cooked leftover black beans, and a teeny bit of quinoa?  Mush them all together, of course!  I love making vegetarian 'burgers' of all kinds and having recently had a rather delicious sweet-potato quinoa burger at Marie Catribs I was ready to get to work on my own version(s).  I did a little searching for inspiration and came across Joanne's black bean patties with corn relish.  After having a solid laugh (she is a very funny writer), and having a solid idea in mind of what I wanted, I got started mushing straight away!  I made one version that was vegan and included oat bran as a binder.  Out of curiosity I made a non-vegan version with the rest of the mix, adding an egg and some panko bread crumbs to test against the vegan version.  It may come as a surprise, but the vegan version definitely won!  I felt the egg took away from the taste of the sweet potato–in the vegan version all you taste are the primary ingredients.  Here is the vegan recipe below, along with the recipe for my super-simple corn salad and a tip on how to extend the life of your cilantro.  Click here for the avocado cream sauce recipe (and a bonus recipe for black-bean quinoa cakes).  The recipe below is off the top of my head and roughly indicates how much of each item I put in.  Making veggie burgers is really just a little of this, a little of that.  Trust yourself and toss in what you feel like or have on hand.  As long as you have something that binds and yummy flavors, you have a winner!
Vegan Sweet Potato-Black-Bean Burgers
1 cup cooked or canned black beans
1 tsp oregano
1 tsp cumin
1 tsp chili powder
1 sweet potato, peeled, sliced, and boiled
1 garlic scape, sliced very thinly or 1 clove garlic, minced finely
1/2 red bell pepper, diced finely
1/2 cup quinoa, if you have it
1 medium red onion, finely diced
1/2 cup oat bran
salt and pepper
2 tsp olive oil for cooking
Place half of the beans in a food processor along with oregano, cumin, chili powder, and sweet potato.  Process until smooth and transfer to a large bowl.
Add the rest of the black beans and remaining ingredients through the oat bran and season with salt and pepper.
Refrigerate for thirty minutes.
Form the mixture into 3 inch diameter patties.  Heat about 2 tsp oil on a griddle or in a large skillet over medium heat.  Add the patties in batches, cooking until lightly browned, about 3 minutes per side.  Serve the patties drizzled with avocado cream and corn salad.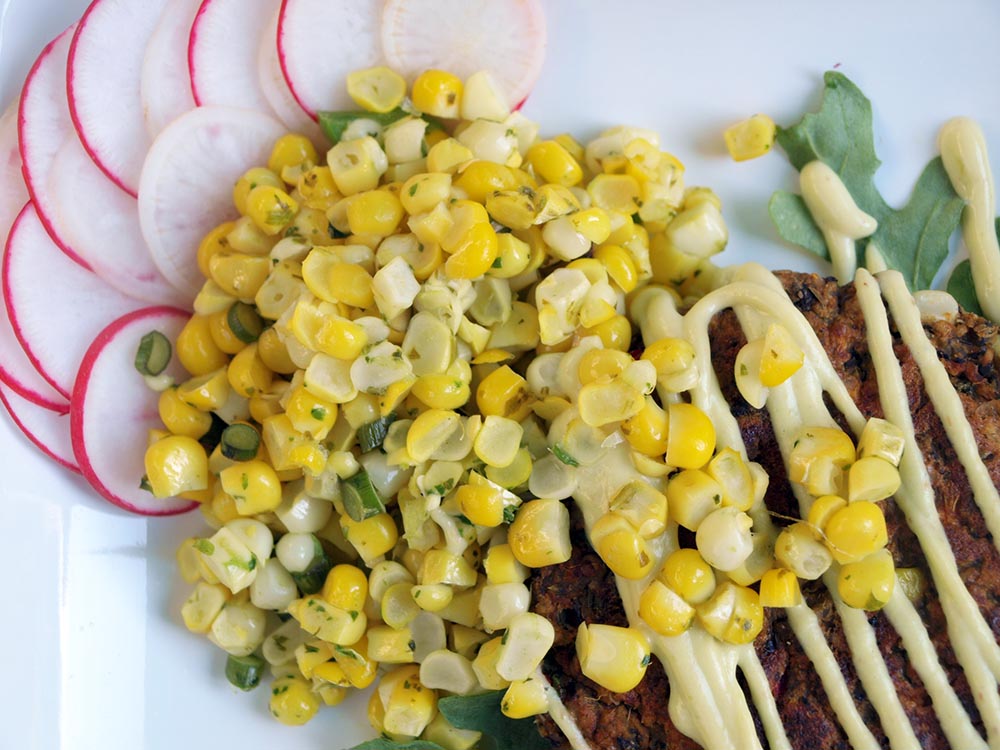 Simple Corn Salad
2 cups fresh corn kernels
1 garlic scape, sliced thinly or 1 clove garlic, minced
2-3 Tbsp lime juice
2 tbsp minced cilantro
Salt and Pepper
Heat a tablespoon of olive oil in a large nonstick skillet over medium heat.  Add the garlic scapes and cook 1 minute, stirring.
Add in the corn and saute until starting to brown, 2-3 minutes.
Stir in the lime juice and turn off the heat.
Mix in a large bowl with the cilantro. Season to taste with salt and pepper.
Tip:  I always ended up throwing away a half of my cilantro because I couldn't use it all on time.  Now, I puree the cilantro with a little bit of water and pour it into ice cube molds to freeze.  Put the cubes in a freezer safe bag other container and thaw a cube to put into your next recipe that calls for cilantro!  If adding to a hot dish, no need to thaw.  Works great for guacamole, salads calling for cilantro, this corn dish, purees….the list goes on!