The last couple of days have included a lot of things that make me very happy.  Visit from my best friend?  Check.  Staying at a beautiful home in the country to escape my non-air conditioned house for a few days?  Check.  Napping in a hammock?  Check.  Brandi Carlile concert at Frederik Meijer Gardens (absolutely amazing show)?  Check.  What could possibly be icing on this cake?  Blueberry cornmeal pancakes, of course!  I wish I could claim this one as my own but I have Martha to thank for the recipe, of course.  The photo is all mine, though–we devoured these with Michigan maple syrup with the sun streaming through the kitchen windows.  Ahhhhhhh….!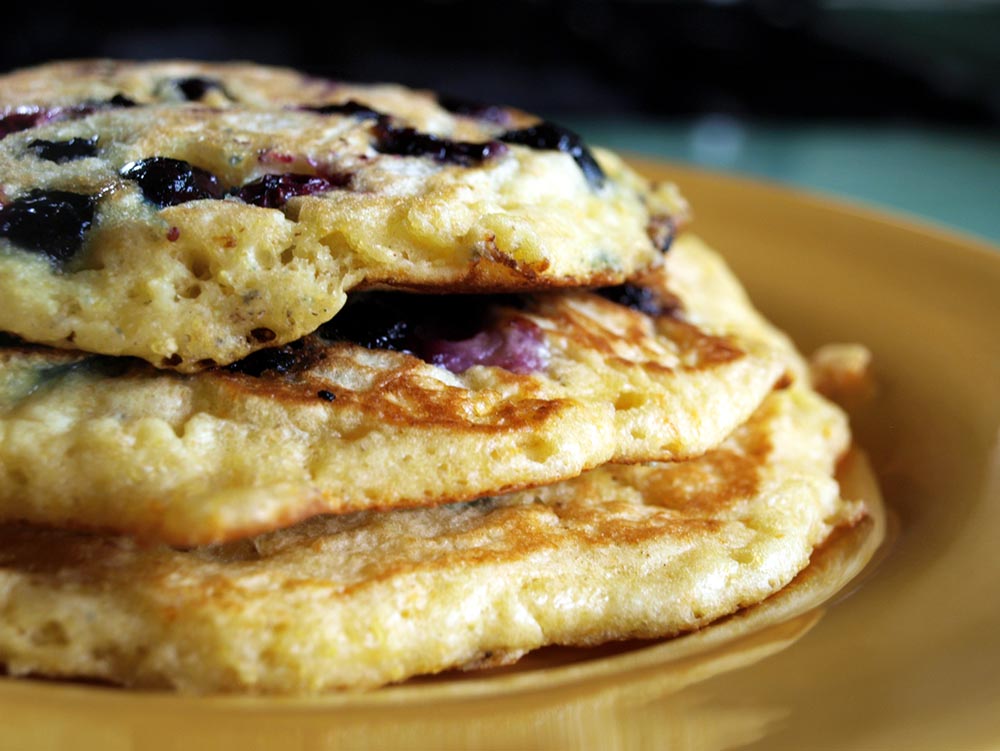 Blueberry-Cornmeal Pancakes
1 cup all-purpose flour
1/2 cup cornmeal
1/4 cup sugar
1 1/4 teaspoons baking powder
1 teaspoon coarse salt
1/2 teaspoon baking soda
1 1/2 cups low-fat buttermilk
1/4 cup whole milk
1 1/2 ounces (3 tablespoons) unsalted butter, melted and cooled, plus more for griddle
1 large egg, lightly beaten
2 cups (1 pint) blueberries
Butter, for serving
Pure maple syrup, for serving
Whisk together flour, cornmeal, 2 tablespoons sugar, the baking powder, salt, and baking soda. In another bowl, whisk together buttermilk, milk, butter, and egg. Whisk wet ingredients into dry ingredients until just combined (mixture will be lumpy).
Preheat oven to 200 degrees. Heat a griddle or large nonstick skillet over medium heat. Toss blueberries with remaining 2 tablespoons sugar. Brush griddle with melted butter. Spoon batter onto griddle  1/3 cup at a time. Sprinkle with sugared blueberries, about 2 tablespoons per pancake. Cook until edges are set, 3 to 4 minutes. Flip, and cook until golden brown, about 2 minutes. Repeat with remaining batter and blueberries, adding more butter to griddle and keeping prepared pancakes warm on a baking sheet in the oven. Serve with butter and maple syrup.