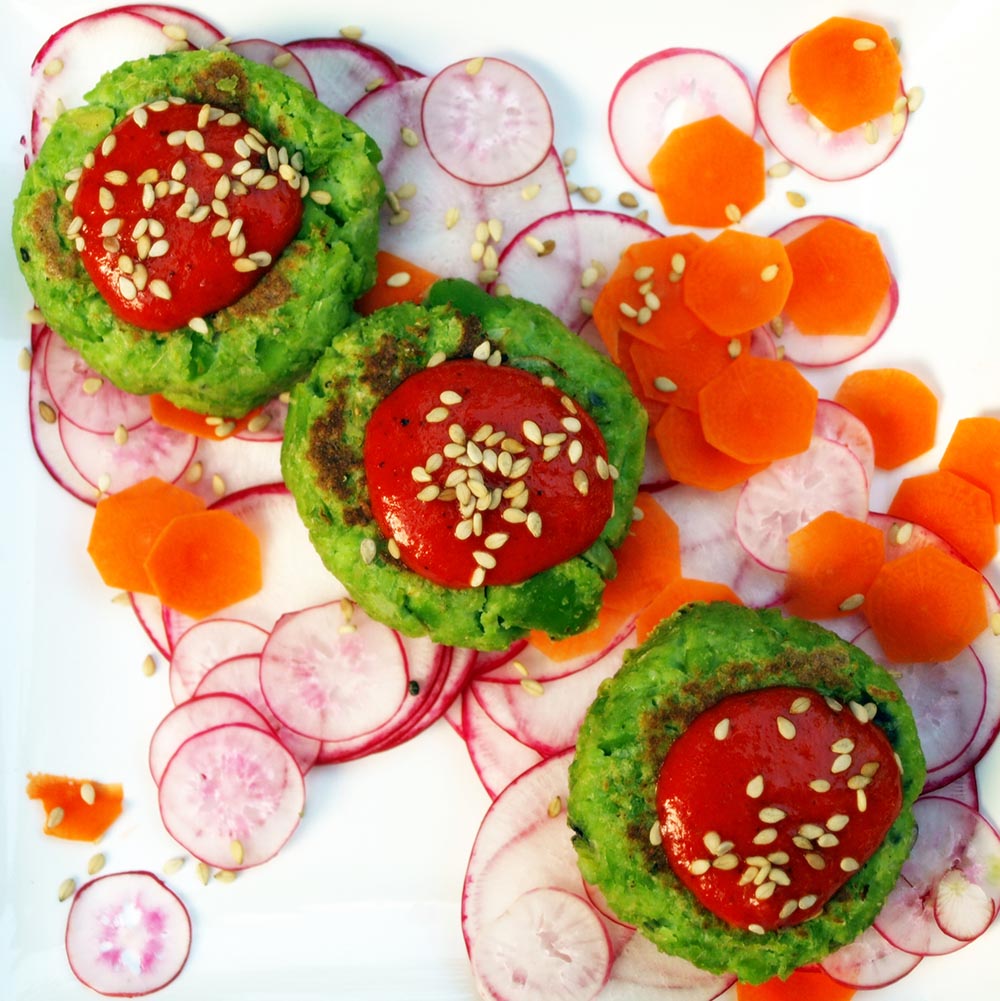 Kathleen and Tom from Life With The Lushers (self-described as two twenty something newlyweds who love food, wine, microbrews, and all things that are good) chose this week's Food Matters Project Recipe.  If you get a minute, check out their blog–they are adorable!  For the original recipe from Mark Bittman's The Food Matters Cookbook, head to Life With The Lushers.  To see what everyone else from The Food Matters Project came up with, head here!
So these were supposed to be more like bean pancakes but I wanted to shape them into little rounds so didn't add extra cooking liquid and they were more patty than pancake.  I love edamame (say it:  ed-a-MAH-may) and often add it to stir fries so this was a fun way to try it in a different format.  Edamame is high in protein and has a great smooth texture.  Dipped into this soy dipping sauce, it made for a yummy appetizer.
The only drawback is that they are a little funny looking…I felt like I was making a special St. Patty's Day meal (will shelve that idea!) and brought me back to a memory of green eggs and ham in preschool (I was very wigged out, as I recall).  I wanted to add something to the top to make them look a little prettier so devised a roasted bell pepper and chili aoli.  If you make these, definitely try the aoli–I thought it added A LOT to the cakes.  Enjoy!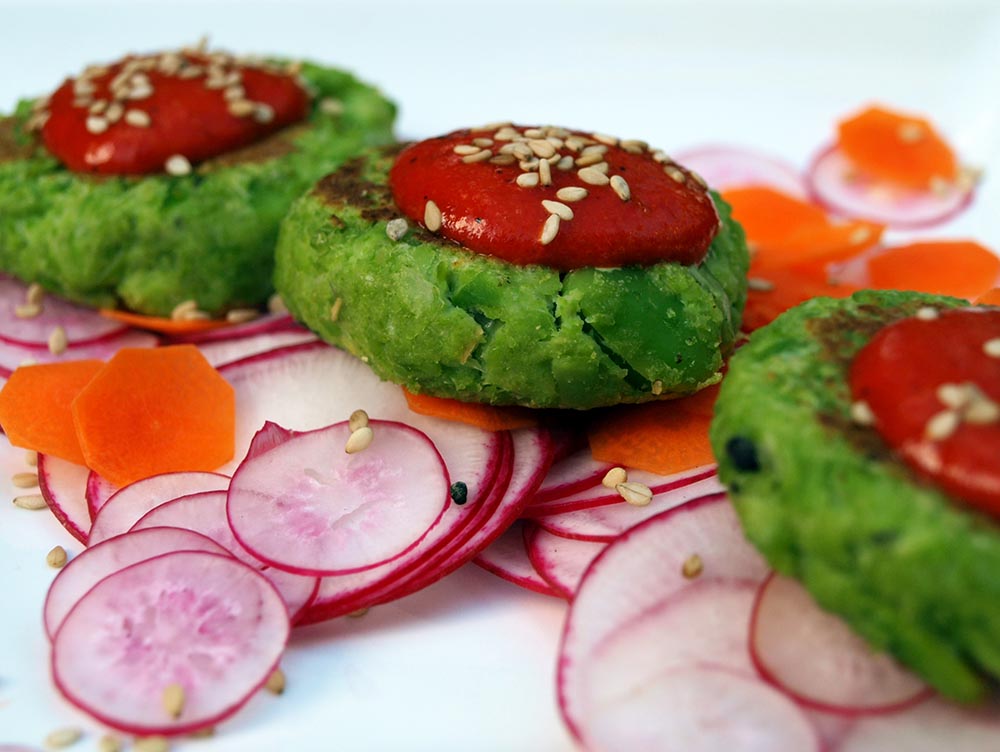 Edamame Cakes With Red Pepper and Chili Aoli and a Soy Dipping Sauce; Adapted from Mark Bittman's The Food Matters Cookbook
Makes 4 servings and takes 1/2 hour
Ingredients for Soy Dipping Sauce:
1/4 cup soy sauce
1 tablespoon rice vinegar
1 tsp brown sugar
1 tsp minced garlic
1 tsp minced ginger
Ingredients for Roasted Red Pepper and Chili Aoli:
1/4 cup mayonnaise
1 roasted red bell pepper (you can do it yourself or use one from a jar)
3 Tbsp sweet chili sauce (find it in the Asian section of the grocery store or in any Asian grocery)
Ingredients for Cakes:
2 cups frozen or fresh edamame (make sure you buy them shelled)
1 egg
1/2 cup sliced scallions or finely diced onion
1/2 tsp garlic, minced finely
1/2 tsp ginger, minced finely
All purpose flour if needed (to thicken)
Salt and black pepper
Vegetable oil to pan-fry
 Heat the oven to 200 degrees F.  Bring a pot of water to a boil.  Combine the soy sauce, rice vinegar, sugar, garlic, and ginger in a small bowl and set aside.
Blend the roasted bell pepper, mayo, and chili.  Keep in the refrigerator until ready to plate.
Add the edamame to the boiling water and cook until tender, 5 to 10 minutes.  Drain, reserving 1 cup of the cooking liquid.
Transfer the beans to a food processor (or use your immersion blender like I did!) and pulse a couple of times to break them down, then add egg, scallions or onions, garlic and ginger.  Process until combined but not finely pureed; you want a thick batter with some texture that drops from a spoon or can be balled up in your hands then flattened, which is what I did.  If the mixture is too stiff, stir in a little cooking liquid; if too wet, add a little flour.  Season with salt and pepper and stir to combine.
Put a large skillet or griddle over medium heat.  When a few drops of water dance on its surface, add a thin film of oil.  Take a small handful of dough, roll into a ball, and flatten, placing into skilled gently.  Cook until browned on the bottom, about 4 minutes.  Turn and cook the other side for a couple of minutes more.  Keep the finished cakes in the warm oven while you finish the others.  Serve hot or at room temperature with the soy drizzling sauce.