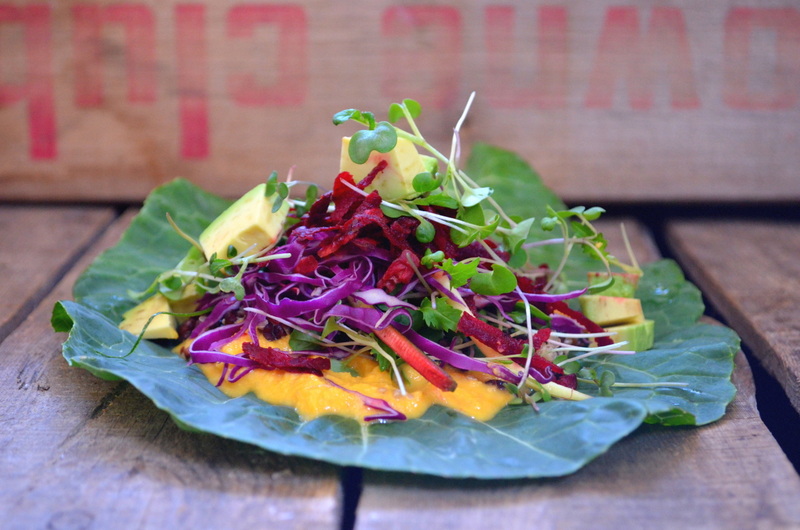 I've been making collard burritos for some time now.  They have never made it to my blog.  Maybe it's because I think of them as my go-to quick meal that I eat when I don't have time to play around with making things pretty.  They are usually filled with a hodgepodge of quinoa, beans, and some random veggies.  Nothing fancy.  Maybe it's because if I'm eating a collard burrito it means it is late and I don't have daylight to photograph my creation for the blog.  Winters are hard for food bloggers.  There are nights that I prep my dish the night before, then race home, fly into the kitchen, and make a mess of everything, just so I can get the last ten minutes of daylight to capture my creation.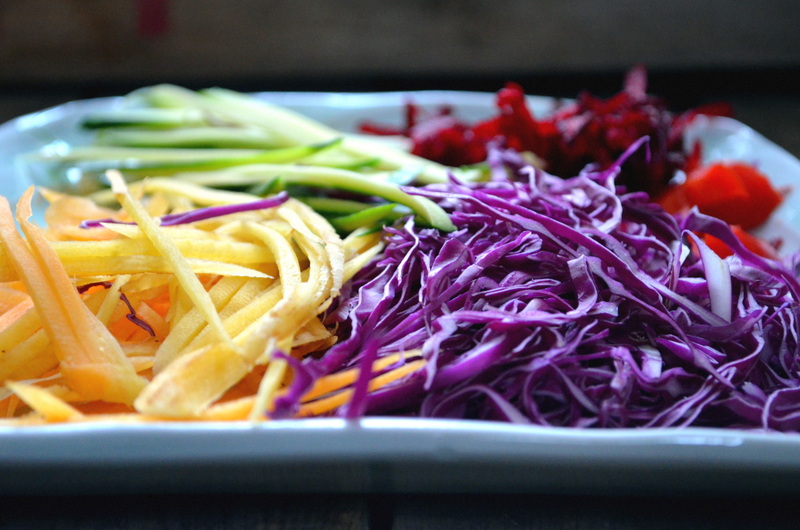 Now we are at the point of winter where I'm starting to dream of rows of vegetables lining the farmer's market but still feeling that May is a long way away.  What's a veggie loving girl like me supposed to do in a time like this?  My strategy is to make my foods as vibrant and beautiful as possible.
I took my strategy to a kid's cooking class a couple of weeks ago where we talked about eating a "rainbow" of vegetables to make food fun and pretty and to get a broad range of vitamins and nutrients for healthy growth.  It was such a fun time and the kids made homemade pizzas with as many colorful vegetables as they could fit onto their mini pies.
This recipe brings my rainbow idea to the grownups in a healthy collard wrap that allows endless room for adaptation based on what you like.  With color in mind, I added some yellow carrots to the hummus (with a splash of ginger) and added a full rainbow of colorful veggies.  Red:  Beets and red bell pepper.  Orange:  orange carrots.  Yellow:  yellow carrots.  Green:  Micro greens, collard wrap, avocado, and zucchini.  Blue/Purple:  Purple cabbage.  
For a protein punch, I added a blend of black rice and quinoa.  The result is this energy packing portable meal.  Perfect for quick lunches and power snacking.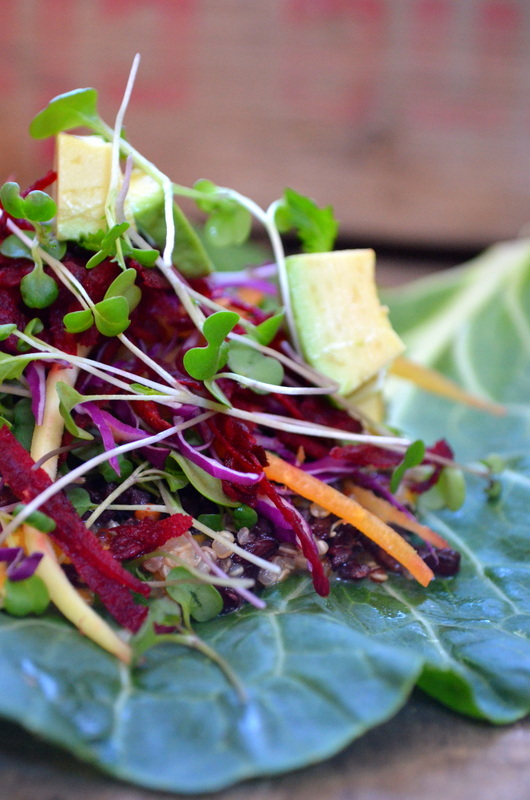 Collards are a natural wrap.  You can use the leaves raw for a bit of crunch.  The raw leaves also lend a slight punch of greens flavor that will make you feel even healthier eating one.  In order to allow the collard leaves to be as flexible as needed for this recipe, you'll need to trim the thick backbone portion of the stem so it bends well on the bottom end.  One other option is to quickly steam the collard leaves.  Add to a large pot of boiling water with a steamer basket and steam for thirty seconds to one minute until the leaf is a vibrant green.  Be sure not to over-steam the leaf or it will tear when wrapping.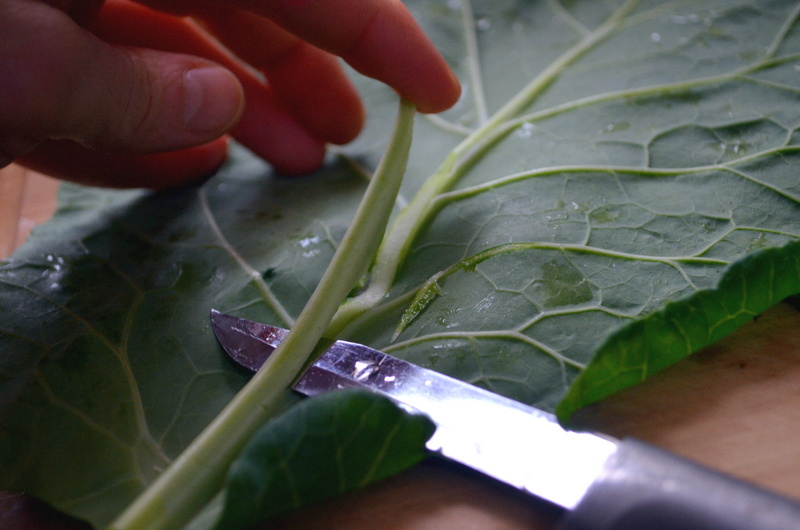 Be creative–you can use collard leaves to wrap up any bean/grain/veggie combo.  Or if you are more into lunch meats and cheeses, by all means, this will be an easy way to add greens to your diet no matter what you fill it with. For another version of a collard wrap with carrot hummus, millet, and hemp seeds, check out Love and Lemon's version–just beautiful!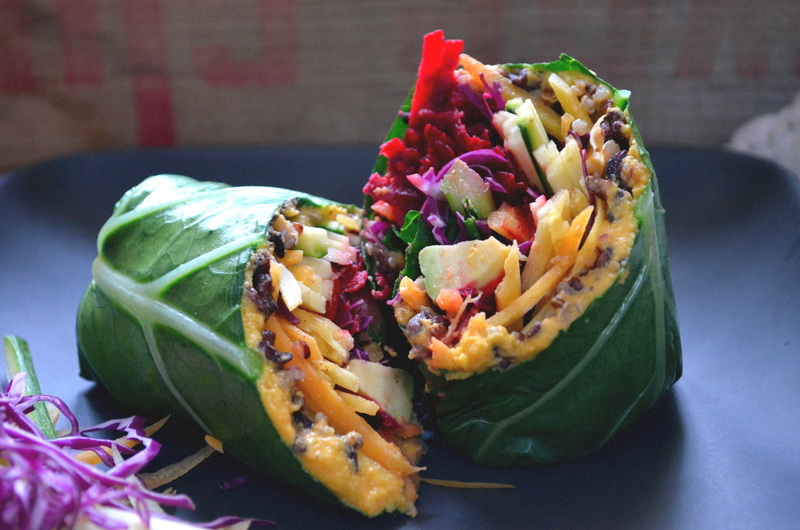 Ingredients
2 small carrots (yellow if you can find them), grated
1 medium garlic clove
2-3 tsp minced ginger (depending on your taste)
1 cup chickpeas (cooked and drained or use 1 15 oz can of chickpeas)
juice of 1 small lemon (about 2 tablespoons)
1 tsp cumin
1 tsp Sriracha (chili-garlic) hot sauce
2 tablespoons tahini
3 tablespoons olive oil
salt, to taste
Instructions
For the carrot hummus: Add the carrots, garlic, ginger, chickpeas, lemon juice, cumin, Sriracha, and tahini to a high speed blender or food processor. Pulse several times to mince ingredients than slowly drizzle olive oil into the blender. Puree until very smooth. If the mixture is not blending into a smooth dip consistency, add water 1 tablespoon at a time until it reaches desired consistency.
Taste and add salt. Adjust with more ginger, garlic, lemon, tahini, cumin, or Sriracha to your liking.
Makes 1.5 cups. Will keep in refrigerator for one week.
https://honeycreekkitchen.com/collard-green-wrap-with-carrot-ginger-hummus-and-rainbow-veggies/
Copyright www.dinnerwithaura.com
Collard Green Wrap With Carrot-Ginger Hummus and Rainbow Veggies
Ingredients
4 large collard leaves or 6 small collard leaves
1 cup cooked black quinoa or brown or black rice
2 carrots, julienned or shaved into ribbons
½ cup shredded red cabbage
½ cup grated beets
½ cup zucchini, julienned
½ cup red bell pepper, sliced thinly
1 avocado, sliced
1/2 cup carrot-ginger hummus
Instructions
For the wraps: Trim off the thickest part of the collard green stem using a paring knife and turning the leaf over to access the "backbone" of the leaf. You'll just want to make sure the leaf bends nicely.
If you prefer (and sometimes I do!), boil water in a large pan with a steamer basket and steam the leaves for a couple of minutes until they are a bright green. They should still be a little tough because you don't want them to break. This works best with large leaves.
Pat collards dry and spread out with the inside of the leaf facing up.
Spread a couple tablespoons of hummus on the inside of each leaf.
Add a couple tablespoons of grains on top of the hummus and arrange some of each kind of vegetable on top. This is a beautiful way to serve the collard wraps if you are going for presentation.
To eat, fold the edges in and roll up like a burrito.
Makes 6 small wraps or 4 large wraps, depending on sizes of your collard leaves.
https://honeycreekkitchen.com/collard-green-wrap-with-carrot-ginger-hummus-and-rainbow-veggies/
Copyright www.dinnerwithaura.com