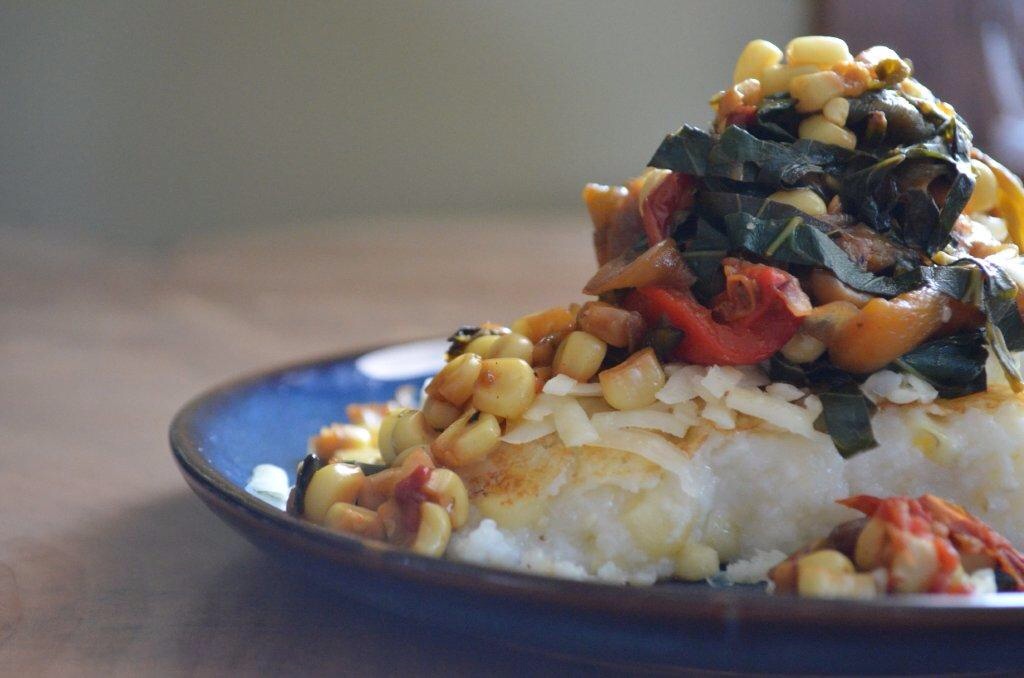 What a lovely weekend.  First off, I got to stay home for most of the weekend, a rarity these days.  The sun came out bright and shiny on Sunday.  We got to enjoy Sunday morning in bed listening to our BBC Radio Drama, The Archers, and eating migas breakfast tacos (one of the most perfect breakfasts EVER).  But the best thing about this weekend was that we hosted our very first house concert/potluck ever with the remarkable Michigan artist, Joshua Davis.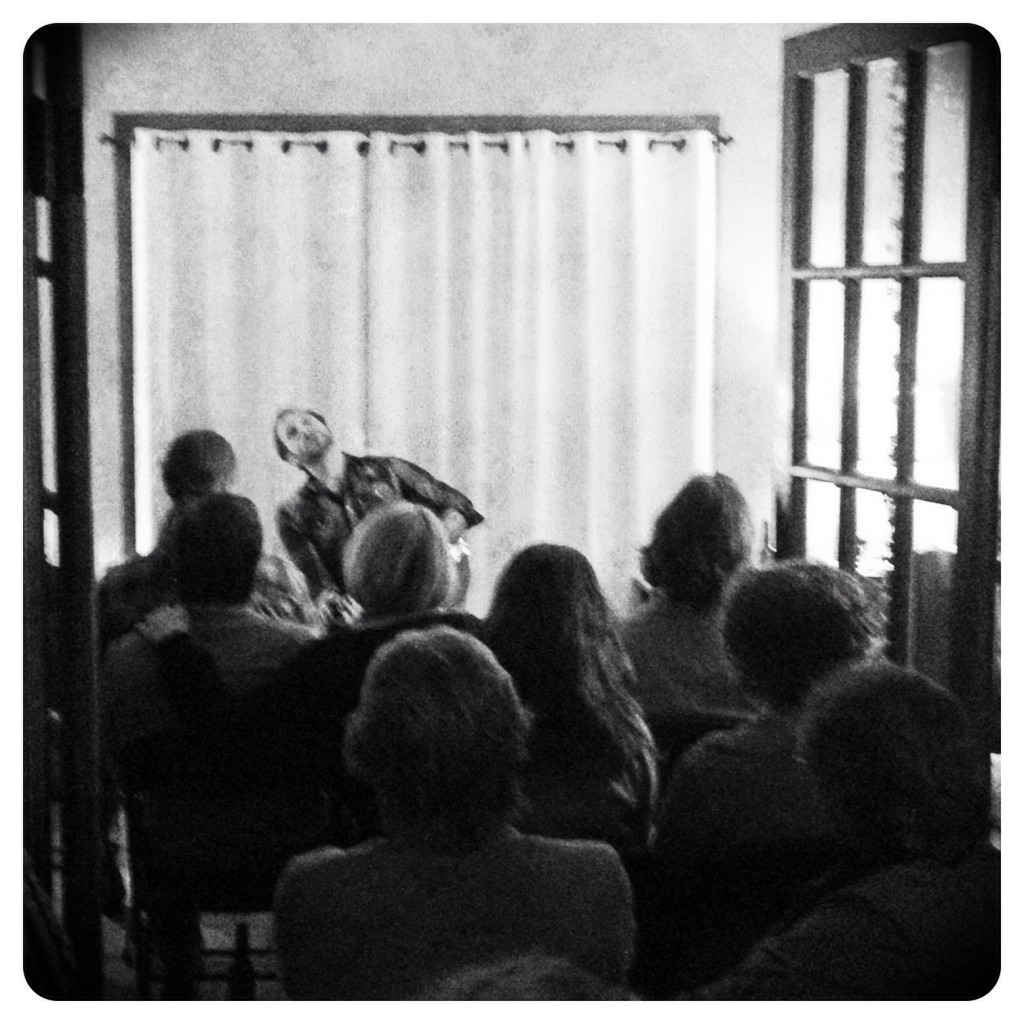 On Saturday night our house was transformed into an intimate concert venue with twenty-five of our closest friends gathered round to hear the soulful, articulate, thoughtful, fun music that Joshua writes and sings.  The food was wonderful, the conversations close, and the night magical.  We are looking forward to hosting more of these events in upcoming months.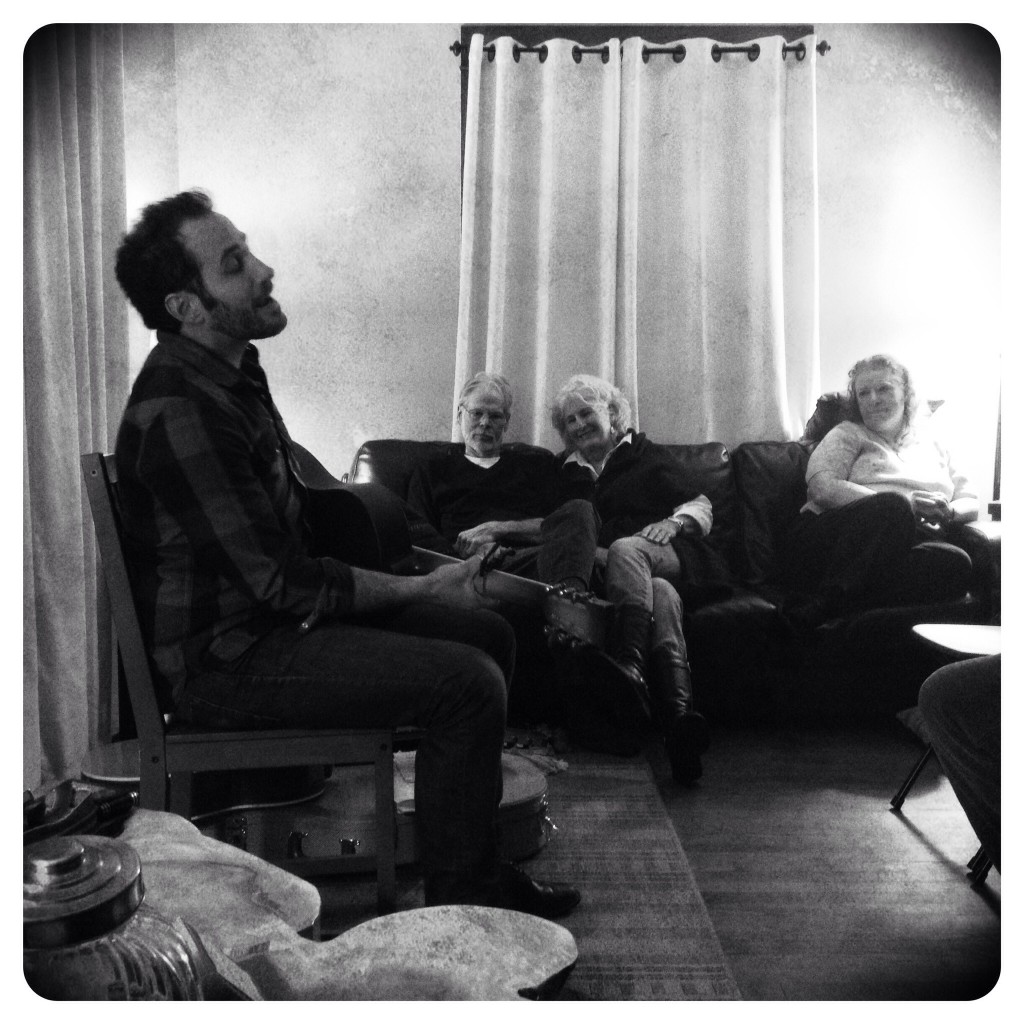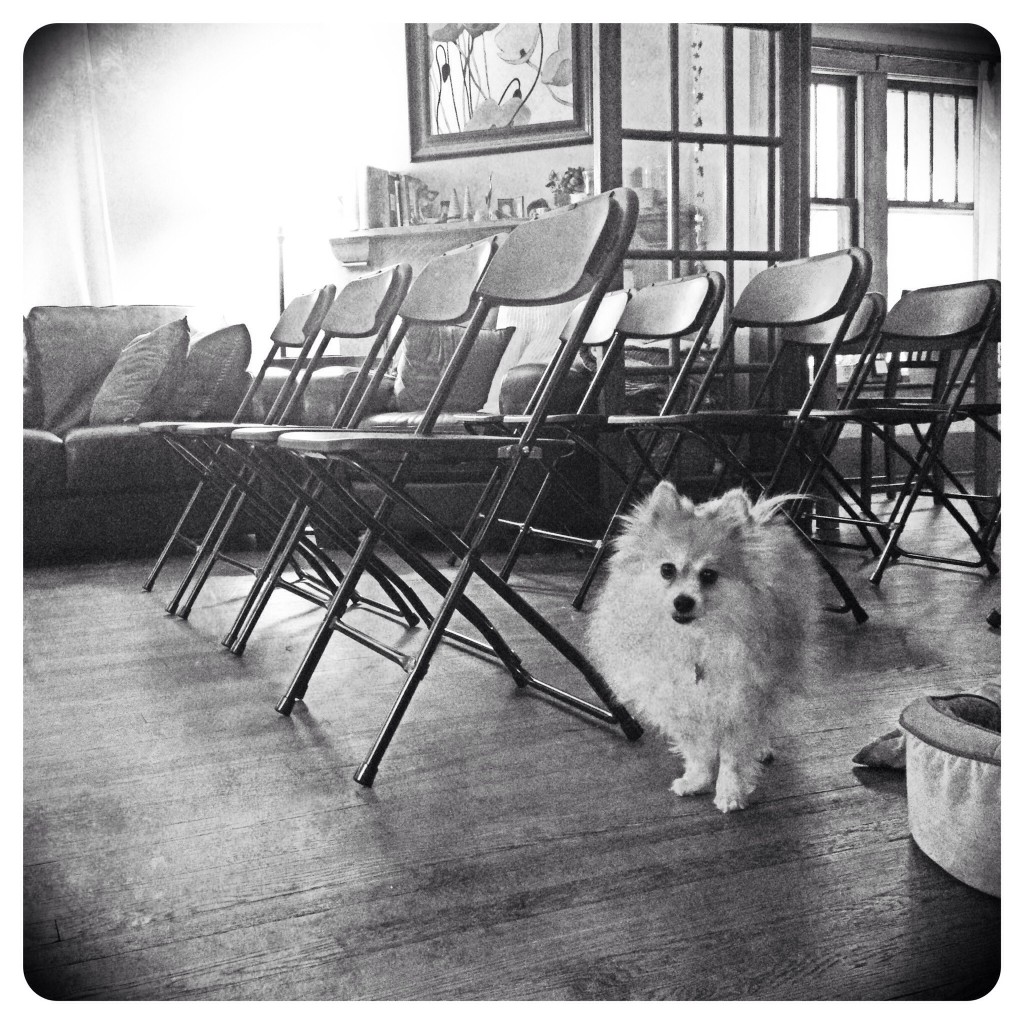 In my book, one mark of a great weekend is if it is filled with great food.  It certainly was.  Between the migas breakfast tacos, the Thai food we enjoyed out on Friday night, and the potluck dinner on Saturday night, our weekend was filled with soul-filling food.  Oh, not to mention these fantastic grits for Sunday dinner.
The idea for these grits started out about a month ago when I ate a similar dish at Zingerman's Roadhouse in Ann Arbor.  It's been on my mind since.  So what does any good foodie do when she can't just drive four hours round-trip for something?  Recreate it!  The recipe I came up with is as good or better than the dish I had at the restaurant (I know…them's fightin' words…).  If I close my eyes I can picture that I am at Zingerman's.  Well, without the wonderfully intense aroma of the smoker that infuses your hair, your clothes, and your dreams.  While I couldn't recreate that experiences without rolling a smoker onto the back patio, I was able to infuse the dish with that smoky smell and taste by using some wonderful Applewood Smoked Sea Salt from The Salt Sisters.  Heaven.  Without a smoker.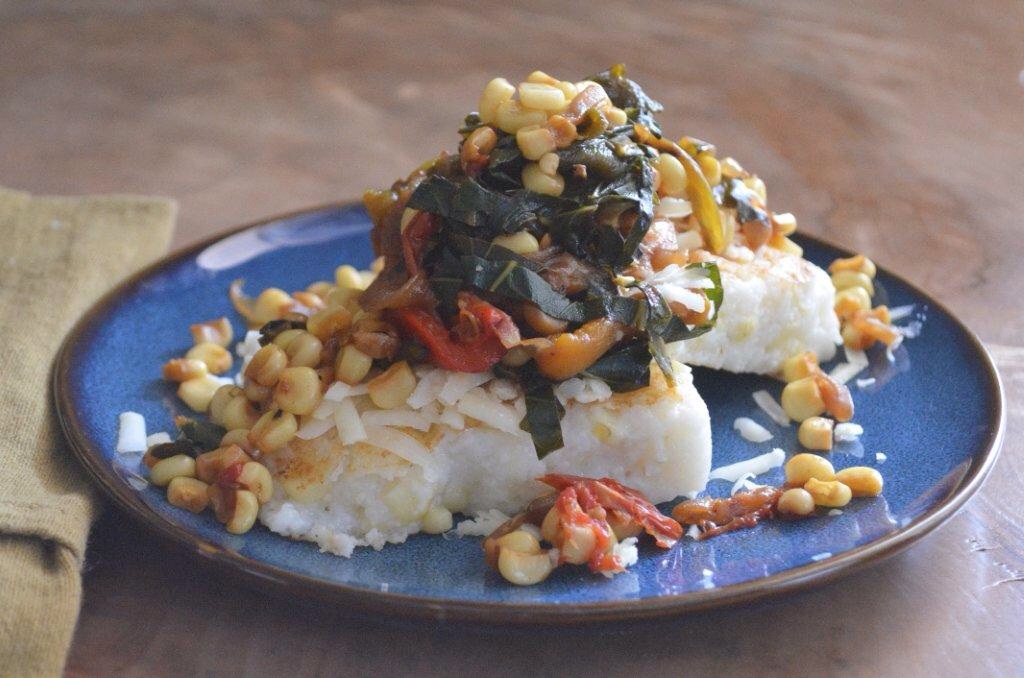 You can use soft grits (just serve grits hot from the pot instead of cooling into a pan) if you want to shave time off of this recipe but grit cakes are my favorite because when you pan fry the cakes they develop a delicious browned exterior, largely due to the aged cheddar mixed into the grits crisping up.  Think cheese crisps on the outside of each cake.  Oh yeah.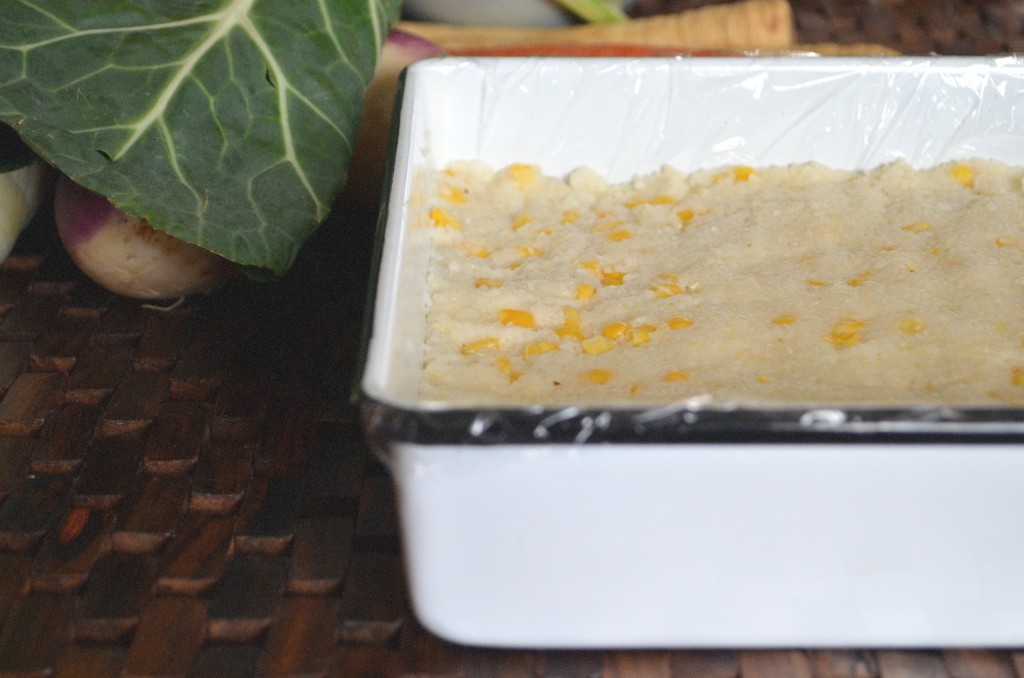 You can use jarred roasted peppers but if you have the time, I highly recommend roasting your own peppers because the flavor is out of this world.  There are different methods of roasting peppers but here is what I do:  Turn the broiler of your oven on.  I recommend lining your broiler pan with tin foil folded up at the edges to catch juices.  Place 3-4 peppers under the broiler flame.  Then, working one side at a time, blacken your peppers, rotating with tongs when each side has blackened (give them 3-5 minutes on each side, longer if they are not yet blackened).  Place blackened peppers into a paper bag and allow to "sweat" until cool enough to handle.  The skins should slide right off, leaving a wonderfully flavored, roasted pepper behind.  Completely worth the effort.  Because it does take a little bit of time, I always make extra roasted peppers to have on hand for other dishes, like roasted red pepper hummus or to toss with pasta with some caramelized onions and goat cheese.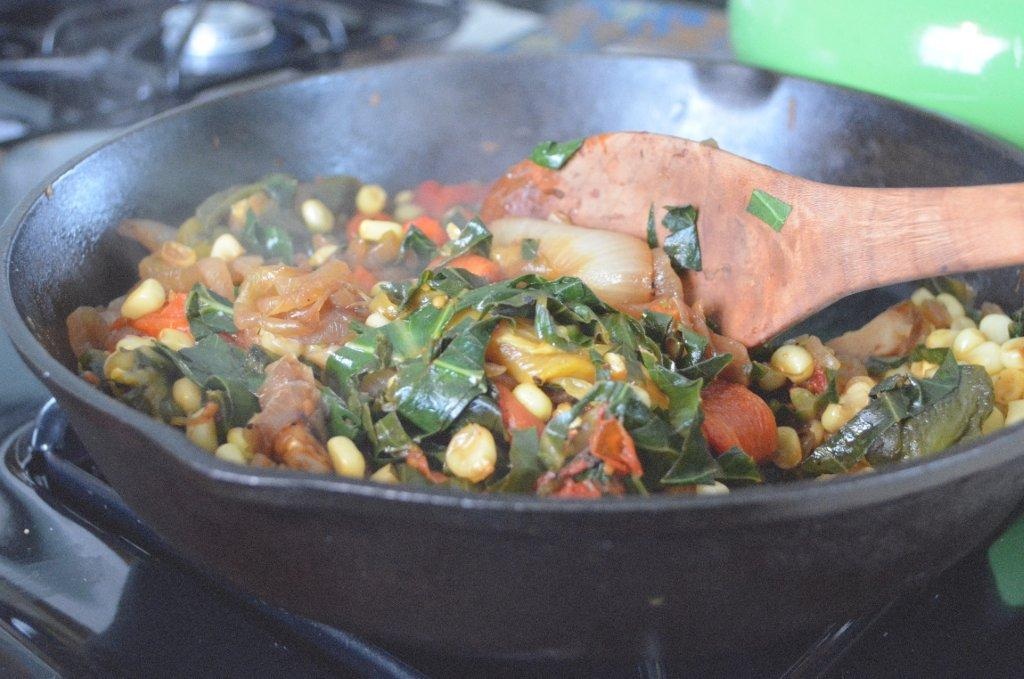 Finally, I encourage you to make extra of the collard, pepper, onion, corn mix.  It is wonderful the next day for lunch, tossed with pasta, quinoa, or rice.  Enjoy!
Carolina Grit Cakes With Aged Cheddar, Roasted Peppers and Caramelized Onions
Ingredients
3-4 roasted peppers (I used red bell, yellow bell, poblano, and cubanelle but bell peppers are just fine)
1 tsp oil, for pan
1 large sweet onion, thinly sliced
1 tsp sugar
2 large leaves of collard greens, thick "rib" removed and sliced thinly
1 cup corn, frozen is fine during the off-seasons
2 tablespoons good quality apple cider vinegar (such as Bragg's)
1 tablespoon olive oil
1 tsp smoked sea salt (such as The Salt Sisters Yakima Applewood Smoked Sea Salt)
Prepared Grit Cakes (see recipe below)
8 tablespoons grated aged white cheddar
Instructions
Heat oil on medium high in a heavy skillet and add sliced onions to pan. Allow to brown slightly and turn heat down to medium low. Add ¼ cup of water and allow to cook until water has been cooked away. Turn heat to low, add sugar, and allow to cook until caramelized, stirring every few minutes. Remove from pan and set aside.
Turn heat up to medium. Add collard greens to pan with ¼ cup of water and cover, allowing to steam for 10 minutes. Remove lid and add corn to pan. Cook until liquid has cooked away.
Add bell peppers and caramelized onions to the pan.
In a small bowl, whisk apple cider vinegar, olive oil, and smoked sea salt.
Pour over vegetable blend in skillet and stir to coat.
Place one or two grit cakes on each plate. Sprinkle 1 tablespoon of grated aged white cheddar on top of each cake. Top with some vegetable blend. Enjoy!
https://honeycreekkitchen.com/carolina-grit-cakes-with-aged-cheddar-roasted-peppers-and-caramelized-onions/
Copyright www.dinnerwithaura.com
Ingredients
3 cups water or broth
1 cup white grits
¾ cup frozen sweet corn (fresh if in season)
¼ cup heavy cream (optional—you may substitute water or broth for this)
2 ounces sharp white-cheddar cheese, grated (3/4 cup)
1 1/2 teaspoons coarse salt
1 tsp oil for baking dish
1 tsp oil for skillet
Instructions
Bring broth or water to a boil in a medium pot. Whisking constantly, slowly add grits to liquid and cook until mixture starts to thicken, a couple of minutes. Reduce heat to medium-low and simmer, continuing to stir every minute or two, until grits are thick, about 15-20 minutes.
Add heavy cream, cheese, and salt, and stir just until cheese melts. If you want soft grits, you may use like this and top with shredded cheddar, pepper, onion, and collards. If you are making grit cakes, allow to cool in the pan.
Prepare an 8x8 baking dish by covering in plastic wrap. Push the plastic wrap into the corners of the dish so it fits the inside of the pan. Put a teaspoon of oil into the dish and spread with your fingers to coat. Spoon cooled grits into baking dish and spread so it is even on top. Place in refrigerator for 1-2 hours until fully cooled and has hardened into a dense cake.
Heat 1 teaspoon of oil in a nonstick skillet over medium-high heat. Cut grits into 9 squares in the pan and, making sure there is room in between the cakes in the skillet, cook a few at a time for about 5 minutes on each side until the cakes are browned and warmed through. Remove and set aside. If you want to keep them warm, place on a pan in a 300 degree oven while you are finishing the remaining cakes.
https://honeycreekkitchen.com/carolina-grit-cakes-with-aged-cheddar-roasted-peppers-and-caramelized-onions/
Copyright www.dinnerwithaura.com