How y'all doing?  My recent cruise through the southeastern United States last week has inspired me to revisit grits.  When I was in high school I somehow found out about grits and diligently ate them every morning for breakfast day after blessed day.  Not a whole lot has changed…except now I am an oatmeal or oatbran type of gal.  It's been years, I mean YEARS since I had grits until that fateful moment at the Compass Rose breakfast buffet last week.  Welcome home, Aura.
Seems like grits is making a comeback in the pages of food magazines (or else I just overlooked them before).  I saw mention of grits in two magazines on the roadtrip.  One was grits with cheddar and shrimp.  The other was grits with a poached egg.  Cravings kicked in…last night I picked up a box of grits and went the savory route.  I found a recipe on Food & Wine for Cheese Grits…a recipe that the contributor swears has inspired three marriage proposals.  Start lining up, boys!  A dish that will make your momma proud.  My take on the grits was made with extra sharp cheddar cheese and vegetable broth.  I served it with some kale, diced red bell pepper, and a poached egg.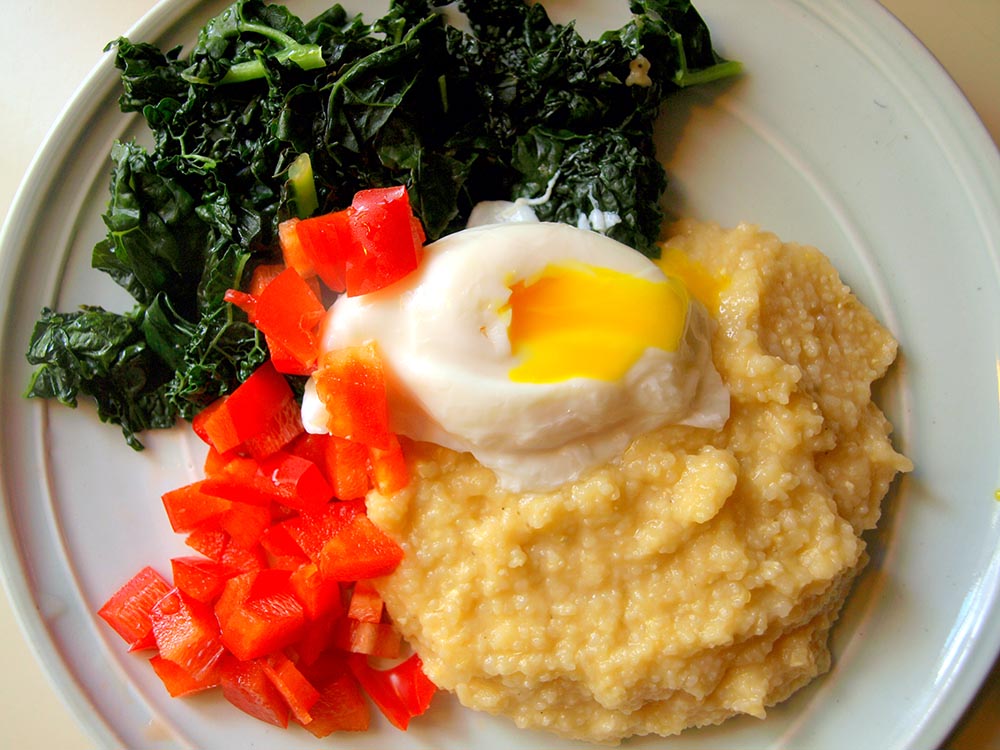 Cheddar Grits (adapted from Food & Wine)
3-4 cups vegetable broth
1 garlic clove, minced
1 cup of quick grits
4 ounces of extra-sharp cheddar cheese, shredded (1 and 1/2 cups)
2-3 Tbsp unsalted butter
2 Tbsp heavy cream (optional)
Kosher salt and freshly ground pepper
Directions
In a medium saucepan, bring the broth to a boil.  Add the garlic and slowly stir in the grits.  Reduce the heat to moderately low and cook, stirring frequently, until the grits are tender, 5 to 10 minutes (if you use old-fashioned grits it will take about 20 minutes).  Remove the saucepan from the heat and stir in the cheese, butter and cream.  Season with salt and pepper and serve immediately.