This week's Food Matters Project recipe was chocolate and cherry panini, chosen by Margarita from the blog, Let's Cook and Be Friends.  Very adventurous, Margarita!  Yesterday I made almond joy no-bake cookies and considering I was short on time today, I decided to make a variation on the no-bake cookies because I also wanted to try some additional changes to the recipe from yesterday. Today I swapped agave nectar for honey and replaced all of the cashew meal with almond meal.  Added some dried cherries and voila!  Chocolate-Coconut-Cherry No-Bake Bites.  I much preferred the agave nectar to the much sweeter honey and the almond meal is always a favorite for me as well.  Below is the new version of no-bake cookies.  You may add cherries (I added to half of the mixture so there were options) if you are a fruit/chocolate combo person!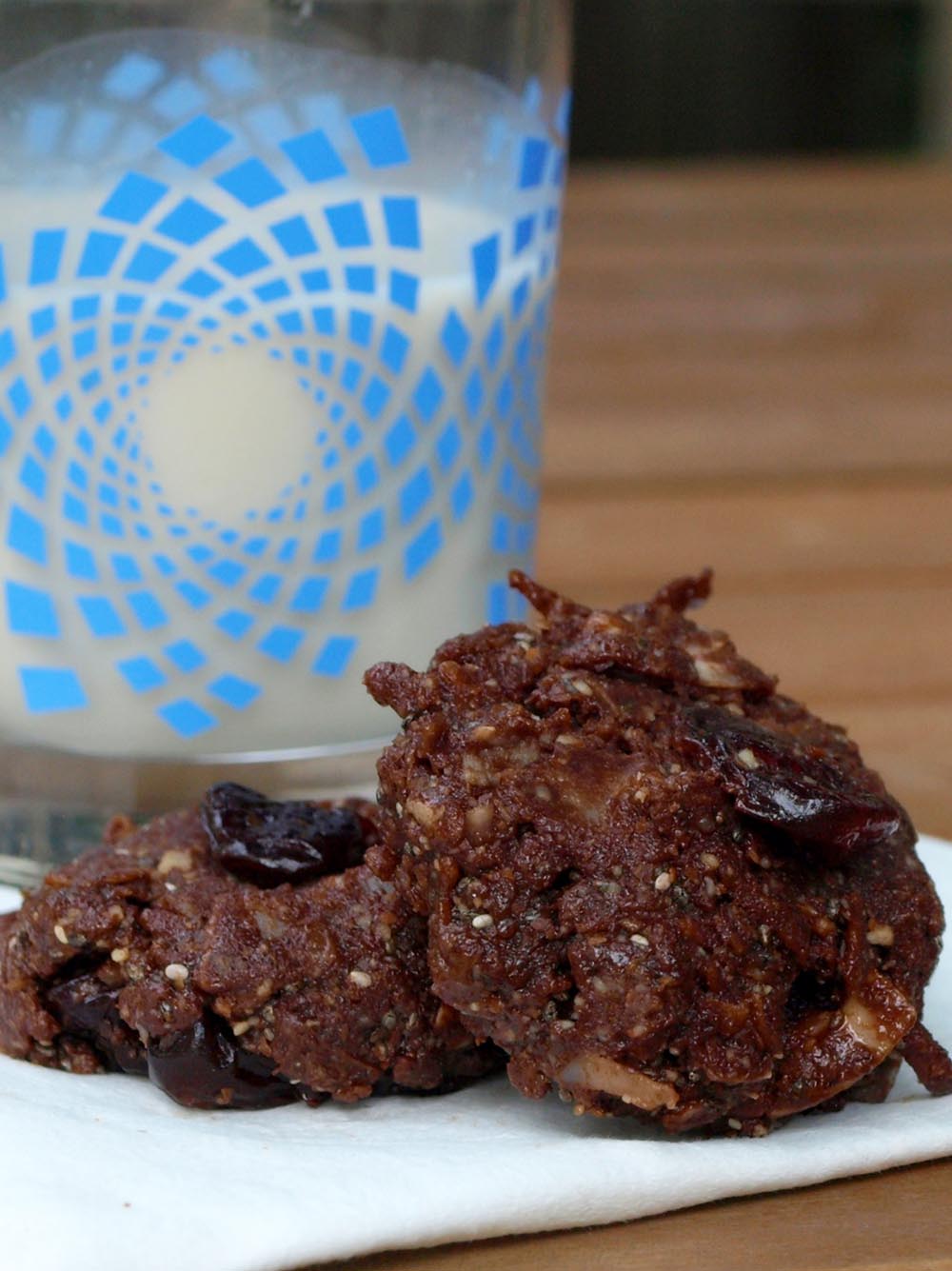 Chocolate-Coconut-Cherry No-Bake Bites
prep time: 10 minutes; refrigeration time: 30 minutes; makes: 20 small cookies
5 oz bittersweet chocolate chips (about 1 cup)
1/3 cup agave nectar (more or less to taste)
1/4 cup coconut oil
1/2 tsp salt
1 and 1/2 cups unsweetened shredded or flaked coconut
1 ½ cups almond meal
2 tbsp chia seeds, optional
1/2 cup dried cherries, optional
In a small saucepan, combine chocolate, agave, coconut oil, and salt. Over low heat, mix continuously, until the chocolate is completely melted and all ingredients are well combined. In a medium-sized mixing bowl, combine shredded coconut, almond meal, cherries, and chia seeds.  Add hot chocolate mixture and mix wet and dry ingredients together well until all dry ingredients are moist. On a parchment lined baking sheet, spoon mixture into little mounds (note: the cookies can be placed close together, because they will not spread out). Transfer the baking sheet to the refrigerator, and allow the cookies to set for 30 minutes. Once the cookies have hardened, transfer to an airtight container, and store in the refrigerator for up to 1 week. Serve cold.