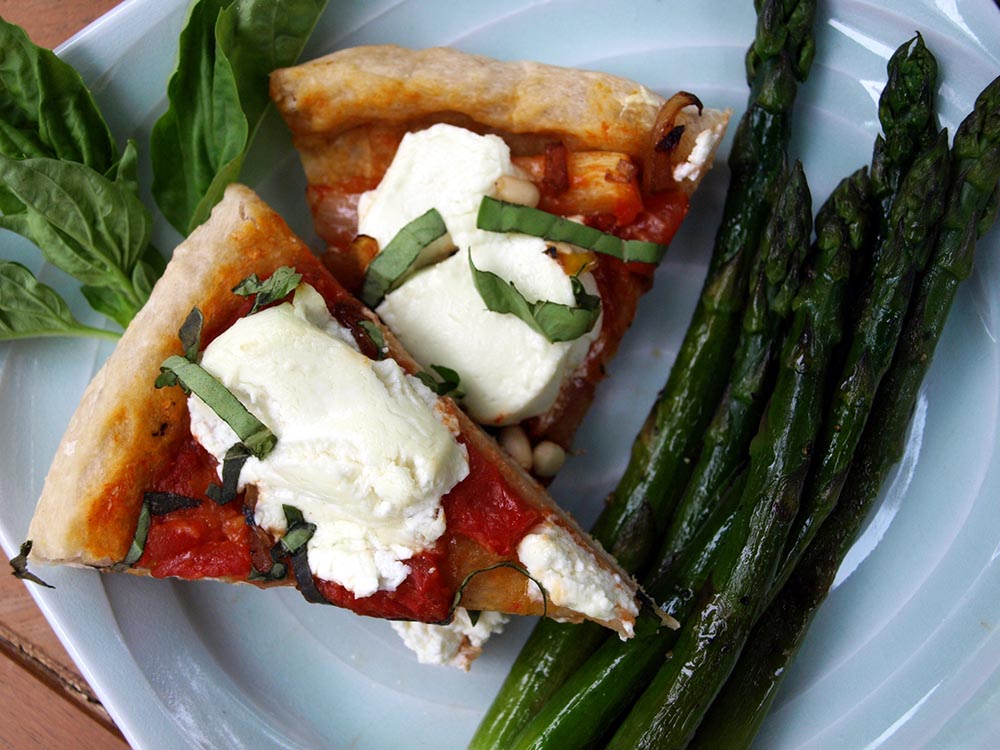 By now you must know how much I love cast iron pizzas.  I think this is my third post about them and I'm sure those of you who know me "in person" have heard me talk about my quick and easy cast iron pizza dinners.  And the secret is out.  I don't always make my own dough, even though I have found and tried some very easy no-knead dough recipes (and they turned out just fine, thank you very much).  Sometimes when you want pizza spur-of-the-moment it is just necessary to start with pre-made dough.  And the Nantucket Baking Company has great dough and is only a few blocks away.  It's a no-brainer.
Tonight I made another fine variation:  goat cheese, caramelized onion, pine nuts, and fresh basil.  Really hit the spot.  Really easy.  Really worth sharing with a friend because it is just so much better the night-of than as leftovers.  My pal Jessie and I finished off this beauty tonight with some roasted asparagus, finished with a almond-coconut no-bake cookie.  The weather was beautiful and breezy.  We got caught up on all the latest…business trips…fun trip to Atlanta…gossip…clothes…truly a great evening!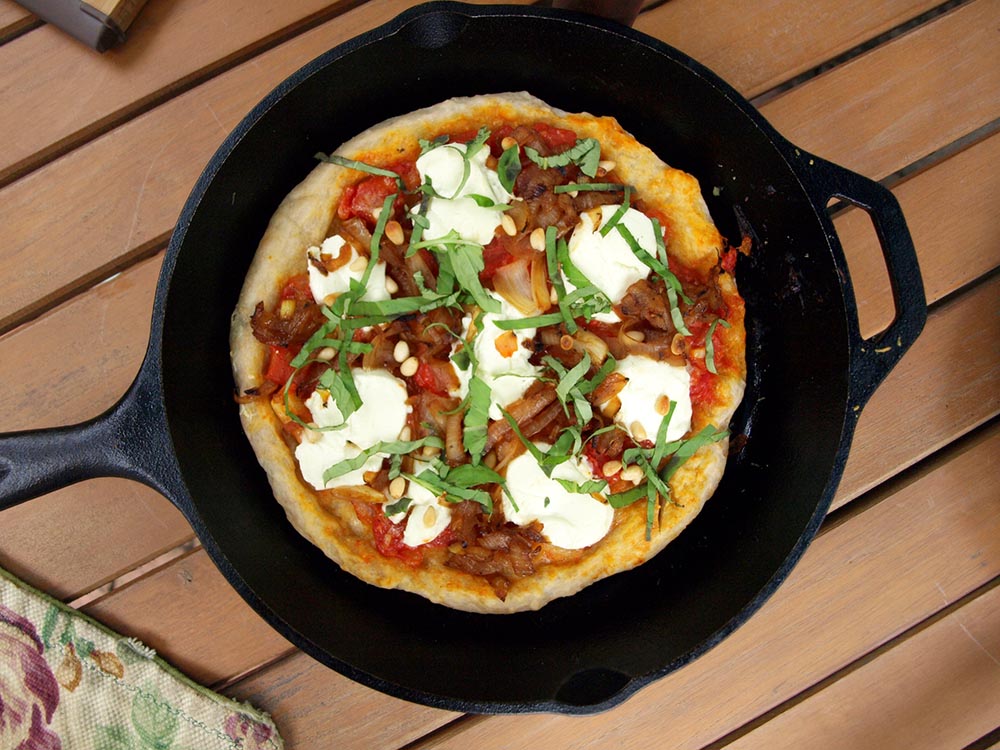 Cast-Iron Pizza With Goat Cheese, Pine Nuts, Caramelized Onion, and Basil; makes one 12-inch pizza
Ingredients:
One 4 oz log goat cheese
1 sweet onion, sliced
1/2 can diced tomatoes
1 clove garlic
1 tsp brown sugar
1 Tbsp pine nuts
4 large basil leaves, shredded
1 ball dough (about 3/4 lb)
Preheat oven to 500 degrees.
Brush a 12-inch cast-iron skillet with 1 teaspoon oil. Press dough flat in the skillet, spreading to edge.  Let it rest for a bit if it doesn't reach the edges of the skillet–after a while it will relax, allowing you to push it to the edges of the pan.
Caramelize onions:  add sliced onions to pan with 1 tsp oil and cook over low heat until caramelized, about 15-20 minutes.
Sautee in 1 tsp oil:  garlic and 1/4 of the onion for a few minutes until browned.  Add tomatoes and brown sugar and cook until juices are evaporating somewhat, leaving a thicker tomato sauce.  Spread over dough.
Cook pizza over medium-high heat until bottom is golden brown, 3 to 4 minutes. Transfer to oven; bake 3 minutes. Add slices of goat cheese, caramelized onion, and pine nuts; continue baking until edge of crust is golden brown, about 8 minutes. Garnish shredded basil and serve to your gracious guest!