Carrie and I whipped up these little gems after dinner tonight.  The recipe is adapted from Laura Friendly (LauraFriendly.com), a blog focused on gluten free and dairy free foods.  Laura (who also happens to be one of the yoga instructers at the Funky Buddha Yoga Hothouse–funk yeah!) creates some amazing foods–I guarantee the dairy and gluten won't be missed!
These cookies are as easy as any no-bake cookie.  I haven't made no-bakes in about a decade so when I saw this recipe I figured it was about time!  I have adapted Laura's recipe to include dairy chocolate and more almond meal than originally called for.  Just what I had on hand and personal preference.  Head over to Laura's blog for the original recipe!  And thanks for the inspiration, Laura!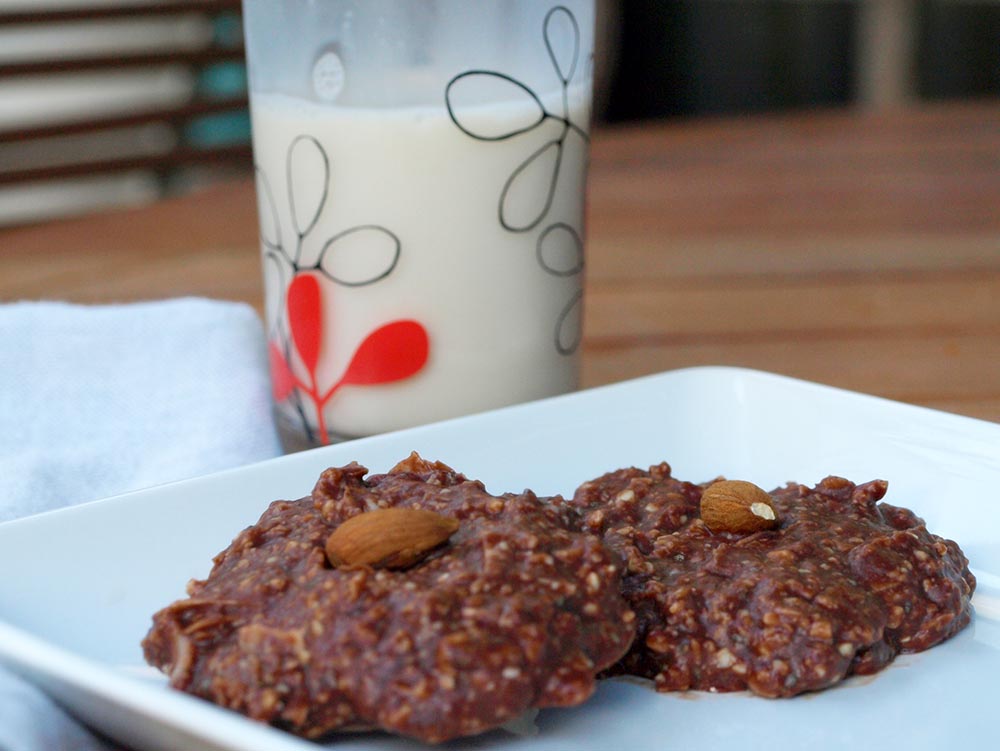 Almond Joy No-Bake Cookies adapted from Laura Friendly
prep time: 10 minutes refrigeration time: 30 minutes makes: 12-24 cookies, depending on how big you make 'em!
5 oz semi-sweet chocolate chips (about 1 cup)
1/3 cup honey (more or less to taste)
1/4 cup coconut oil
1/2 tsp salt
1 and 1/2 cups unsweetened shredded or flaked coconut
1 ½ cups almond and/or cashew meal (I used 1/2 almond, 1/2 cashew)
2 tbsp chia seeds, optional
whole almonds to top cookies, optional
In a small saucepan, combine chocolate, honey, coconut oil, and salt. Over low heat, mix continuously, until the chocolate is completely melted and all ingredients are well combined. In a medium-sized mixing bowl, combine melted chocolate, shredded coconut, almond/cashew meal and chia seeds. Mix together well. On a parchment lined baking sheet, spoon mixture into little mounds (note: the cookies can be placed close together, because they will not spread out). Top with almonds, if desired. Transfer the baking sheet to the refrigerator, and allow the cookies to set for 30 minutes. Once the cookies have hardened, transfer to an airtight container, and store in the refrigerator for up to 1 week. Serve cold.  Share with your grateful neighbors.