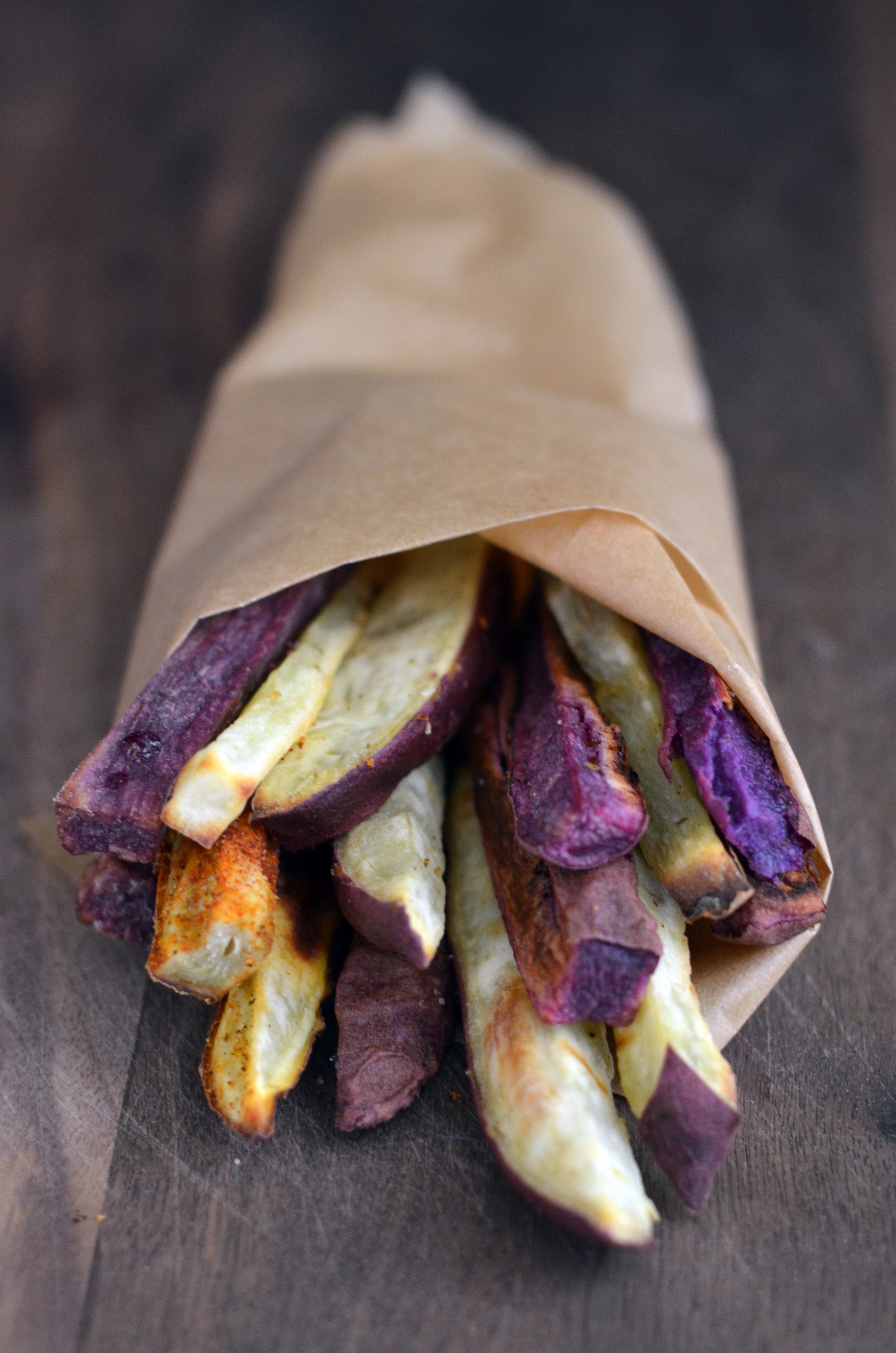 My husband makes our 16 month old son sweet potato fries regularly for an afternoon snack and he gobbles them up faster than you can say hot potato.  So when I was at the health food store the other day and saw Okinawan purple sweet potatoes and Japanese white sweet potatoes, I had to get them for an extra special, healthy, and colorful treat.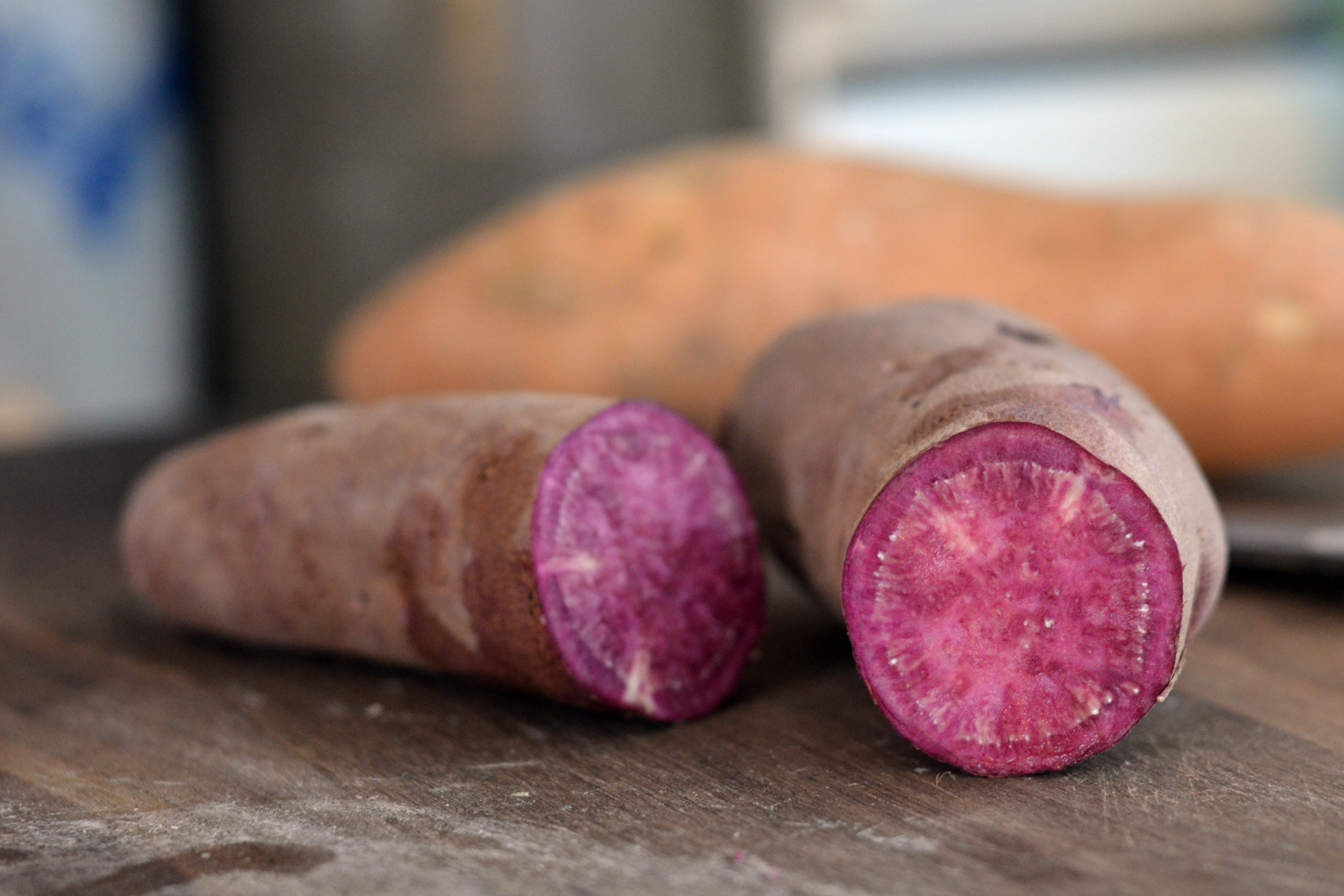 I love feeding our son new foods and am delighted when he enjoys all of the new sights, smells, and and tastes of our varied palate.  I can't wait to have him help me select veggies and fruits that are every color of the rainbow and can help me prepare them for our meals.  Purple vegetables are one of my favorite food color groups.  They are stunning on a table but pack a serious nutritional punch as well.  Down to Earth writes about the virtues of Okinawan (purple) sweet potatoes on their website.
Sweet potatoes of all varieties are high in vitamin A, vitamin C and manganese. They are also a good source of copper, dietary fiber, vitamin B6, potassium and iron. Sweet potatoes are known to improve blood sugar regulation and some studies have discovered significant antibacterial and antifungal properties. The primary nutritional benefit, and the one for which purple sweet potatoes are especially prized, is their high antioxidant levels.
The antioxidant known as anthocyanin is the pigment which is responsible for the brilliant purple color of the flesh. It is the same pigment that gives blueberries, red grapes and red cabbage their color. Blueberries are well known for their high antioxidant levels, however, the Okinawan (purple) sweet potato actually has 150 percent more antioxidants than blueberries.
Orange sweet potatoes will work just fine and are quite healthy…this was just a fun way to shake up our routine.
So let's get to the recipe…first, I cut the sweet potatoes into thick matchsticks and placed them in a bowl of cold water for an hour.  I hear that this draws out some of the starches and makes for a crispier fry.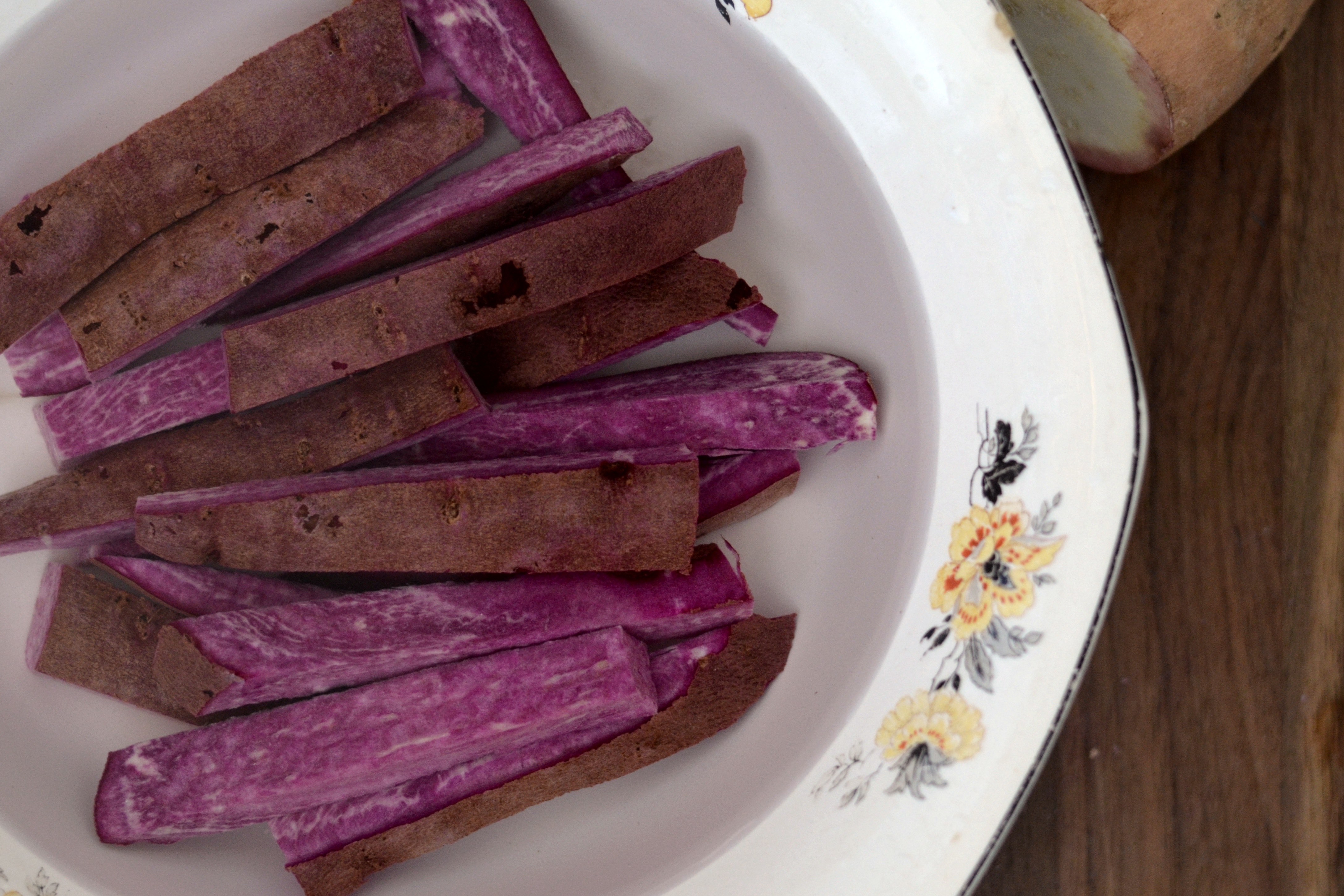 Next, while I preheat the oven to 400 degrees, I pat the sweet potatoes dry on a towel.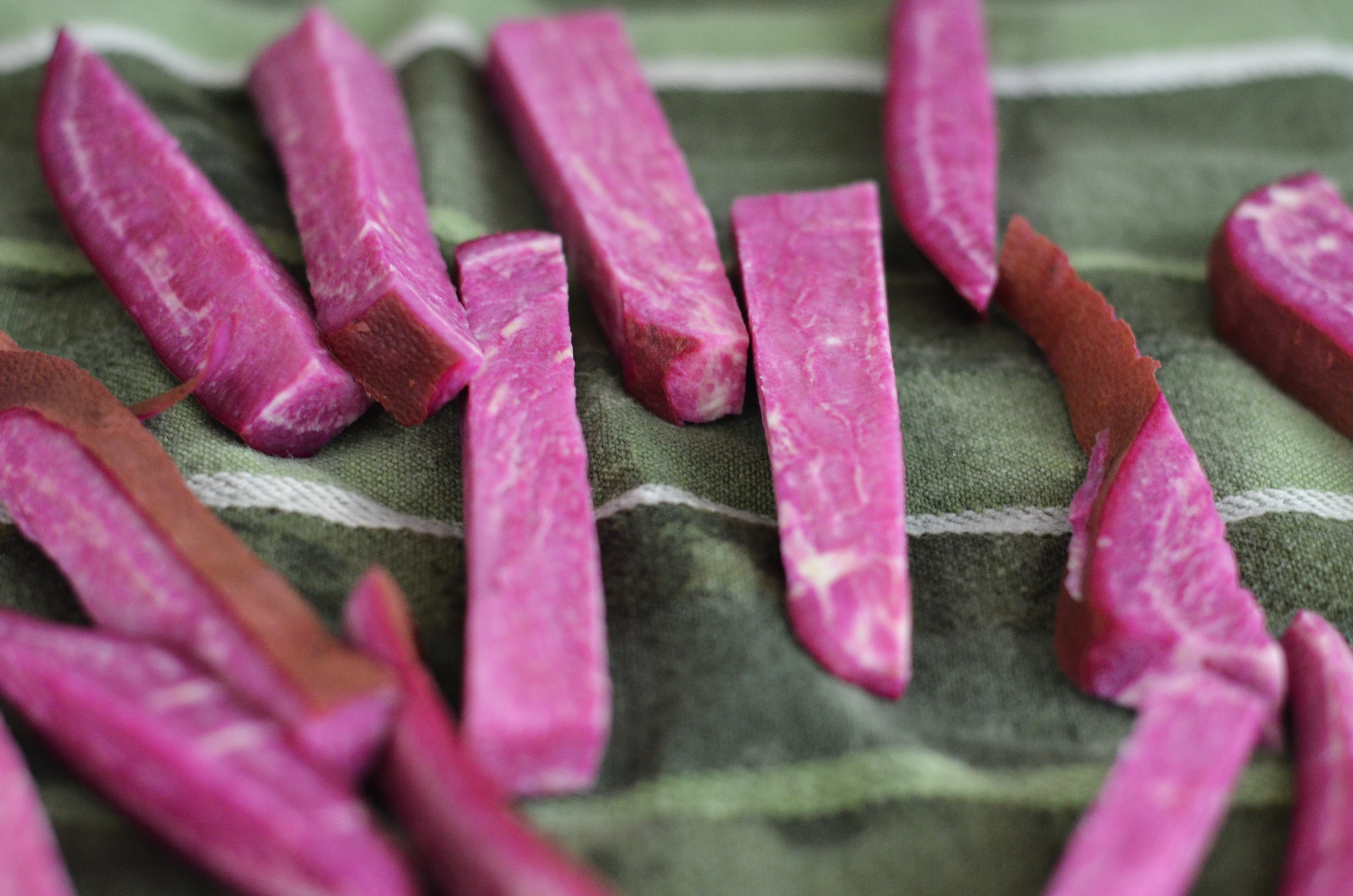 After patting dry, toss the fries with olive oil or coconut oil and season as you like with salt or a seasoning blend of your choice (I used the Emeril's cajun spice blend my husband whipped up a week or so ago). For more riffs on seasoning sweet potato fries and for a yogurt dip recipe, check out Cooking Light's post on the matter.  Place on a metal rack on top of a sheet pan, with space around each (they won't crisp if they are crowded) or you may also place directly on a sheet pan.  If you place directly on the sheet pan, you will need to flip the fries about halfway through baking.  No need to if you use a metal rack.
Bake for 25-30 minutes.  The fries are done when they are crispy on the outside and soft on the inside.  Let cool for a moment and serve with your choice of dip….or eat as-is.  I promise you they won't last long!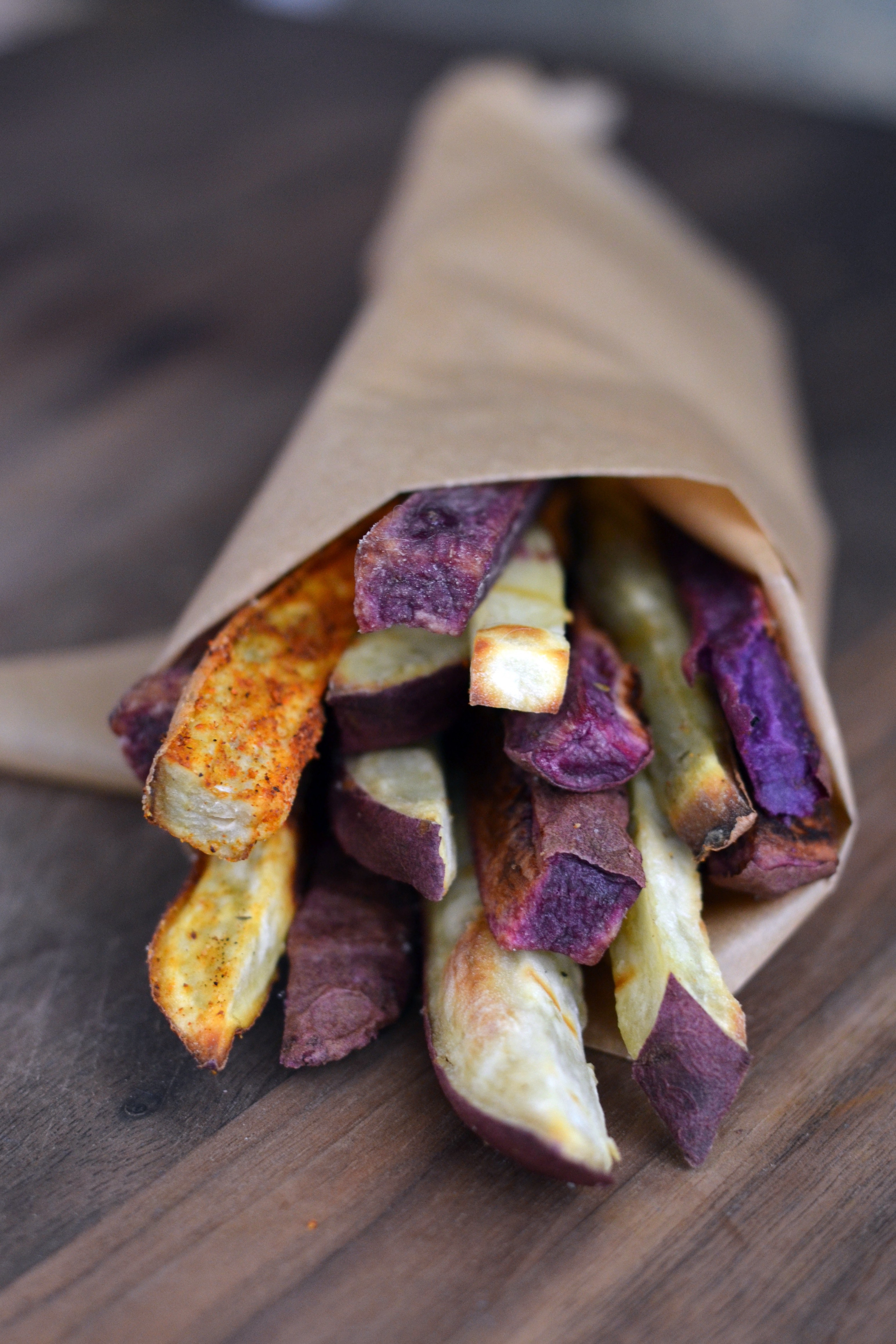 Ingredients
Sweet potatoes (one per person is a good bet)
A couple of tablespoons of olive oil or coconut oil
Sea salt
Spices (optional); I used Emeril's cajun blend for some of the fries in this recipe for a spicy kick
Instructions
Slice sweet potatoes into 1/4 inch slices. Lay slices flat and cut again into 1/4 inch matchsticks. Try to cut the sweet potatoes uniformly so they bake evenly.
Place potato sticks into a large bowl with cold water to cover for an hour.
Preheat oven to 400 degrees.
Drain water and place sweet potatoes on a towel to pat dry.
Toss potatoes with olive oil and any seasoning you prefer and spread out on a sheet pan. You may also put the potato fries onto a metal rack, which eliminates the need to flip the fries halfway through baking.
Bake for 25-30 minutes, flipping the fries half way through if you are not using a metal rack.
When crispy on the exterior and soft inside, remove from oven and enjoy!
https://honeycreekkitchen.com/baked-sweet-potato-fries/
Copyright www.dinnerwithaura.com