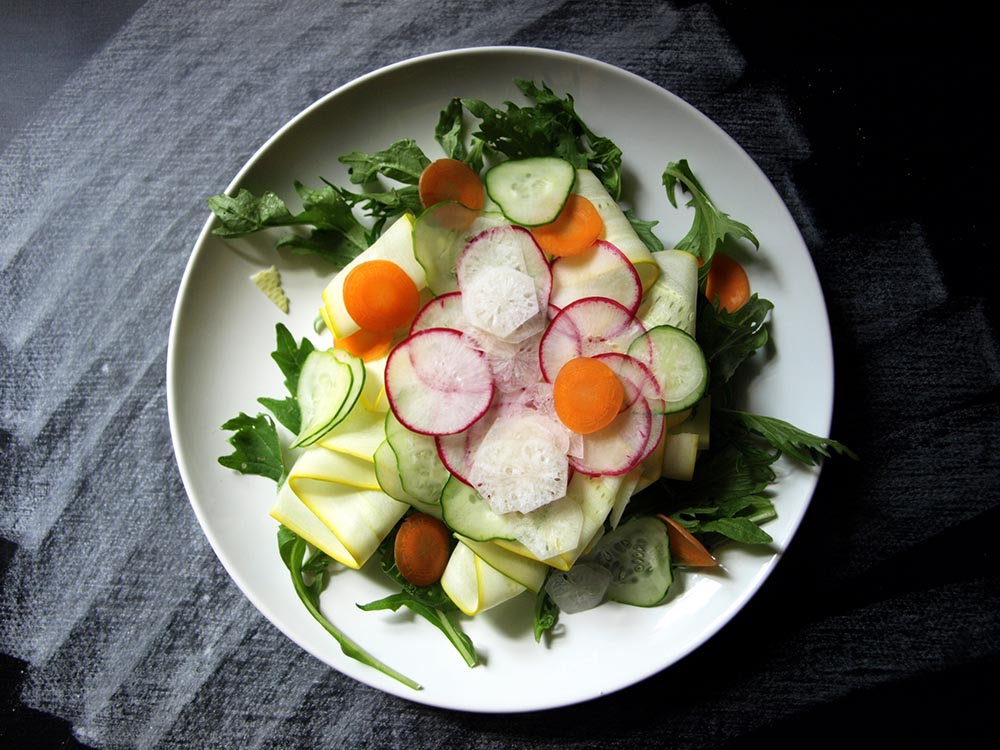 Hold the phones, people.  I just got a Benriner Japanese Mandolin Slicer and no vegetable in this house is safe.  Here is how things have been going the last few days…hmmm…I wonder what carrots look like sliced paper thin…I wonder what potatoes look like…I wonder what beets look like…..radishes, zucchini, green beans (seriously), cucumber, even garlic scapes have all faced the merciless mandolin.  So effortless!  Such beautiful results!  Every dish has become a masterpiece since this tool entered my home.  In my fictional future interview with Bon Appetit magazine, they will ask me what my favorite kitchen tool is and I will reply that it is a tie between my beloved immersion blender and my Benriner mandolin.  I will tell them how a vegetable has never been so beautiful until you can see the intricacies at a nearly paper-thin level.  I will tell them that I use it nearly every day.  Call me, Bon Appetit!  I am waiting….
So, I'm not really going to give a recipe per se…just going to kind of tell you what I did.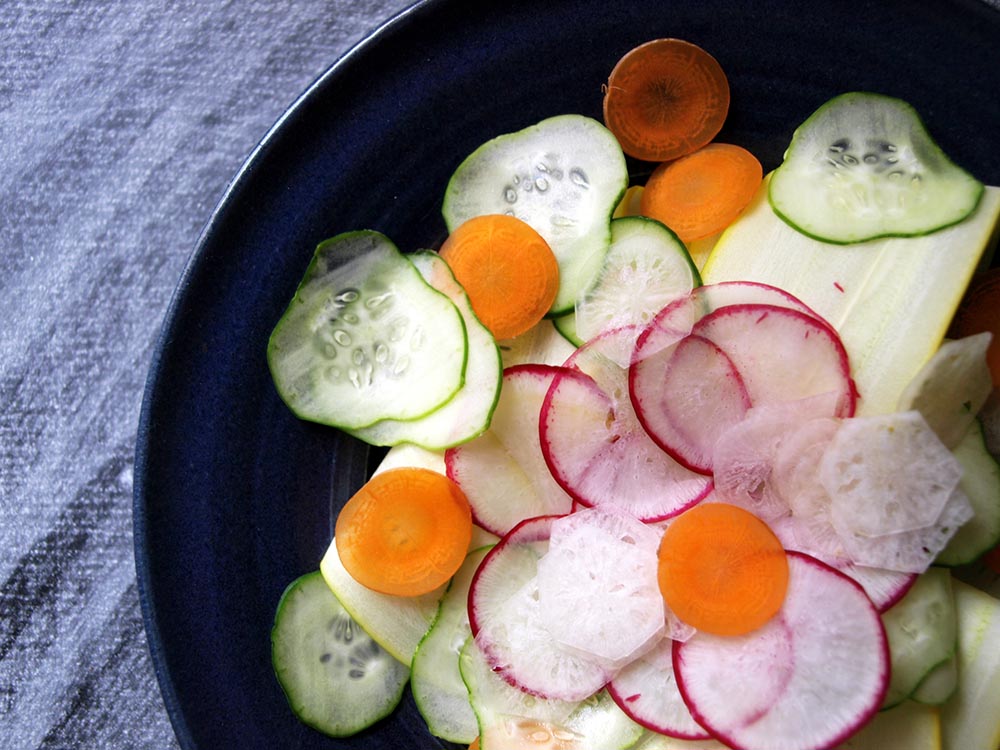 Directions:
Slice any vegetable that can be eaten raw as thin as you can get it (adjust mandolin to the highest setting).  A food processor will work great but you won't get the slices as thin as with a mandolin.  Suggestions:  zucchini, summer squash, cucumber, bell pepper, carrot, and radish.
Arrange on their own or atop a bed of greens (arugula, mizuna, mixed greens).
Drizzle with a light homemade vinaigrette.  Here is how I made mine:  whisk a teaspoon of Dijon mustard with a few tablespoons of olive oil.  Put into a pour-bottle with a top (you'll want to shake this later).  Add 1/2 cup olive oil, 1/3-1/2 cup vinegar (I used cherry balsamic but I also love pear infused white balsamic, rice wine vinegar, cider vinegar, or red wine vinegar) and a generous pinch each of salt and pepper.  Screw the lid on and shake it to the east, shake it to the west, shake it to the one that you love the best!  If you have time on your hands, I recommend finely dicing a shallot and sauteing it lightly in some olive oil until fragrant and adding it to the dressing.  Delicious!  For a sweeter dressing, I like to add a tablespoon of maple syrup or honey.