Even though it has been a few weeks since Christmas, I am still coming down from my holiday eating habits.  There was a day after Christmas where I felt like every cell in my body wanted vegetables.  I was starting to feel really sleepy from all of the sugar, butter, cheeses and chocolates.  That day, I made a big pot of minestrone and I ate it for several days–it was such a relief to get away from the unhealthy foods I had been eating for a couple of weeks.  Even after my minestrone week, I have noticed that I continue to crave sugary foods much more than normal and would like to get away from the feeling that I HAVE to have chocolate or another sweet right after meals.
I'm playing with the idea of doing a 1 month detox to get my cravings in check and to increase my energy levels.  That interest led me to search some sites for detox plans and I came across a new blog called http://mynewroots.blogspot.com/.  Last night I made the root vegetable mulligatawny.  All I can say is if detoxing has recipes like this, I'm in!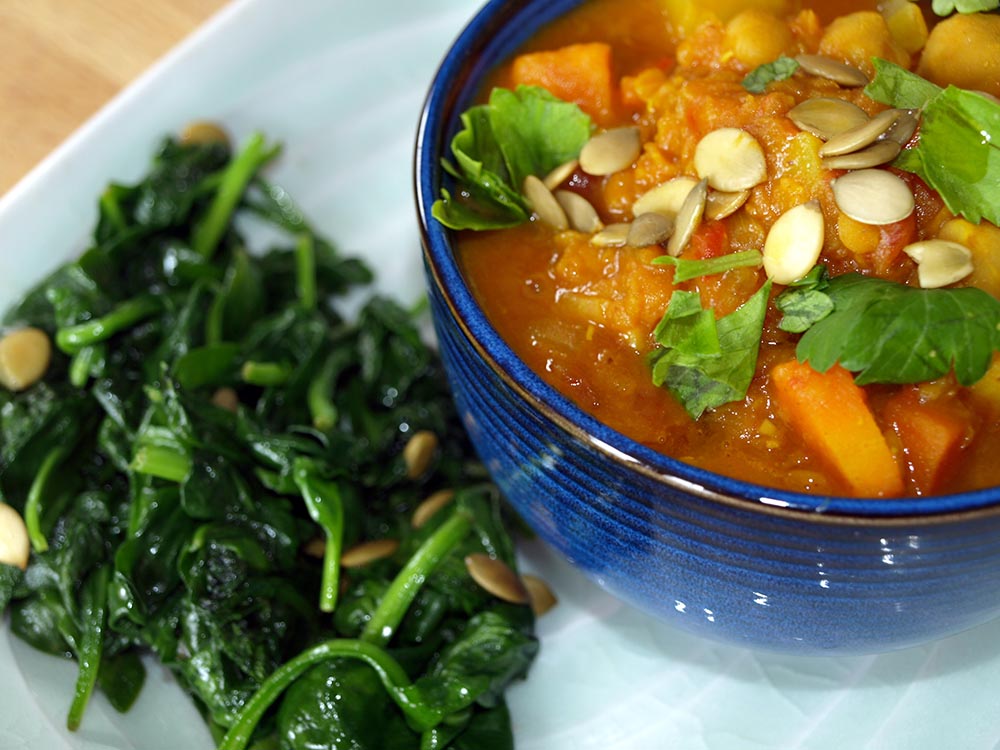 Root Vegetable Mulligatawny
If you do not have all of the spices on hand, just use a couple tablespoons of your favorite curry powder.
Aura's note:  I used lemon because I didn't have tamarind on hand.  I actually had some soup before adding lemon because I forgot that last step and it was just as delicious without it as it was with it.
On the second day I had this (changed the photo to day two because it was prettier!) I topped it with some flax oil, parsley, and pepitas (raw pumpkin seeds).  Also served it with sauteed spinach with some pepitas.  Why pumpkin seeds?  I read there is a lot of magnesium in them, which will reduce cravings for chocolate.  Let's see if that works…
1 cup dried red lentils
1 Tbsp. coconut oil
½ tsp. mustard seeds
1 Tbsp. curry leaves (about 15)
½ Tbsp. turmeric
¼ tsp. cayenne
½ Tbsp. coriander
½ tsp. salt
2 Tbsp. minced ginger
2 small onions, chopped
4 cloves garlic, chopped
1 red bell pepper, diced
6 cups diced mixed root vegetables (carrots, sweet potato, celeriac, parsnips, turnips, daikon, kohlrabi, sunchokes etc.)
1 cup cooked chickpeas (optional)
1 14oz. can diced tomatoes
1 14oz. can coconut milk
2 cups vegetable broth
1 Tbsp. tamarind paste dissolved in ½ cup water (or juice of ½ lemon)
Fresh cilantro, for garnish
Extra-virgin olive oil, for drizzling
1. Cover lentils with water to soak while you prepare the rest of the dish.
2. In a large stockpot, heat the oil and add all spices and minced ginger (not the garlic). Stir often so spices do not burn. When the mix smells fragrant, add onions and cook until softened (if the mix becomes too dry, add a little of the tomato liquid and stir well). Add garlic and cook a couple minutes more.
3. Add the chopped vegetables and stir well to coat with spices. Cook for 5 minutes. Add chickpeas, if using, and cook until heated through. Add canned tomatoes and coconut milk.
4. Drain and rinse lentils very well and add them to the pot, along with the vegetable broth. Bring to a boil, then cover and reduce heat to simmer. Cook for 20-30 minutes until the lentils are soft and the root vegetables tender.
5. Add tamarind (or lemon juice) to the soup. Season to taste.
6. Garnish soup with fresh cilantro and some quality olive oil. Serve hot. Tastes amazing the day after!