I found a new blog that has a lot of great "clean" foods to try (http://www.coconutandquinoa.com/).  I made the lemony lentil salad on Saturday afternoon.  Amy Chaplin used parsnips and carrots but I substituted roasted beets for the parsnips.  I felt so good eating this!  This is what mine looked like: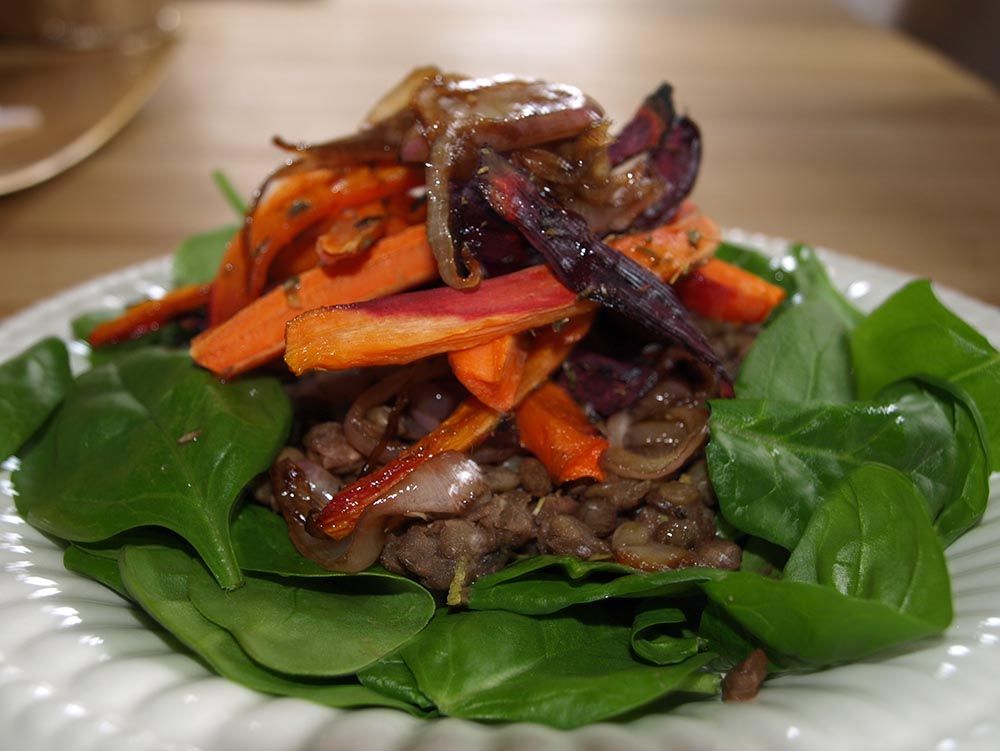 Lemony French lentils with herb roasted vegetables, browned shallots and baby spinach
For the lentils 1 cups French lentils, rinsed
3 bay leaves
3 cloves garlic, peeled and left whole
2 inch piece kombu
Zest and juice of one lemon
2 tablespoons of your best extra virgin olive oil
Sea salt
Black pepper
For the vegetables 5 medium parsnips, scrubbed and cut in ¼'s
2 large carrots, scrubbed and cut in ¼'s (I also cut them in half lengthways)
3 large springs fresh thyme, leaves removed and chopped
3 large sprigs fresh oregano, leaves removed and chopped
3 tablespoons extra virgin olive oil, divided
Sea salt
Pepper
5 shallots, peeled and sliced
To serve Baby spinach leaves
Lemon zest
Chopped parsley
Place the lentils, bay leaves, 3 cloves of garlic and kombu in a medium sized pot and cover with an inch and a half of filtered water. Place over high heat and bring to a boil, lower heat, cover and simmer 30-35 minutes or until the lentils are soft but not falling apart. Remove from heat and add a pinch of salt, stir and let lentils sit while you prepare the other ingredients.
Pre-heat oven to 375 degrees Fahrenheit.
Place parsnips, carrots, herbs, 2 tablespoons of olive oil, pinch of salt and pepper on a parchment lined baking sheet and toss to combine.
Roast for 30 minutes or until vegetables are golden brown and tender inside.
Remove from oven and set aside.
Warm a skillet over medium high heat, add olive oil and shallots and sauté for 3 to 4 minutes, allowing shoots to brown. Lower heat, add a pinch of salt and continue cooking for 2 minutes. Remove from heat and stir in balsamic vinegar. Set aside.
Remove the bay leaves and kombu from the lentils and drain well. (The lentil cooking liquid is great in soups and broths). Place the lentils in a medium sized-mixing bowl; add the lemon zest and juice, olive oil and salt and pepper to taste. Gently stir, especially if they are still very warm, then set aside.
Place a handful of spinach leaves on 4 plates then top with a large spoon of lentils. Toss the roasted carrots and parsnips and top each plate with about a quarter of the vegetables, making sure to give everyone some crispy herbs. Sprinkle shallots, lemon zest and parsley over each plate and serve.
Serves 4 people as a light meal or side dish.