..I sure like fennel!  Especially grilled.  It's kind of strange because fennel is kind of licorice-y but it does something for me.  When I came across this recipe in Cooking Light magazine I wasn't so sure about all of the raw fennel so I decided to "grill" about half of the fennel on my double-burner cast iron griddle.  The result was so delicious I kept "sneaking" bites out of the leftovers throughout the night and the next day.  And it looked really pretty too: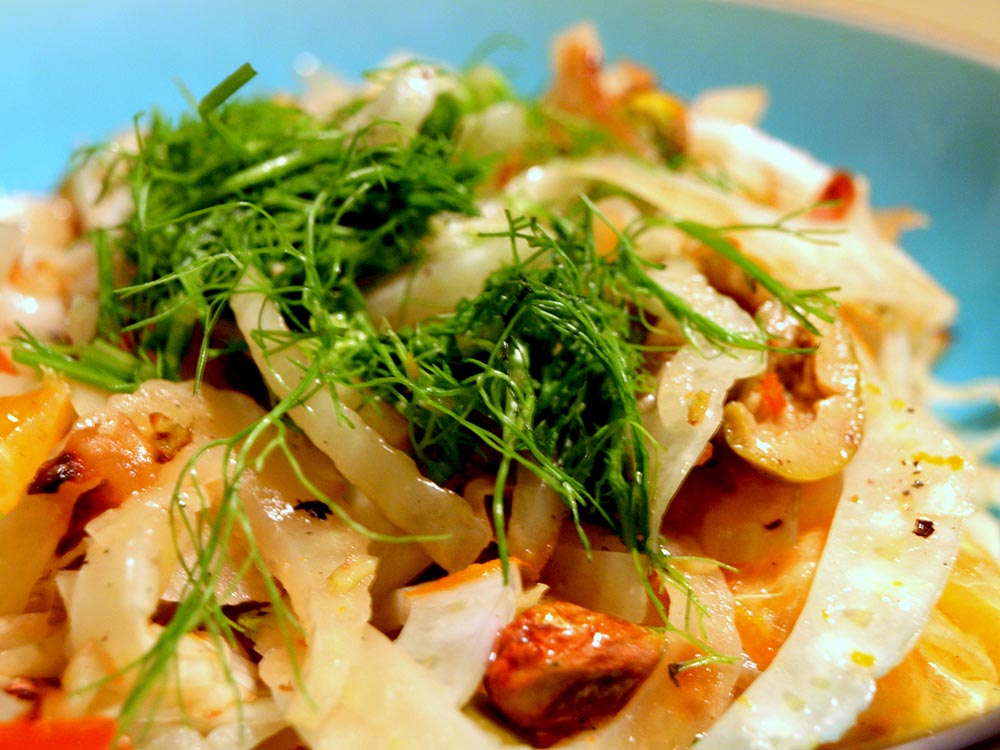 Shaved Fennel Salad with Orange, Green Olives, and Pistachios
YIELD: Serves 8 (serving size: 3/4 cup)
HANDS-ON:20 Minutes
TOTAL:20 Minutes
Ingredients
1 tablespoon grated orange rind
3/4 cup orange sections (about 2 large oranges)
3/4 cup coarsely chopped pitted green olives (about 3 ounces)
2 tablespoons extra-virgin olive oil
1 tablespoon fresh lemon juice
1/4 teaspoon freshly ground black pepper
1/8 teaspoon kosher salt
2 medium fennel bulbs with stalks (about 2 pounds)
1 cup shelled unsalted dry-roasted pistachios
Preparation
1. Combine first 7 ingredients in a large bowl; toss gently to combine.
2. Trim the tough outer leaves from fennel, and mince feathery fronds to measure 2 tablespoons. Remove and discard stalks. Cut fennel bulb in half lengthwise, and discard core. Thinly slice fennel bulbs. Add fennel slices to juice mixture, and toss gently to combine. Sprinkle with fennel fronds and nuts.