"If thou tastest a crust of bread, thou tastest all the stars and all the heavens." –Robert Browning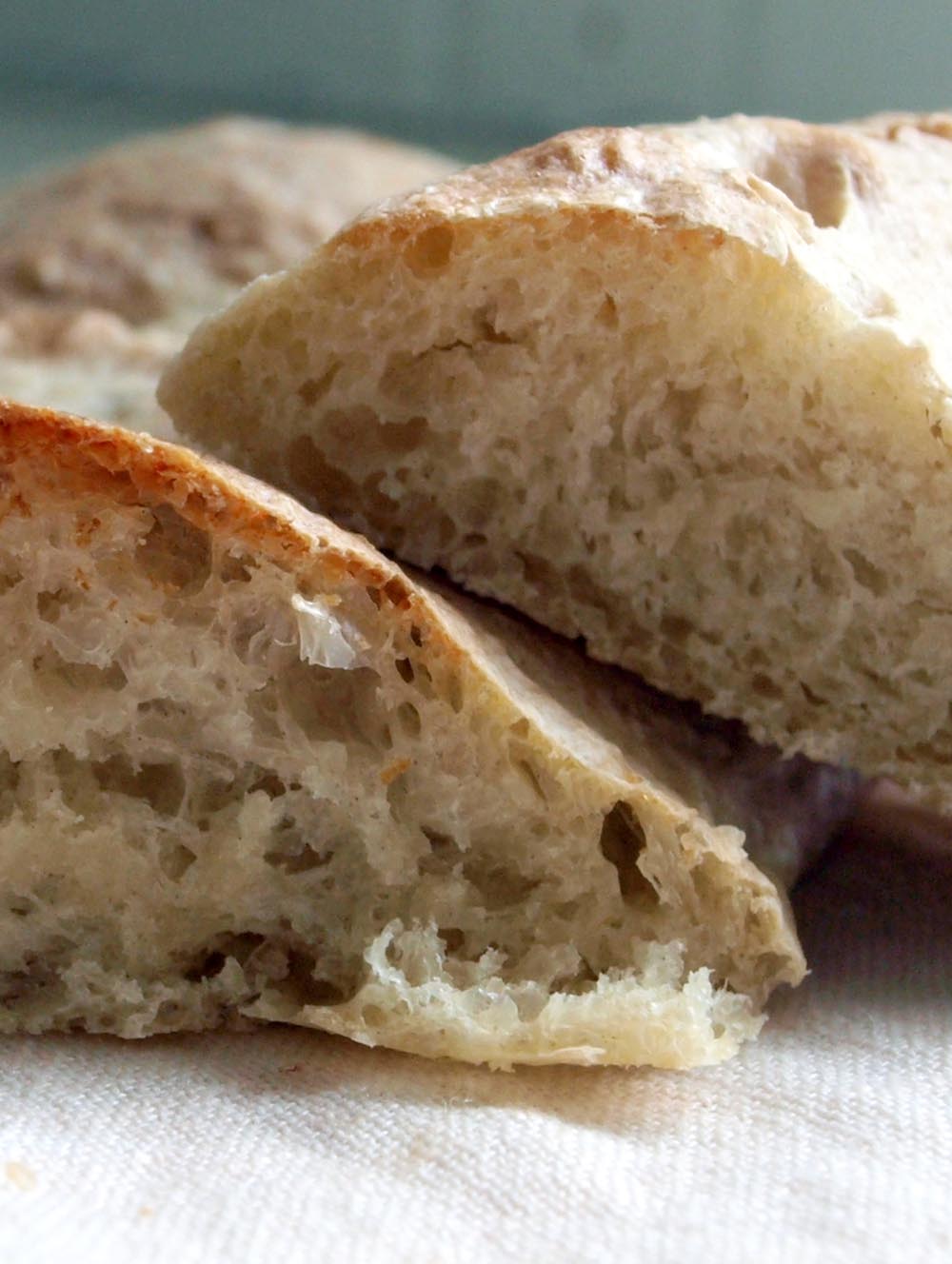 This week's Food Matter's Project has all of us project participants baking bread.  I very nearly skipped it this week due to an unreasonable fear of failure surrounding bread baking. Glad I didn't!  The host this week is Melissa and she has a beautiful blog, The Fauxmartha. Melissa's bread looks amazing–I wish I could have called her for tech support during my bread baking today!  And click here to see how the other project participants fared.
I have had few successes with bread baking without quite understanding why.  Although this endeavor wasn't a complete success, the minimal effort proved well worth it and although my baguettes looked more like little beached whales spread out on baking pans, they tasted wonderfully.  This process took so little time–and was well worth the effort!  When the bread came out of the oven I could scarcely wait ten seconds before tearing into a loaf and slathering it with butter.  Baking bread today was the best thing about my already quite good day.  Eating fresh-from-the-oven bread in your own home is truly one of life's most beautiful moments.  As I enjoyed nearly an entire mini-baguette bit by bit, I was thinking of one of my favorite poems:
Vision–May Theilgaard Watts
To-day there have been lovely things I never saw before; Sunlight through a jar of marmalade; A blue gate; A rainbow In soapsuds on dishwater; Candlelight on butter; The crinkled smile of a little girl Who had new shoes with tassels; A chickadee on a thornapple; Empurpled mud under a willow, Where white geese slept; White ruffled curtains sifting moonlight On the scrubbed kitchen floor; The under side of a white-oak leaf; Ruts in the road at sunset; An egg yolk in a blue bowl.
My love kissed my eyes last night.
I thought the author could have included the aroma and taste of freshly baked bread in this poem because it is a lovely thing.
I made my bread with King Arthur unbleached white flour because I was planning on giving some away and wasn't sure that the whole wheat would be as well-received.  Everything seemed to be going exceptionally well (considering past failures) until it came time to slash the bread before popping into the oven.  My beautiful logs of dough flattened in a millisecond, reminding me of some doughy rubenesque sunbathers.  I was pretty heartbroken but much relieved when they came out and still tasted delicious!  At least I have somewhere to start from and something to improve on. Any suggestions on how to prevent this from happening again?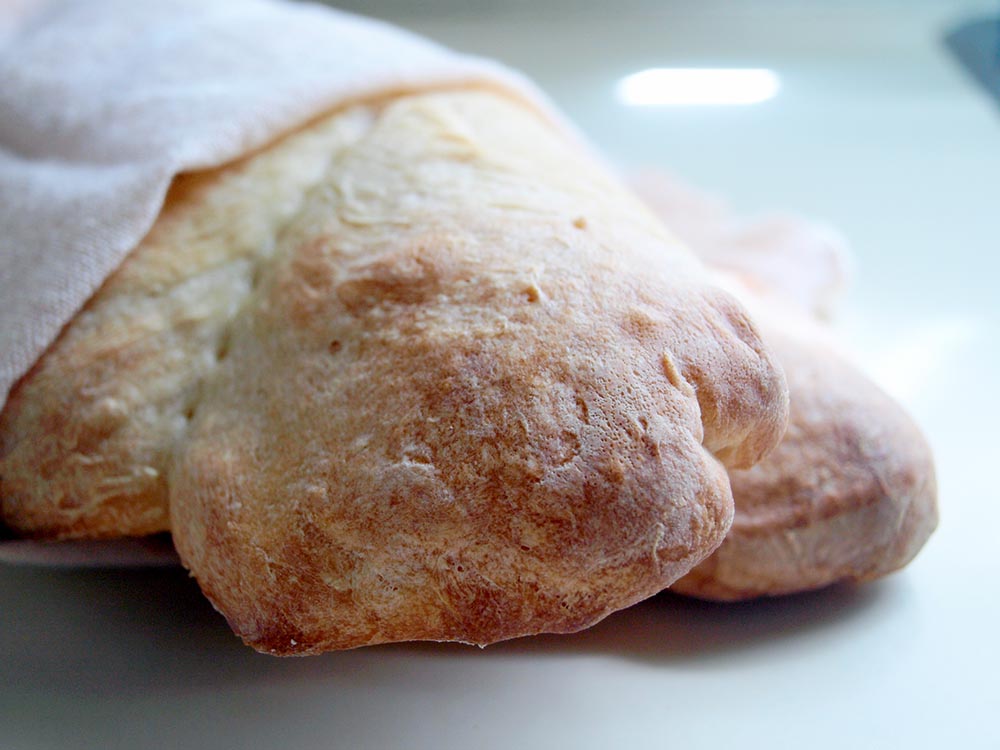 Homemade Baguettes recipe adapted from Mark Bittman's Mostly Whole Wheat Baguettes, The Food Matters Cookbook, yields 2 large or 4 small baguettes
3 1/2 c. unbleached all-purpose flour, plus more for shaping
2 tsp. salt
1 tbsp. brown sugar
1 1/2 tsp. instant yeast
oil for greasing pan, optional
1/4 c. sesame or poppy seeds, optional
In a food processor, combine the flours, salt, sugar, and yeast. (You can mix the dough by hand, but it will take longer; use a big bowl and a wooden spoon or sturdy rubber spatula.) With the machine running, pour about 1 1/2 cups water through the feed tube. Process until the dough forms a ball, adding one tablespoon more water at a time until it becomes smooth. You want a pretty wet but well-defined ball. The whole process should take 30 to 60 seconds. If the dough becomes too wet, add 1 tablespoon flour at a time and process briefly. Put the dough in a large bowl, cover with plastic wrap, and let rise at room temperature until doubled in size, at least one hour.
Lightly flour your work surface and hands and knead the dough a few times. For small baguettes, divide the dough into 4 pieces, for larger ones, make 2. Roll each piece of dough into a log of any length that will fit into your oven. If you plan to bake the loaves on a sheet pan, lightly grease it with oil and transfer the loaves to the pan. Cover with a towel and let rise until the loaves are puffed to almost twice their original size, 30 minutes or so. Heat the oven (with a pizza stone if you have one) to 400° while you let the baguettes rise.
When you're ready to bake, slash the top of each loaf a few times with a razor blade or sharp knife. If you are topping the baguettes with seeds, brush each loaf with a little water and sprinkle them on. If you are using a pizza stone, gently transfer the loaves to the stone with a floured rimless baking sheet, lightly floured plank of wood, or flexible cutting board. Turn the heat down to 375° and bake until the crust is golden brown and the internal temperature is  at least 210° (it can be a little lower if you plan to reheat the bread again later) or the loaves sound hollow when tapped, about 30 minutes. Remove, spray with a bit of water if you would like a shinier crust, and cool completely on a wire rack before slicing.