It is 25 degrees out and snow is softly falling.  Christmas is over and New Year's is just around the corner.  My fresh fraser fir is still up and decorated and Christmas music has given way to George Winston's December and some great banjo tunes.  I'm thinking warm and cozy thoughts snuggled on the couch under an antique wool afghan.  Really no better time to share with you a sampler of the soups I made recently.
One day a few weeks ago, I decided my life needed some serious soup therapy.  There's nothing I want more in cold Michigan weather than a hot bowl of soup and some crusty bread to dunk in it.  That day I set to it, chopping up mounds of carrots, celery, potato, onion, and garlic and creating three hearty vegetarian soups.  Oh, what a day!  With steam coming off of three big soup pots on my stove, the warmth in my kitchen and in my heart was tangible.
The great thing about making big pots of soup all at once (and getting the labor out of the way) is that you can freeze and enjoy the soups long after they are made.  Once the soups had cooled, I ladled some of each into quart-sized freezer bags and laid them flat in the freezer.  I'm looking forward to grabbing my choice of three soups to thaw and heat on a cold winter day in January or February.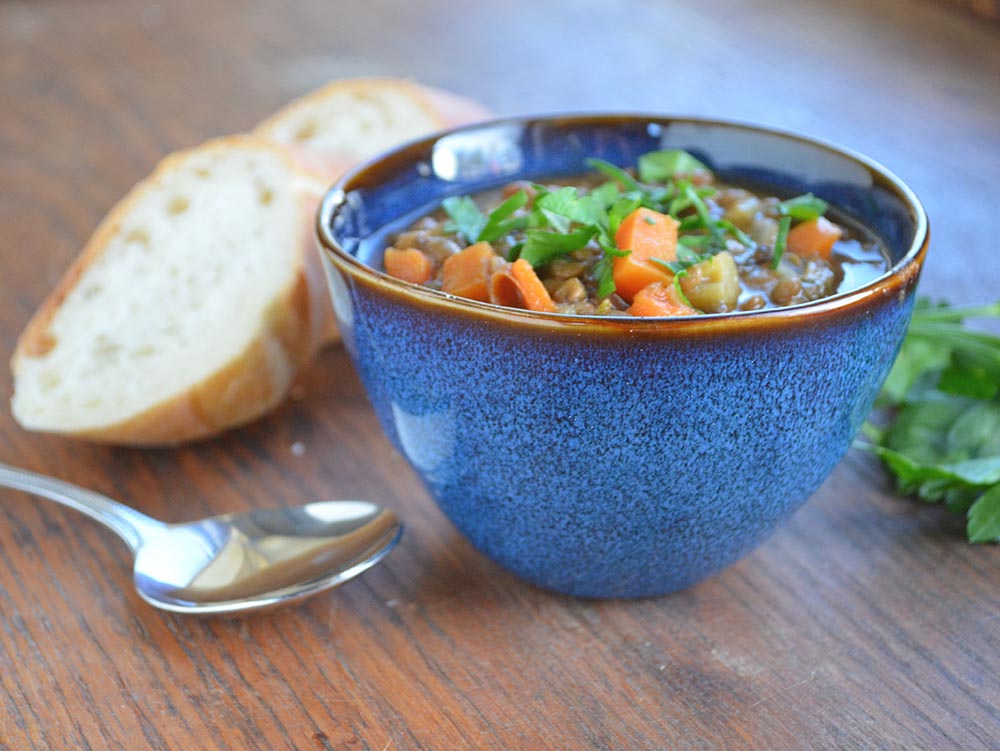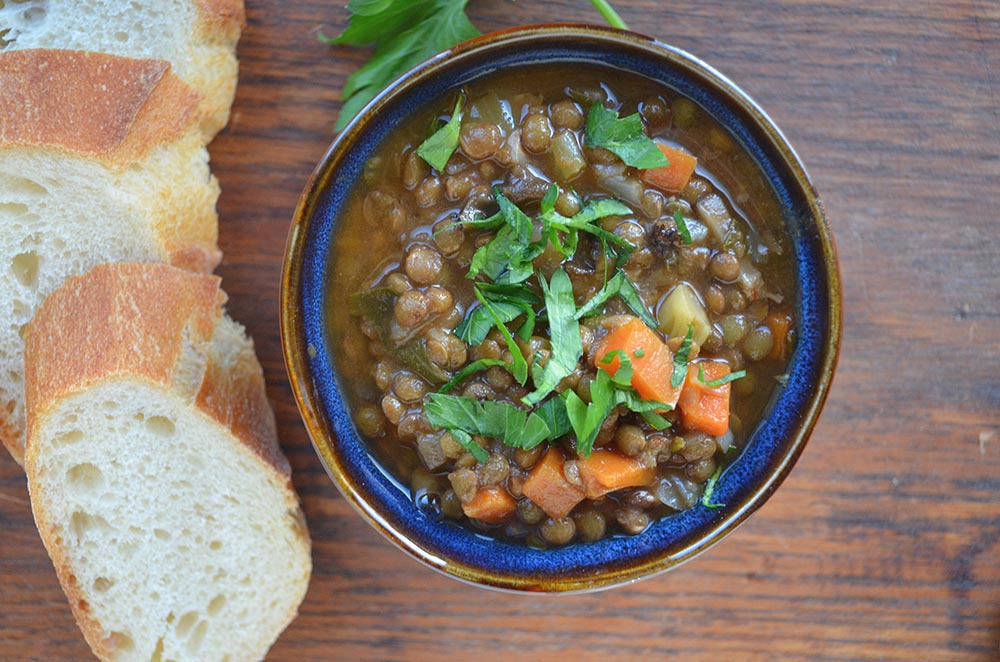 French Lentil and Wild Mushroom Soup
2 Tbsp olive oil
2 cups finely diced onion
3 large cloves of garlic, minced finely
Salt and pepper
3 Tbsp tomato paste
1/2 cup finely diced celery
1/2 cup finely diced carrot
1/2 cup chopped parsley
1 1/2 cups French lentils (sort through for debris/rocks and rinse)
1 cup of dried wild mushrooms with reconstituting water/mushroom stock
1/2 cup of kale or collard greens, thinly sliced, optional
1/2 cup of chopped tomatoes (fresh or canned), optional
1 Tbsp Dijon mustard
1 Tbsp sherry vinegar
Minced parsley for serving
Heat the oil in a Dutch oven over medium-high heat.  Add the onion and saute until it browns slightly and softens somewhat, about 5 minutes.  Add tomato paste to the onion and stir to coat.  Add the garlic, celery, carrot, and parsley and cook for a few minutes.  Add the lentils, 1-2 cups of mushroom stock, 1 and 1/2 quarts of water, mushrooms and 1 and 1/2 tsp salt.  Bring to a boil then turn heat down to simmer, partially covered, until lentils are tender, about 30 minutes.
Stir in the collard greens and cook for 10 minutes.
Stir in the mustard and vinegar.  Taste and add more if you prefer.  Garnish with parsley and serve with a salad and crusty bread.
Serve 4 to 6.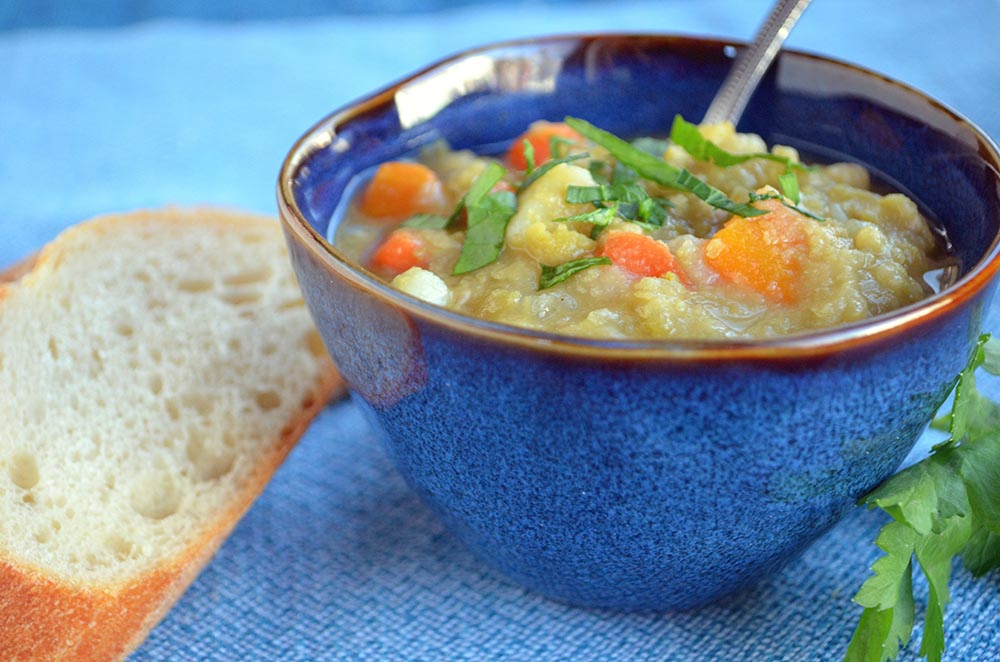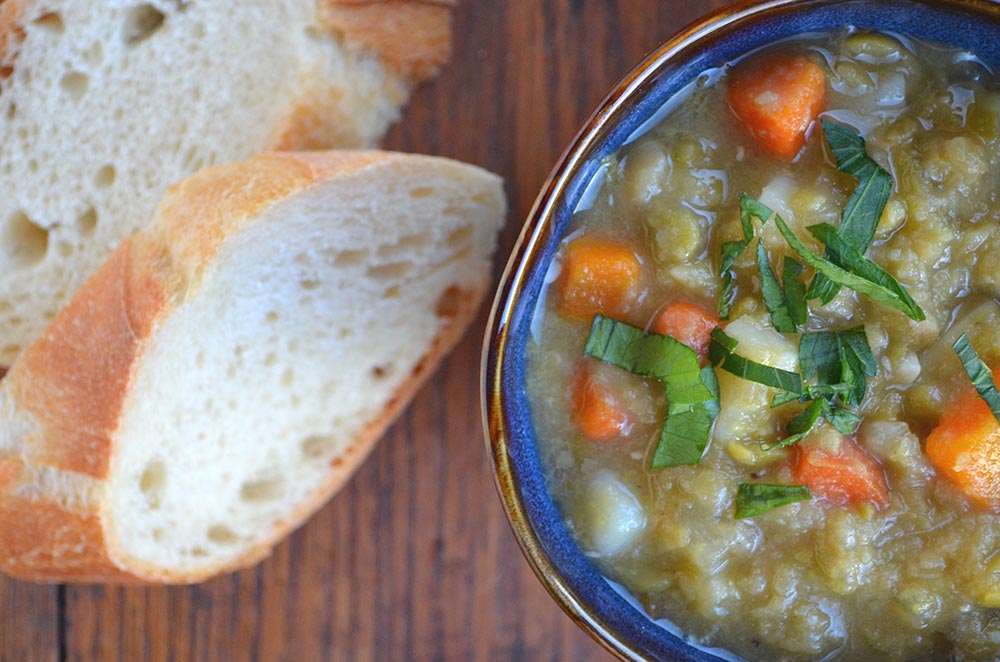 Split Pea Soup
1-2 tbsp olive oil
2 cups chopped onion
4 cloves of garlic, minced
3 stalks of celery, minced
3 medium carrots, diced
1 potato, diced
3 cups dry split peas
8 cups of water
2 tsp salt
1 tsp dry mustard powder
freshly ground black pepper
3 to 4 tbsp red wine vinegar
Heat oil in a frying pan and add the onion, garlic, celery, carrots, and potato.  Saute on medium heat until vegetables are somewhat softened and lightly browned, about 5 minutes.  Lower heat slightly so vegetables do not continue to brown and cook for another 5 minutes.  Turn off heat and set aside.
Place split peas, water, salt, and dry mustard in a Dutch oven if you have one.  Otherwise a stock pot works fine.  Bring to a boil then lower heat and simmer with a lid to partially cover for about 40 minutes.
Add the onion, garlic, celery, carrots, and potato.  Simmer gently for another 30 minutes, stirring occasionally until vegetables and peas are soft.  If soup is too thick, thin with some water or vegetable stock.
Add pepper and vinegar to taste.  Serve with a good crusty rye bread.
Serves 6-8
Minestrone
2 Tbsp olive oil
2 cups chopped onion
5 garlic cloves, finely minced
2 tsp salt
2 stalks of celery, minced
2 medium carrots, diced
1 zucchini or summer squash (1 inch diameter), diced
1 tsp dried oregano
1 tsp dried basil
1 medium red bell pepper, diced
4 cups water
20-30 oz of canned tomato puree or strained tomatoes
1 and 1/2 cups cooked kidney beans, white beans, or garbanzo beans
1 cup dry pasta (I use mini shells or ditalini but any small pasta will do)
1/2 cup minced fresh parsley
Parmesan cheese to serve
Heat olive oil in a Dutch oven.  Add onion, garlic, and salt.  Saute over medium heat for about 5 minutes.  Add celery, carrot, oregano, and basil.  Cover and simmer for 10 minutes, stirring once or twice.
Add bell pepper, zucchini, water, tomato puree, and beans.  Cover and simmer about 20-30 minutes.
Bring a small pot of water to a boil and add pasta.  Cook pasta according to instructions on the box.  Drain and set aside.
Test the soup to see if the vegetables are tender.  Add pasta, stir, and add salt and pepper to taste.  Serve with parmesan cheese on top and with a crusty sourdough or baguette.
Serves 6-8
NOTE:  If you are freezing some of your minestrone, do not add the pasta before freezing or it will come out all mushy.  Freeze the minestrone and when you are ready to thaw and enjoy it, cook up some pasta to add to the minestone–much better!