I have been doing a some traveling lately (and eating out a lot) so I was looking forward to getting home and making a big pot of soup.  Nothing says home to me more than a pot of soup (at least in the winter).  This recipe from last month's Cooking Light magazine had been on my counter for a while and it is one of those soups I always hear good things about so I thought I would give it a whirl.  I wasn't sure if I would be too into this soup–I typically like soups with tomato bases or with bean bases (split pea, red lentil, etc.).  I also wasn't crazy about the escarole idea (kind of lettuce-y) and almost bailed on it altogether, thinking of adding kale instead.  But I made the recipe to the letter and it is delicious.  Filling, creamy, savory, and so good.  Ah, it is good to be home!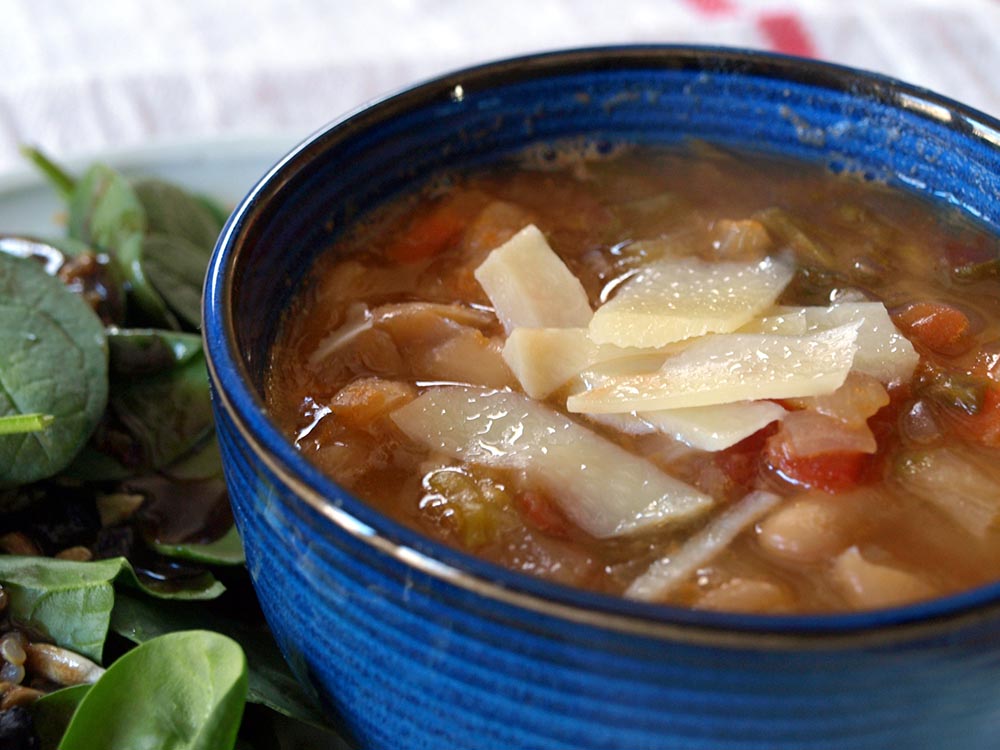 YIELD: Serves 4 (serving size: about 2 cups soup and 1 1/2 tablespoons cheese)
HANDS-ON:15 Minutes
TOTAL:50 Minutes
Ingredients
1 tablespoon olive oil
2 cups finely chopped onion
5  garlic cloves, minced
2 cups organic vegetable broth
1 cup water
1 teaspoon chopped fresh rosemary
2  (15-ounce) cans no-salt-added Great Northern beans, rinsed and drained
2  fresh thyme sprigs
1  (1 1/2-ounce) piece Parmigiano-Reggiano cheese rind
8 cups chopped escarole (about 1 pound)
1 cup chopped carrot
1/2 teaspoon crushed red pepper
1/4 teaspoon salt
1/4 teaspoon freshly ground black pepper
1 teaspoon white wine vinegar
6 tablespoons shaved fresh Parmesan cheese
Preparation
1. Heat a large Dutch oven over medium-high heat. Add oil to pan; swirl to coat. Add onion, and sauté for 4 minutes, stirring frequently. Add garlic, and sauté for 30 seconds. Add vegetable broth and the next 5 ingredients (through cheese rind); bring to a boil. Reduce heat, and simmer 10 minutes. Stir in escarole and carrot; cover and simmer for 15 minutes or until carrot is tender. Stir in red pepper, salt, black pepper, and vinegar. Remove and discard rind; sprinkle soup with shaved cheese.