"Every beautiful thing has a natural pride in its own beauty, and today the world is allowing its pride to seep from every pore." Albert Camus

This weekend was everything it needed to be for me.  I hung out at the beach with old friends, took long walks downtown, did yoga, did lots and lots (and lots) of yard work and ended the weekend with an incredible vegan (and mostly raw) dinner with Carrie and Abby.  Weekends like this make me feel that I have everything I need and more.  Maybe it is the weather or maybe I have just recently come out of a bit of a funk and feel like someone who wakes up feeling good after days of being sick.  For some reason I am bubbling over with gratitude for the life I have today.  At 30, I may not have everything I want but I have everything I need.  As I was walking up the beach on Saturday, it struck me that everything was perfect in that moment.  Of course there are always life's difficulties and to-do lists (like the porch needing to be fixed, vacuuming to be done, a store I have been meaning to visit for 3 months, a report that needs writing, and trying to balance work-work, house-work, exercise, and fun).  But quite simply, what matters most was just right.  The weather was beautiful, I was walking at the edge of Lake Michigan with my feet being lapped by waves and I realized that I have a damned good life.  I live in a beautiful state where we are surrounded by water, dunes, woods, wildlife, and cool cities.  I have my health.  I have two arms and two legs, and everything else I need to experience the world fully.  I have a family I love and friends to share life with.  I have a house I am proud of, a yard full of flowers, and a job that supports me and allows me to be creative.  Nothing worth complaining about today.

And not to be forgotten (as this is a cooking blog, you know), I get to enjoy amazing food.  This week was no exception.  My friend, Carrie, is starting a one week detox plan so our Sunday Dinner theme focused on raw, vegan, and vegetarian foods so she could enjoy the meal.  My contribution was fresh spring rolls with two dipping sauces (one vegan, one not).  Abby made a raw and vegan vegetable curry and a raw and vegan strawberry shortcake inspired dessert.  Hearing the words "raw" and "vegan" usually scares people off.  But take it from this non-vegetarian–raw and vegan can be delicious.  I left dinner feeling refreshed and grateful for good friends and good food.  Looking forward to many more summer weekends and many more Sunday Dinners…
Fresh Spring Rolls–Adapted From Epicurious.com
4 oz bean thread noodles
2 large carrots, shredded
2 tsp sugar
16 rounds of rice paper (8-10 inches in diameter)
8 Boston lettuce leaves, thick stem ends removed and cut in half
1/2 cup mint leaves, chopped
1 cup fresh cilantro leaves, chopped
4 scallions, green parts chopped, white parts saved for the seasoned tofu
1 cup cucumber, julienned
1/2 cup radishes, julienned
2 cups seasoned tofu (see recipe below)
Seasoned Tofu–Adapted From the Food Network
1 Tbsp bottled chili-garlic sauce
1 and 1/2 tsp toasted sesame oil
2 Tbsp low-sodium soy sauce
1/4 cup hoisin sauce
2 Tbsp rice vinegar
1 Tbsp sherry vinegar
16 ounces extra firm tofu
2 tsp canola oil
2 Tbsp fresh minced ginger
4 scallions, whites and about 1 inch of the greens, thinly sliced
Tofu Instructions:
Drain tofu:  Place a towel on a plate and set your block of tofu onto the towel.  Wrap towel ends over the top of the tofu and set another plate on top of the tofu.  Let drain for at least 1/2 hour and up to 2 hours.  When drained, crumble tofu and set aside.
In a bowl, whisk together chili-garlic sauce, sesame oil, soy sauce, hoisin sauce, vinegar and sherry vinegar.
Heat oil in a wok or extra-large skillet over medium heat.  Add the ginger and scallion whites and cook until scallion whites are translucent and ginger is fragrant, about 2 to 3 minutes.  Add tofu and cook, stirring about 5 minutes.  Add reserved sauce.  Reduce heat to a simmer and cook, stirring, an additional 3 to 4 minutes to allow juices to be soaked up by tofu.
Spring Roll Assembly:
Combine the carrot with the sugar and let stand for 10 minutes to soften.  In a medium saucepan, bring several cups of water to boil.  Add bean thread noodles and cook until just softened, about 5 minutes.  Drain and rinse under cold water.
Lay out the spring roll ingredients before beginning to assemble the rolls.
Fill a shallow pie pan with very warm water.  Immerse a sheet of rice paper into the water and let soften, about 30 seconds.  Remove and lie flat on a plate or countertop.
Lay your ingredients at the bottom of the rice paper, nearest to you.  Roll the paper halfway.  Fold both sides of the paper over the filling.  Keep rolling until the other edge of the rice paper is sealed and you have formed a roll.  Place the rolls, seam side down, on a plate and cover with a damp towel so they stay moist.  Slice each roll in half on a bias.
Serve rolls with the dipping sauces.
Nuoc Cham Dipping Sauce (Not Vegetarian)–From Epicurious.com
2 garlic cloves, sliced thinly
1 small chili pepper, sliced
1 Tbsp sugar
2 Tbsp fresh lime juice
1/4 cup rice vinegar
1/2 cup nuoc mam (fish sauce)
1/4 cup water
Combine garlic, sugar, lime juice, water, vinegar, and fish sauce.  Stir to blend.  Add chili rounds to taste.
Peanut Sauce–Adapted From Epicurious.com
1 Tbsp sesame oil
2 garlic cloves, minced
1 tsp Sriracha chili paste
1 Tbsp ketchup or tomato paste
1/2 cup water
1/2 tsp sugar
2 Tbsp chunky peanut butter
1/4 cup hoisin sauce
Heat oil in a medium saucepan on low-medium.  Be careful not to overheat or the ingredients you add next will splatter everywhere!  Add the garlic, chili and tomato pastes, and fry for about 30 seconds until the garlic is golden.  Add the water, sugar, peanut butter and hoisin sauce and whisk to dissolve.  Bring to a boil, then reduce heat and simmer 3 minutes.  Remove from heat and serve at room temperature.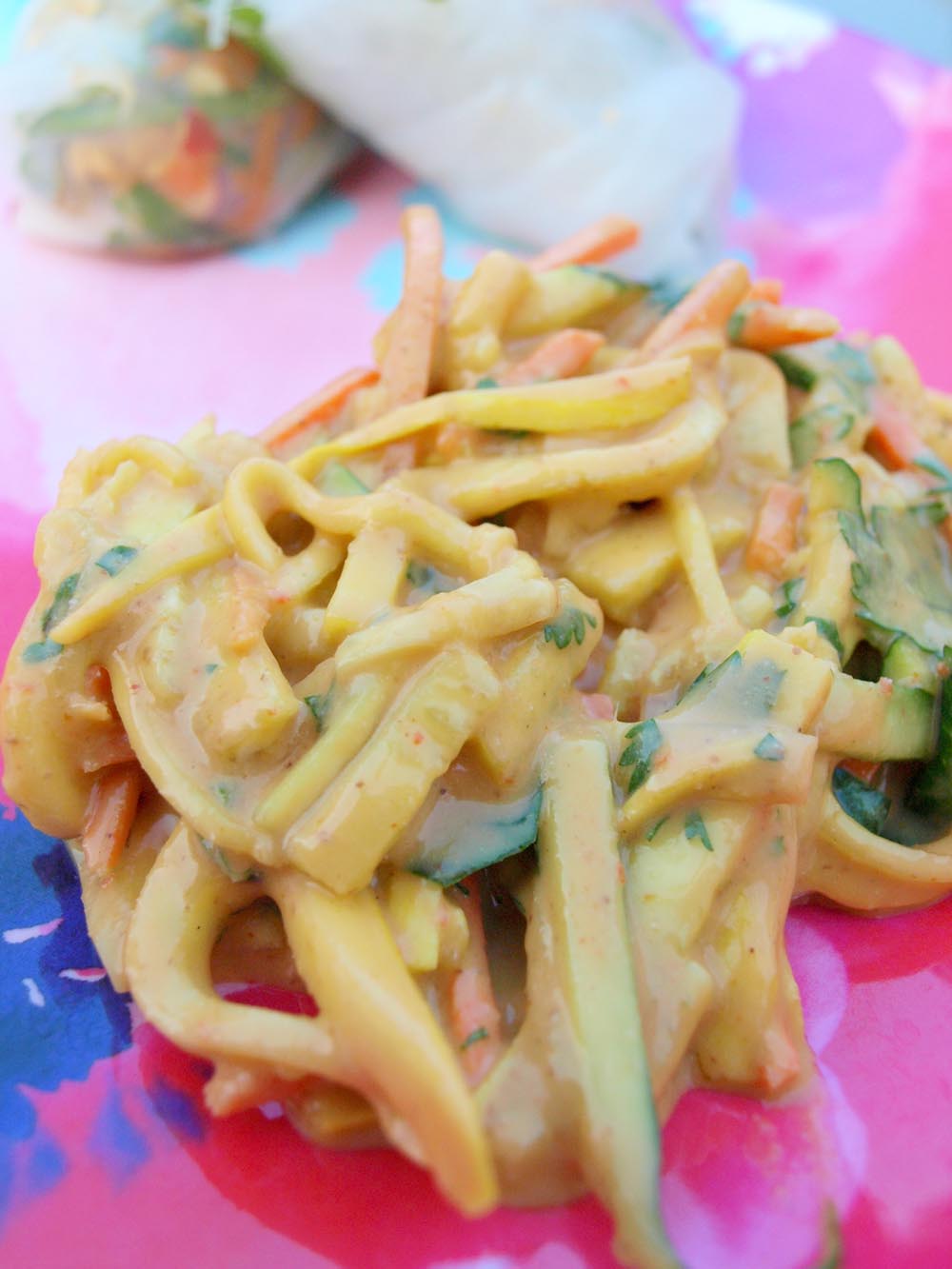 Abby's Raw Vegetable Coconut Curry
Thank Abby for this light and flavorful dish with just the right amount of spice.  I have much to learn from her…much to learn…  
1 can coconut milk, shaken
1/2 avocado
1/2 cup raw almonds
1/2 lime, juiced
1/2 lemon, juiced
Panang curry paste to taste (start with 1 Tbsp and add as you like)
Tamari to taste (start with 1 Tbsp and add as you like)
1 clove garlic
1 tsp agave nectar, or to taste
3 small summer squash, julienned
2 small zucchini squash, julienned
2 carrots, grated
1/4 cup cilantro, stems removed
Puree coconut milk, avocado, almonds, lime and lemon juice, curry paste, tamari, agave, and garlic in a food processor, Vitamix, or with an immersion blender.
Mix squash, zucchini, carrots, and cilantro in a large bowl.  Pour sauce onto the vegetables and mix to coat.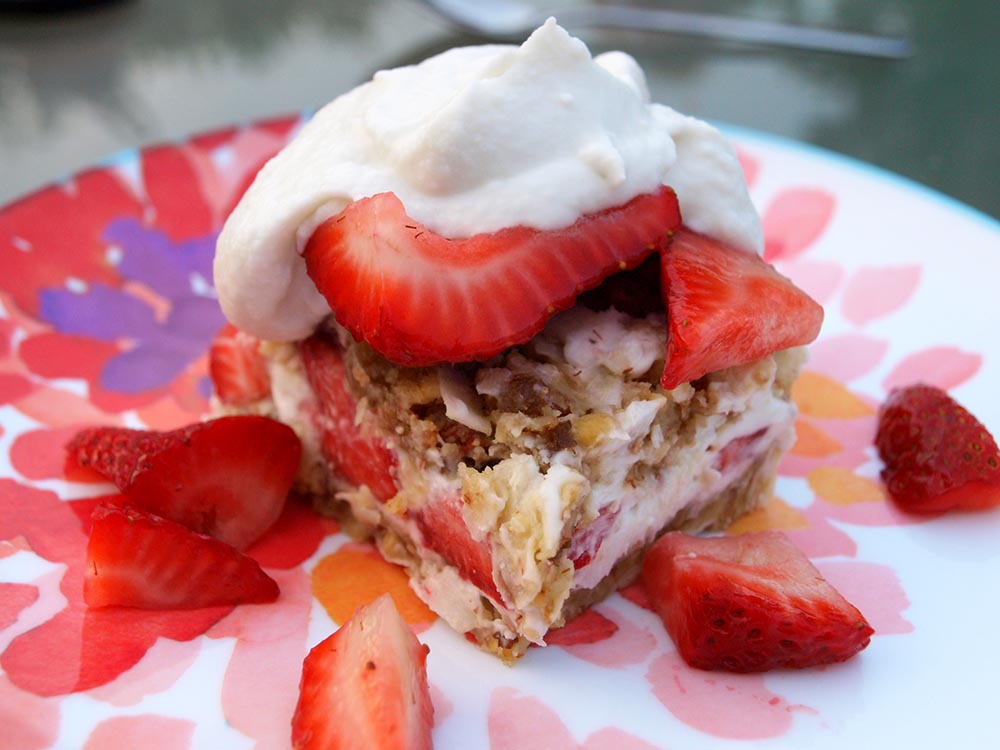 Abby's Vegan and Raw Strawberry Shortcake With Coconut Whipped Cream
1/2 cup raw cashews
3/4 cup pitted dates, soaked in warm water for 1/2 hour
1 cup raw almonds
1 Tbsp lemon juice
1 Tbsp vanilla
1 cup dried flaked unsweetened coconut
2 cans coconut milk, refrigerated for a couple of hours
Agave nectar to taste
2 cups sliced strawberries
Puree cashews in blender or food processor and add a little water if too dry.  Transfer to mixing bowl.
Puree dates, leaving slightly chunky.  Transfer to mixing bowl with cashews.
Grind almonds into a coarse flour-like consistency.  Add all other ingredients to blender or food processor and blend.  Mix with cashews and dates in mixing bowl.
Make coconut cream:  Take can of coconut milk from refrigerator and open.  Scoop the thick coconut cream from the top of the can and save the remainder of coconut milk for another use.  Mix coconut cream with agave nectar to taste.
Line loaf pan with plastic wrap and spread half of the nut/date/coconut mixture onto the bottom of the pan.  Top with a layer of 1/2 of the coconut whipped cream and half of the sliced strawberries.  Top cream and strawberry layer with the remainder of the nut/date/coconut mixture.
Wrap plastic wrap over the top of the dessert and refrigerate for 1 hour.  To speed up setting, place in freezer for 1/2 hour and refrigerator for 1/2 hour instead.
Remove from refrigerator when ready to serve and unwrap.  Slice the dessert into pieces and top with remaining coconut whipped cream and sliced strawberries.