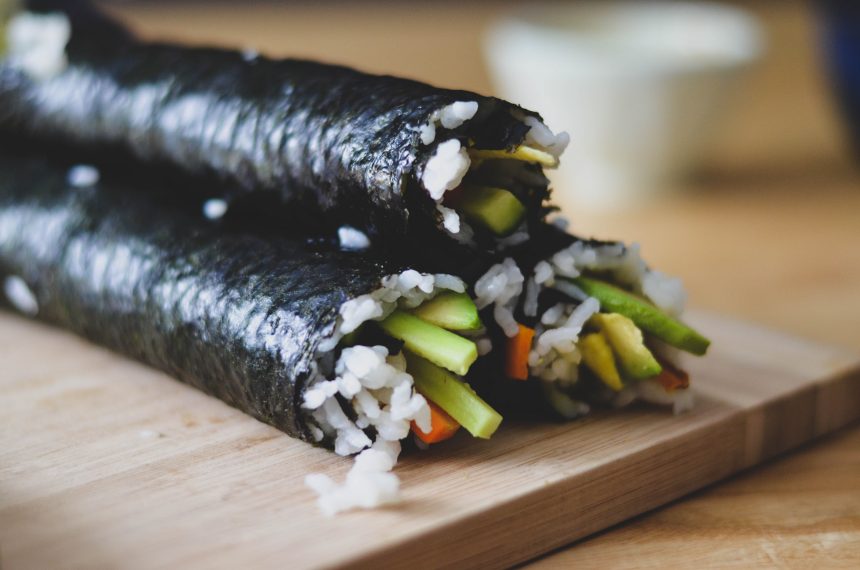 Sometimes I can't believe it has been nearly 7 weeks since we started our new normal. I feel like I'm finally settling into the new routine now that the fear and anxiety has lessened. Or it could be that I've simply become accustomed to the barrage of COVID-19 updates. In some ways, I'm especially well equipped to handle this enormous change. Starting a decade ago, I worked happily from home for many years so I know the drill. And as the mama to two little kids, I rarely see the inside of a restaurant and have often preferred quiet weekends at home cleaning, cooking, and exploring to a full social calendar. The transition from no-kids to kids was in many ways far more of a shock (though certainly a more pleasant, warm-and-fuzzy shock) than this change has been for me.
Life in quarantine has been busier than I ever could have anticipated – something about having a toddler around makes even staying home a next-level sport.  Despite – or because of – the constancy of life with kids, I've been craving moments where I can focus on wellbeing and learning new things.
One of the main areas I want to learn to improve is my relationship with my kids. I am a good mom. I care deeply and love fiercely. My kids are everything. But I am also a productivity queen – I never watch TV and during "family movie night" I often skip away to get in some "me time," organize a cabinet, touch up trim paint, or tackle work emails instead of snuggling on the couch. I'm a responsibility-first kind of mom. "Yes, we will go to the playground and yes, that will happen after I clean the house. Only then will I be able to enjoy myself." I'm ashamed to admit these things but recognize that is a first step – I've always prided myself on being productive and being responsible and still deep down believe those things are important to a functioning family and home. But I've also had to come to grips with the fact that it has led me to miss out on some really great moments and time is passing so quickly.
I recently read Hands Free Mama and Rachel is the kind of mom that anyone would be so lucky to have. She shares her journey toward being a truly present parent. Reading her stories was a real wake up call to me and I've started thinking about the daily routines and even frustrations with kids in a new light. Yes, I still get overwhelmed and frustrated. Yes, I still blow my top sometimes. Yes, I still can't wait for 9:30 when I can have some me-time. But I also now see all of my time with the kids as so incredibly valuable. The special moments aren't just holidays or trips. They aren't even daily routines like reading bedtime stories or eating dinner together. The special moments are all the moments that I get to show up as a mom who is there for them. Really there. Not thinking of what else I need to get done or daydreaming about work. Not wishing I had more time to tackle a hobby or being jealous of everyone's quarantine boredom. Just present and open to the moments that make up a lifetime of closeness with the kids. I have a lot more work to do to be truly present but I am truly enjoying this new philosophy.
One of the stories Rachel shares is about being spontaneous and baking bread with her daughter despite the inevitable mess in the kitchen. Cooking with kids is one area that I have really embraced since River was just two years old and I started him out with a serrated plastic knife chopping pears and hammering walnuts with his toy mallet. At 19 months, Hattie has started to help with chopping (and eating) cucumbers and spreading sauce on our pizza crust. I love having my kids in the kitchen with me. Instead of complaining about dinner taking so long, I get funny conversations and kids happily munching away on veggies while they chop. Sometimes we even have a dance party while we are waiting for the meal to cook after prep is over. It is in these moments that I am the mom I want to be – spontaneous, fun, not afraid of messes, teaching, talking, loving.
One thing I have learned about kids is that giving them some control at mealtimes really keeps the peace. I'm not talking about making mac and cheese every night for a picky eater. Some simple strategies really changed the tone of the meal in our household so I'll share my tips in the hopes they can help your mealtime struggles too. The first is to allow children to choose between two meals you have ingredients for. The second is to allow them to customize the meal by adding toppings they would like or choosing the vegetable side. And third and I think most important, is to put the food on the table and allow them to serve themselves. Once we started doing this, food battles stopped and I have watched in amazement as our five year old helps himself to heaping servings of salad and roasted beets.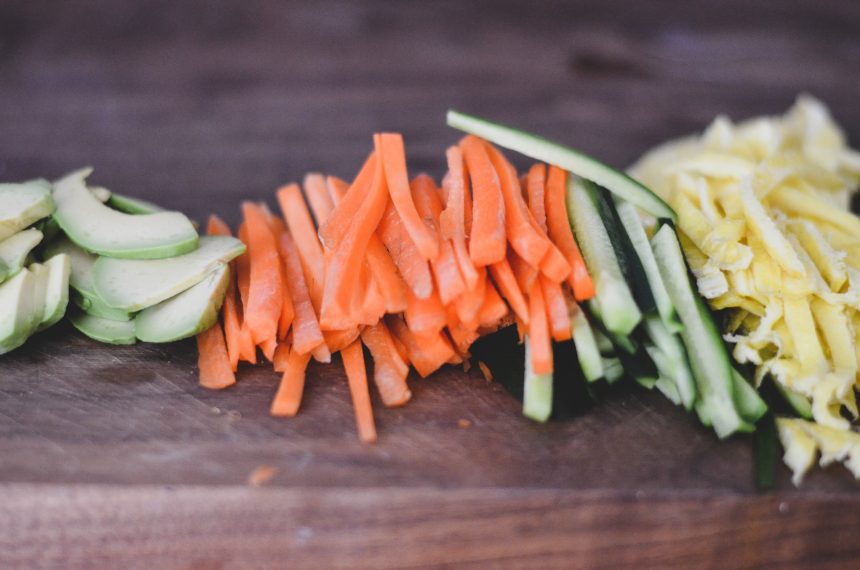 This sushi recipe is a perfect recipe to give your kids the feeling of control and ownership of the meal. You can customize in any way you want. Add seasoned or baked tofu or switch up the vegetables. This week, we added some smoked salmon to our rolls because we had some on hand. Get creative! And have fun. Use what you have on hand and don't worry about buying any extra equipment like sushi mats. As you can see in the photos, using a silicone placemat worked very well – better than our sushi mat – and parchment paper should do the trick as well. Above all, enjoy this time in the kitchen with your kids. And drop a line in the comments to let me know what you've been enjoying making with your family!
Ingredients
2 TBSP Rice Vinegar
2 tsp sugar
1/2 tsp salt
4 cups cooked sushi rice (I use Lundberg Farms)
4 sheets of nori seaweed
Julienned vegetables such as carrots, cucumber, spinach, avocado or sweet potato
1 egg, optional
Tamari or soy sauce to serve
Instructions
Heat rice vinegar, sugar, and salt in a small pan and stir until the sugar has dissolved.
Pour the vinegar mixture over the rice and mix. Allow to cool - you'll be touching with your fingers so don't want it to be too hot!
Prepare your fillings: julienne carrots, cucumber, spinach, or cooked sweet potato. I also like adding some cooked edamame beans to my sushi rolls. To make the omelet, whisk one egg. Heat a pan on low-medium heat and add the egg, tilting the pan to ensure the egg has spread to the edges of the pan for a thin omelet. Cook gently until set and slide onto a cutting board. Cut into thin strips.
Place a sheet of nori seaweed over a sushi mat, silicone mat, or section of parchment paper. Sprinkle 1 cup of your seasoned sushi rice on top of the nori. Using a large spoon or your fingers, spread the rice evenly over the nori, leaving a 1/2 inch border at the top.
About one inch from the bottom of the nori, place your filling ingredients - you won't need much - a little goes a long way! Make sure to fill to the edges.
Begin to roll the nori. Roll over the vegetables then take your mat and pull back gently before continuing to roll to ensure your roll stays together. Continue in this way until you've fully rolled the nori. You'll get the hang of it quickly!
Transfer to a cutting board and cut into pieces about 3/4 inch thick.
Dip into tamari, soy sauce, or try a dap of wasabi for some fun at the table.
https://honeycreekkitchen.com/simple-veggie-sushi-with-kids/
Copyright www.dinnerwithaura.com