Did you know that when I'm not cooking, wrangling kids or exploring the trails nearby, I work on strategic insights research for some pretty stellar footwear brands? Since Coronavirus hit the scene I have been focusing on researching the effects of COVID-19 on consumer behavior. Looking beyond the effects on the economy and anticipated changes to health, retail, travel and oh yeah…everything else (!), we start to see that it has also brought with it some delightful silver linings. For me personally, I have learned how little I am in control and this new awareness has somehow calmed me and put things into perspective.
Looking outward across the globe, one of the brightest spots in this dark period is that so many of you out there have started to become more self sufficient. You are out there, mastering the art of bread baking, learning how to cut hair, and panic-buying up all of the seeds and chicks to start your hobby farm. For a while it was impossible to find yeast or King Arther flour and not so easy to find a decent jar of almond butter out there. I can only assume it was swept up by some anxious parents looking ahead to weeks (months?) of working from home with kids and lots of PBJ or ABJ sandwiches. When my husband informed me that we were fresh out of almond butter, I let him know that all was not lost and that I could make my own. As I was wrapping up the process, I scanned the pantry and found 3 more jars of almond butter. Ah, well. I'm glad we thought we were out because homemade almond butter is so much tastier than store bought and now I'm hooked on making my own again.
If you are digging into the hardened dregs of your jar of nut butter and contemplating if it is worth it to don the mask and head to the store, I've got you covered. All you need are some almonds, some salt, a 10 cup or larger food processor, a spatula, and some patience.  That's it!  Let's begin:
First, you will want to warm your almonds.  Spread 3 cups of almonds on a sheet pan and place in the oven at 350 degrees for at least 5 minutes but up to 15 if you want deeply roasted almond butter. Warming the almonds both deepens the flavor and allows the oils to start releasing. This is critical for getting your almond butter to transition into a smooth and creamy nut butter. If you do warm your almonds, you are looking at 8-10 minutes of processing time. If you don't warm them, expect to nearly double the time you need to process and make sure you have a solid, workhorse of a food processor.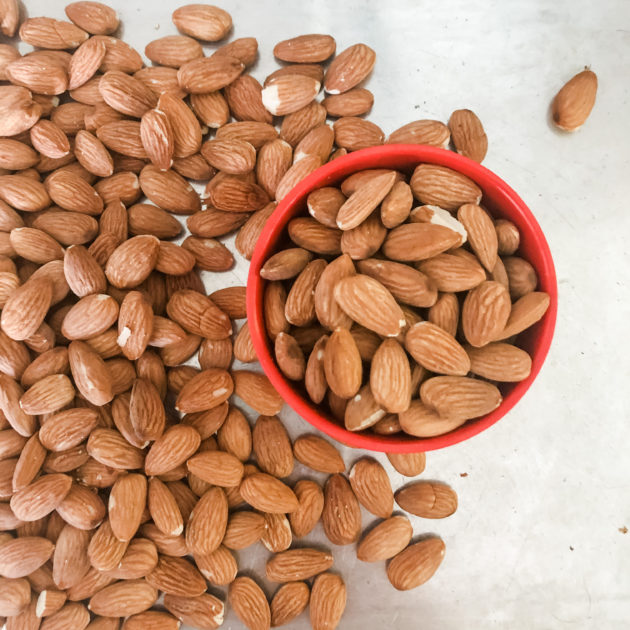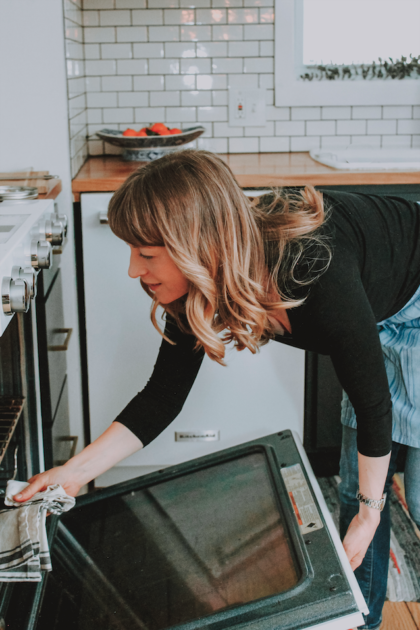 Next, add your almonds to a food processor with the "S" blade.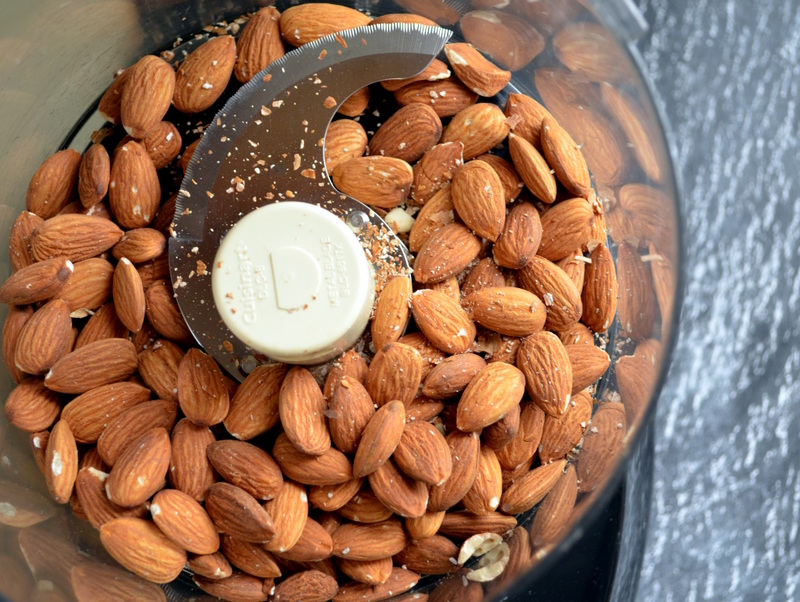 Turn the food processor on and let it run for a minute.  At first, you will see the almonds grind down into an almond meal.  If you like using almond meal in your recipes (great for baking!), this is a great way to save money–grind your own!  If you are making almond butter, continue processing the almonds.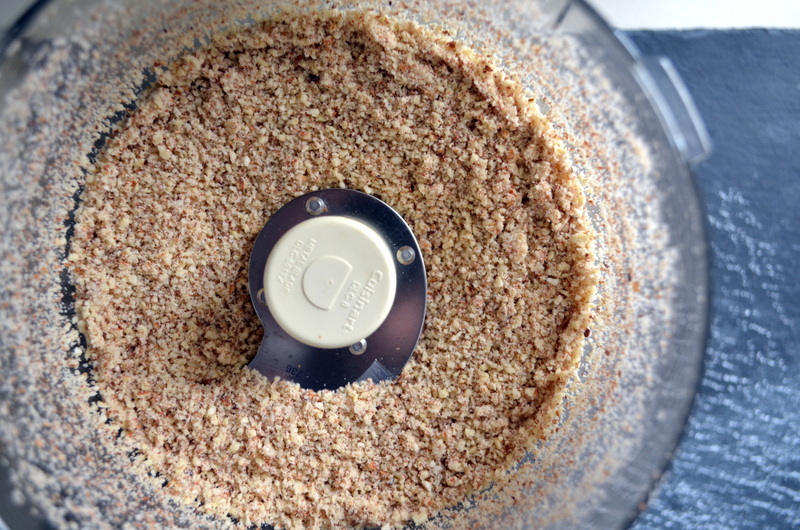 The ground almonds will start to build up on the sides of the food processor.  You'll want to stop the processor every 2 minutes and push the almonds down before continuing.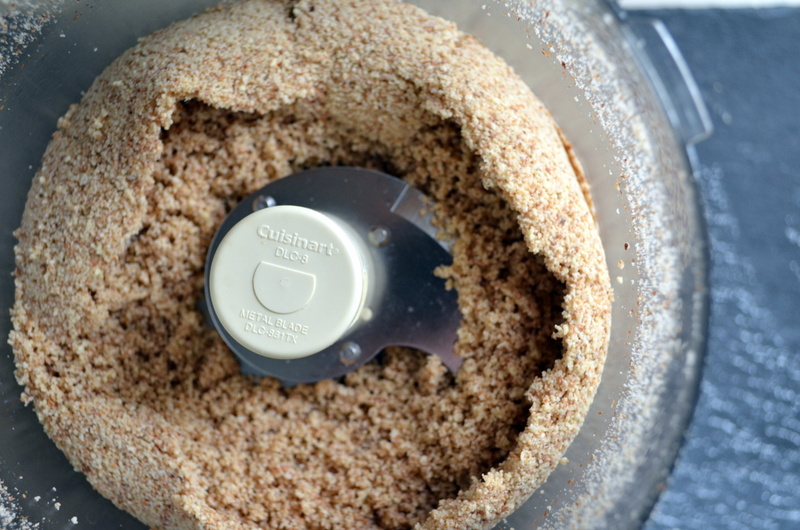 After a while, the almonds will start to get a little clumpy: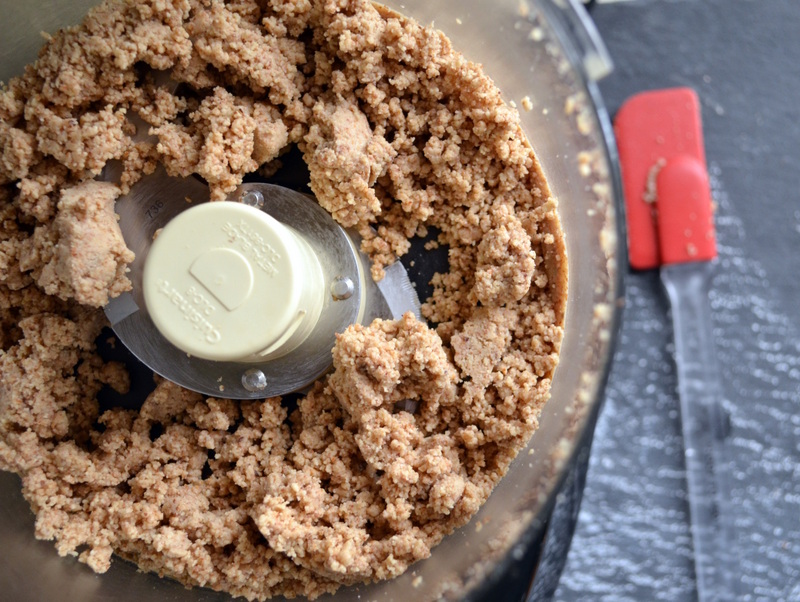 And will continue to get clumpier and stickier: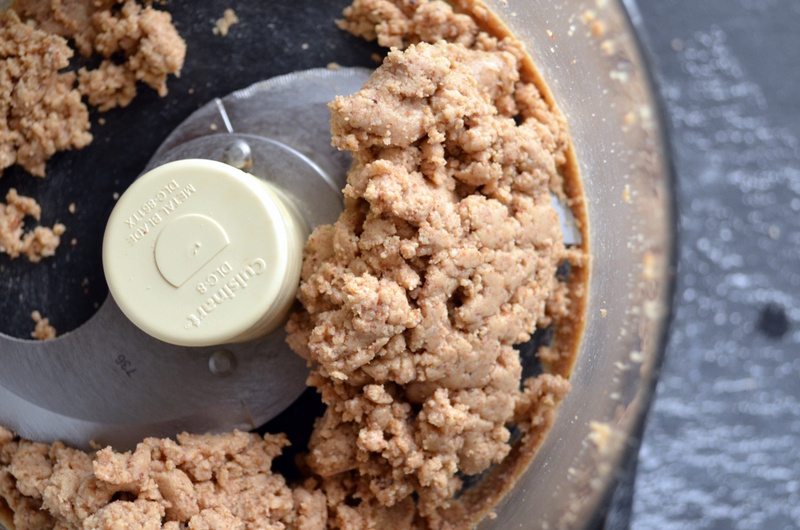 At around the 8-10 minute mark, the almonds will finally start to release more oil and begin to resemble almond butter.  But don't stop there!  It's not quite done.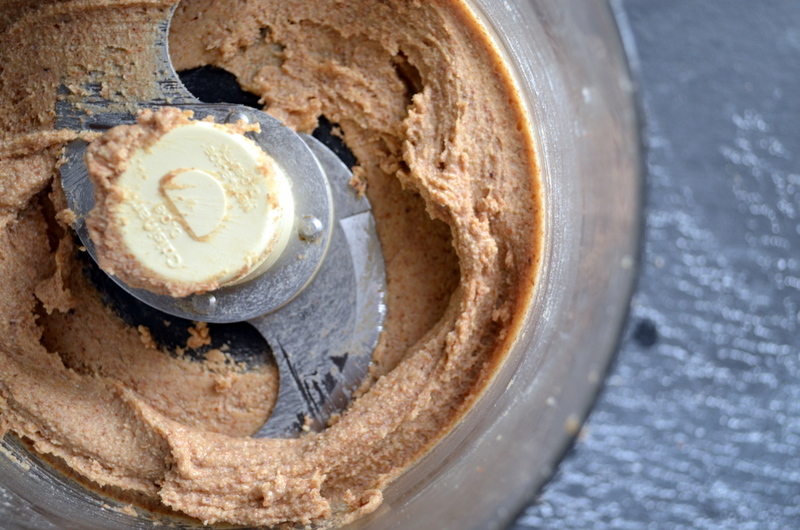 After another couple of minutes of processing, the almond butter will suddenly, magically, release more of its oils and become smooth and creamy.  If you taste it, it will be warm from the processing.  Now, add a pinch of high quality sea salt if you like and give it another whir.
That's it! You made your own almond butter! What are you looking forward to learning next?
Ingredients
3 cups raw almonds
1/4 tsp salt
1/2 tsp cinnamon (optional)
Instructions
Roast the almonds for 5-15 minutes at 350 degrees. This will start releasing their oils and makes it easier to process the nuts into nut butter. The longer you roast, the darker the almonds will get so keep a close eye on them so they don't burn!
Let almonds cool for a few minutes.
Add almonds, salt, and cinnamon (if using) to your food processor with the S blade.
Process in your food processor for 2 minutes at a time, stopping to scrape down the sides of the processor before continuing.
Process until the almonds have broken down into a smooth paste. This typically happens between the 8 and 10 minute mark for me when I use warm almonds!
Store in the refrigerator for up to two months.
https://honeycreekkitchen.com/homemade-almond-butter/
Copyright www.dinnerwithaura.com