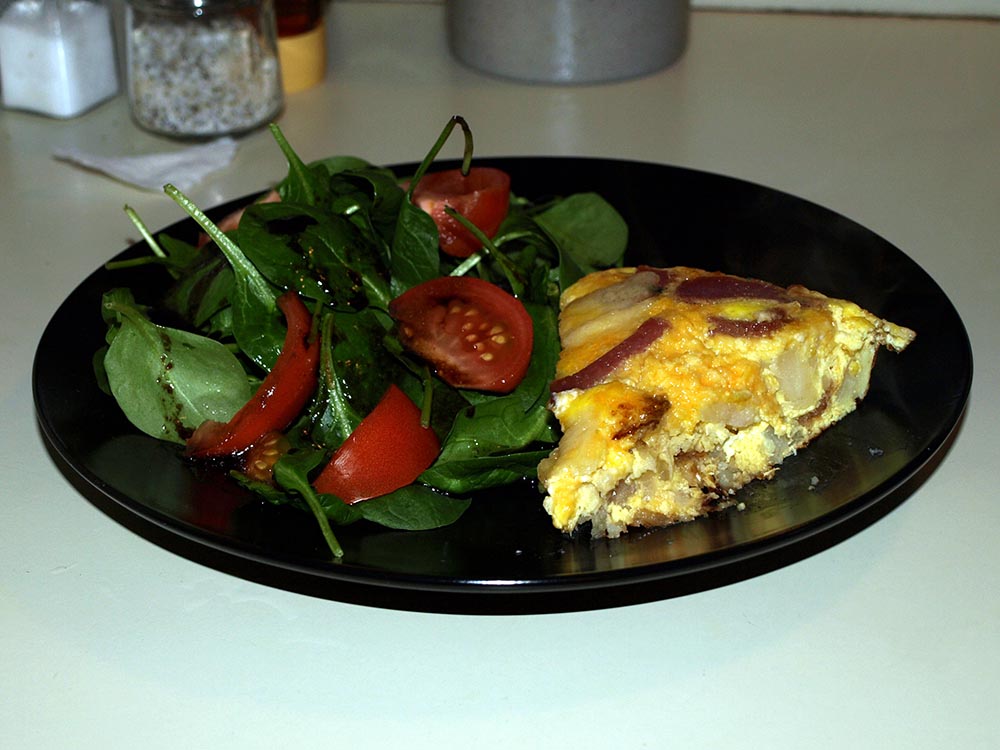 I found this recipe in this month's issue of Martha Stewart Living.  Martha serves it for breakfast but I think it is a great dinner with a salad and even better as leftovers for breakfast the next morning.
Potato-Onion Frittata
1 pound small new potatoes
3 tablespoons extra-virgin olive oil
2 small onions (about 1 pound) thinly sliced
Coarse salt and freshly ground pepper
1 ounce sharp white cheddar cheese, grated (1/2 cup)
10 large eggs, whisked
1/2 cup sour cream
Place potatoes in a medium saucepan and cover with water.  Bring to a boil.  Reduce heat, and simmer until tender when pierced with a sharp knife, 10 to 12 minutes.  Drain; let cool.  Peel, and cut into 1/4-inch thick slices.
Preheat oven to 400 degrees.  Heat oil in an ovenproof 10-inch nonstick skillet over medium-high heat.  Cook onions until just translucent, about 2 minutes.  Add potatoes, and cook, stirring occasionally, until onions and potatoes are golden brown, 4 to 5 minutes.  Season with salt and pepper.
Mix together cheddar and eggs.  Season with salt and pepper.  Reduce heat to medium.  Pour egg mixture into skillet.  Dollop with sour cream, and swirl into egg mixture using the tip of a knife.  Cook until edge is set, about 2 minutes.  Carefully transfer skillet to oven, and bake until eggs are completely set, 10 to 12 minutes.  Invert frittata onto a plate.  Let cool slightly.  Serve warm.
AURA'S NOTES:  As with most things I make, I didn't have everything I needed so I improvised a bit.  I had 4 eggs, not 10 so I added some more potatoes so it was slightly more potatoey than eggy.  I kind of think that 10 eggs would be too much, anyway.  Just my thought on it.