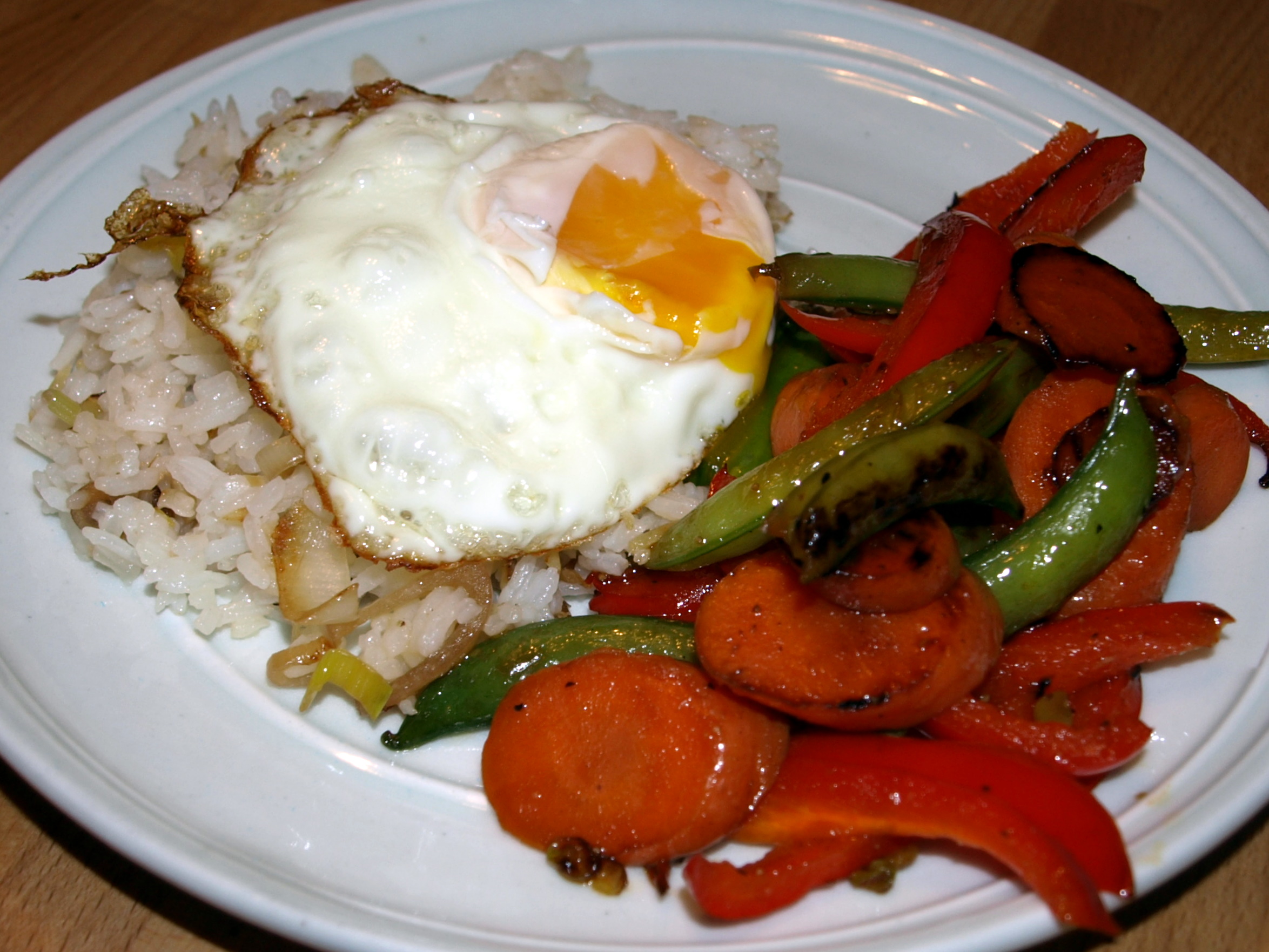 Let me just start out by saying that I love Mark Bittman's blog:  Bitten (http://bitten.blogs.nytimes.com/).  He is so common-sensical that I feel like I could make anything he does and that is what a good food writer and chef should be able to do–inspire!  I found this ginger fried rice on his blog today and knew it was right up my alley.  You are supposed to use day-old rice and mine was freshly cooked but after hours of conference calls for work, I figured it was dry enough to eat at my late-night dinner (it's almost midnight–eek!).  Add in some stir fried veggies and it is (eating it now) a delicious dinner!
Ginger Fried Rice–From Mark Bittman's blog, "Bitten"
Serves 4
1/2 cup peanut oil
2 tablespoons minced garlic
2 tablespoons minced ginger
Salt
2 cups thinly sliced leeks, white and light green parts only, rinsed and dried
4 cups day-old cooked rice, preferably jasmine, at room temperature
4 large eggs
2 teaspoons sesame oil
4 teaspoons soy sauce.
In a large skillet, heat 1/4 cup oil over medium heat. Add garlic and ginger and cook, stirring occasionally, until crisp and brown. With a slotted spoon, transfer to paper towels and salt lightly.
Reduce heat under skillet to medium-low and add 2 tablespoons oil and leeks. Cook about 10 minutes, stirring occasionally, until very tender but not browned. Season lightly with salt.
Raise heat to medium and add rice. Cook, stirring well, until heated through. Season to taste with salt.
In a nonstick skillet, fry eggs in remaining oil, sunny-side-up, until edges are set but yolk is still runny.
Divide rice among four dishes. Top each with an egg and drizzle with 1/2 teaspoon sesame oil and 1 teaspoon soy sauce. Sprinkle crisped garlic and ginger over everything and serve.
AURA'S PEARLS OF WISDOM:  When crisping the garlic and ginger.  Don't turn away from it.  Not even to take a work phone call!  You will burn it in a heartbeat.  Believe me, I know.  This dish is best made when you have a few minutes to devote to each step…and your phone on silent.
I served mine with some carrot, sugar peas, and red bell pepper sauteed in a wok and splashed with soy sauce.  For some reason, the Meijer I went to for the sugar snap peas sells really stringy peas and I had to spend a lot of time de-stringing them and still, some of them were stringy.  The last time I got sugar snap peas, they weren't stringy at all.  The time before that, stringy.  I wonder how I can figure out how to find the good ones consistently.  Any ideas?