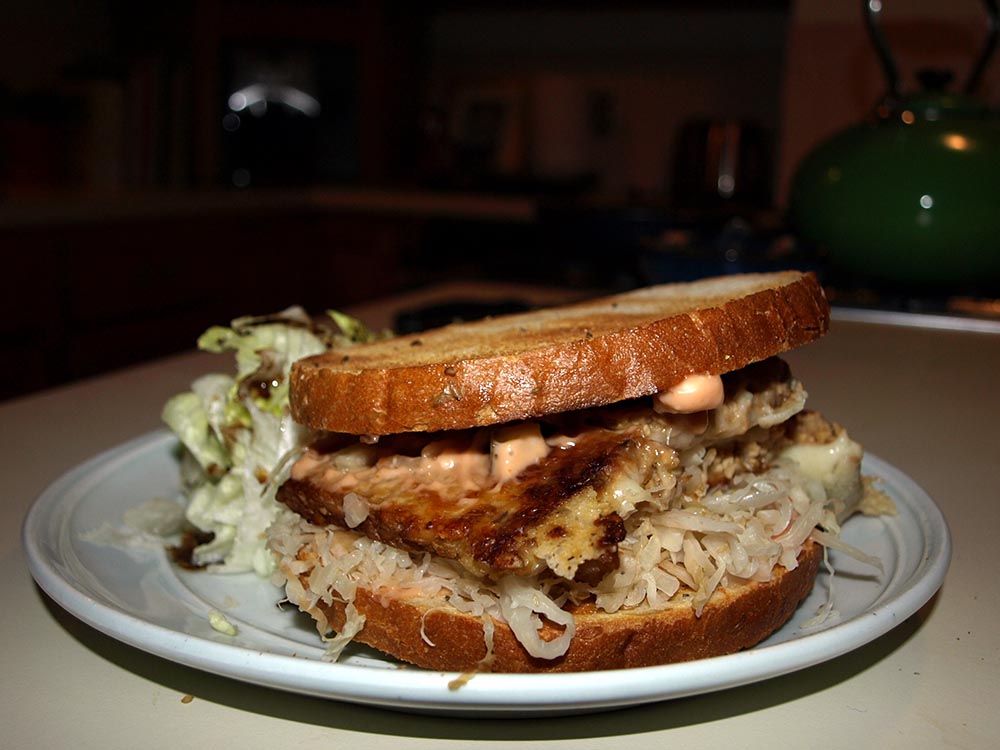 I pulled this recipe from "Vegetarian Cooking for Everyone,"  by Deborah Madison.  I have made tempeh reuben's countless times since I first had one at the Alex Rock Cafe (short-lived) in East Town but this was the first time I used a recipe for a tempeh sandwich.  I ran across this one in Deborah Madison's book; the tempeh was braised so I thought I'd try something new.  Tempeh is not for everyone but if you like it or want to try it and don't know what to do with it, this is my favorite way to eat it!  Serve this sandwich with Thousand Island Dressing to make it into a reuben.  Serve it with some quick vinegary cabbage and carrot slaw and some baked beans if you really want to go all out.
Tempeh on Rye; makes 3 sandwiches
1 package tempeh
1 large garlic clove, thinly sliced
2 tablespoons vegetable oil
1 teaspoon paprika
1/2 teaspoon dried dill
1/2 teaspoon caraway seed
1 bay leaf
1 tablespoons apple cider vinegar
1 tablespoon soy sauce
Salt and freshly milled pepper
6 slices rye bread
3 slices Swiss cheese
1 cup sauerkraut, drained and warmed
Prepared horseradish and mustard
Cut the tempeh crosswise in half, then cut each half piece into 3 very thin slabs.  In a skillet wide enough to hold the tempeh in a single layer–though this isn't absolutely crucial–heat the garlic and oil over medium heat until the garlic begins to color.  Add the tempeh pieces and turn them once to coat them with the oil, then add the paprika, dill, caraway, bay, vinegar, and soy sauce.  Season with pepper to taste.  Add water to cover and simmer until the water has reduced to a glaze, about 20 minutes.  (If it cooks down sooner, add more water as needed.)  Allow the tempeh to fry for several minutes in the oil that remains in the pan, turning it a few times.  Taste a corner, then season with salt, if needed, and more pepper.
Toast the bread.  Lay the cheese on 3 slices and broil until it begins to melt.  Add the tempeh and sauerkraut.  Cover the rest of the bread with horseradish and mustard, cover the sandwiches, and serve.
DEBORAH MADISON'S NOTES ON TEMPEH:  Braising tempeh in its seasoning, then letting it brown in the remaining oil improves its flavor and is more effective than marinating it.  Even if you are not a fan of meat pretenders, this robust sandwich is hefty and satisfying and tastes good in its own right.
MARK BITTMAN'S NOTES ON TEMPEH:  Tempeh (pronounced tem-pay), which originated in Indonesia several hundred years ago, is relatively new to America.  Like soy sauce, miso, and vinegar, tempeh is fermented, with a complex yeasty flavor and a high umami quotient; think of mushrooms, strong cheese, or hearty bread.  Like blue cheese, tempeh is "inoculated" with an edible mold, so it looks pretty wild:  an ugly, lumpy, compressed cake of beans (and sometimes grains), usually less than an inch thick.  It's more of an acquired taste than many foods, but if you make Crunch Crumbled Tempeh (page 674 of "How to Cook Everything Vegetarian"), my guess is you'll be fond of it pretty quickly.  Tempeh is very high in protein, up to 19 percent by weight, which means about 15 grams in a 1/2 cup serving–just about all you really need on many days.  Unlike tofu, tempeh is a whole soybean food, so it's also relatively high in fiber and all the nutrients found in whole soybeans, including B vitamins and many amino acids.
AURA'S NOTES ON TEMPEH:  You can find tempeh at Meijer and D&W stores–they usually carry the "LightLife" brand.  But if you are going to make this sandwich and really give tempeh a shot, I'd make the trip to Harvest Health on Eastern and Burton to buy the "West Soy" brand, which used to be "White Wave".  It is much, much better!  If you don't want to go through the whole process of braising for this sandwich, just fry the tempeh in a little oil and splash some tamari soy sauce on it at the end of cooking.  Just as good and your house won't smell like vinegar!