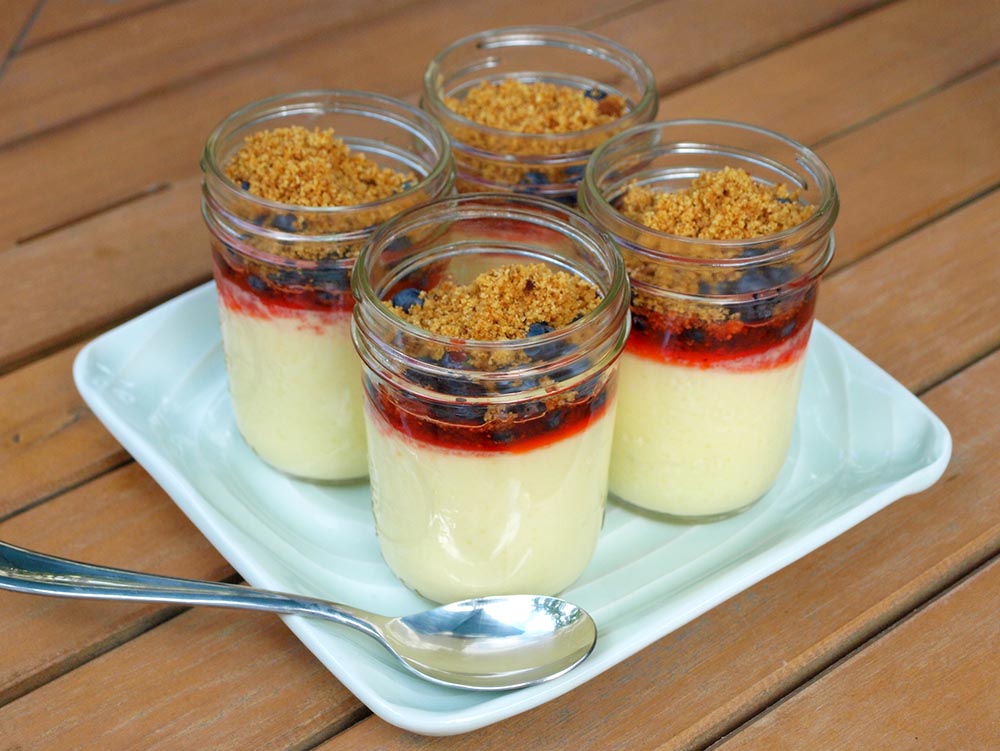 Hello friends!  If you have ever been to my house and had a beverage, there is about a 50/50 chance you have been handed said beverage in a jar.  Yup–I love drinking out of jars, using them as vases, planters, candle holders…they are pretty much a staple in my home.  So you can imagine that my world view of jars just busted wide open when I realized I could make personal sized desserts in them!  As the fourth of July approaches and foodies everywhere bust into barbecue planning mode, consider these gems…personal cheesecakes in jars.  Make these now…and thank me later!
Mini Cheesecake Jars (adapted from Martha Stewart)
Prep Time 20 minutes; Total Time Overnight; Yield Makes 4-6
For the Cheesecake
8 ounces cream cheese, room temperature
1/2 cup sugar
3 large eggs, room temperature
4 ounces sour cream (1/2 cup)
1 tablespoon fresh lemon juice
Salt
1/2 to 1 cup strawberry sauce
For the Graham Topping
1/2 cup finely ground graham crackers (from 4 crackers)
1 1/2 tablespoons unsalted butter, melted
For the Strawberry Sauce
1 cup strawberries
1/4 cup sugar
Directions
Preheat oven to 325 degrees. Make the cheesecakes: Beat cream cheese with a mixer on medium speed until smooth. Add sugar. Beat on medium speed for 3 minutes more. Reduce speed to low. Add eggs, 1 at a time, beating well after each addition. Raise speed to medium. Add sour cream, lemon juice, and 1/4 teaspoon salt. Beat for 3 minutes.
Divide batter among six 6-ounce jars, filling each two-thirds full. Transfer jars to a deep baking dish; add enough boiling water to dish to reach halfway up the sides of the jars. Cover dish with foil; cut 8 slits into top to vent. Bake until set in the center, about 25 minutes. Let cool. Refrigerate overnight to set.
Meanwhile, make the graham topping: Stir together graham-cracker crumbs and butter. Bake on a parchment-lined baking sheet for 10 minutes. Let cool on wire rack then transfer to refrigerator overnight if desired.
Make the strawberry sauce.  Mash strawberries with a potato masher and stir in sugar.  Let sit and stir again right before spooning onto cheesecakes.
When cheesecake is completely cool, top each cheesecake with 1-2 TBSP strawberry sauce and 10 or so blueberries.  Divide graham topping among jars (about 1 heaping tablespoon each).