I made this soup last night with Jayme and Kelly.  It was really easy to make and made for a great meal with some toasted six-grain sourdough and a salad.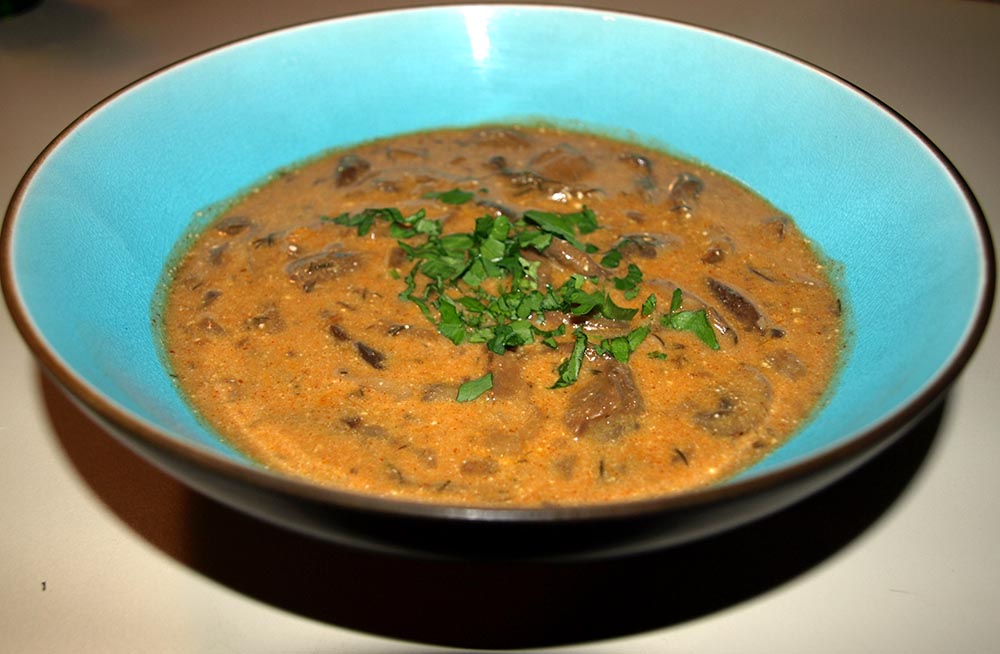 Hungarian Mushroom Soup, taken from "The New Moosewood Cookbook" by Mollie Katzen.
Serves 4; takes about 1 hour
2 Tbsp. butter
2 cups chopped onion
1 1/2 to 2 lbs. mushrooms, sliced
1 tsp. salt
2 to 3 tsp. dried dill (or 2 to 3 Tbsp. freshly minced)
1Tbsp. mild paprika
2 tsp. fresh lemon juice
3 Tbsp. flour
2 cups water
1 cup milk (can be lowfat) at room temperature
black pepper, to taste
1/2 cup sour cream (can be reduced-fat variety)
finely minced fresh parsley, for the top
Melt the butter in a kettle or Dutch oven.  Add onions, and saute over medium heat for about 5 minutes.  Add mushrooms, salt, dill, and paprika.  Stir well and cover.  Let cook for about 15 more minutes, stirring occasionally.  Stir in lemon juice.
Gradually sprinkle in the flour, stirring constantly.  Cook and stir another 5 minutes or so over medium-low heat.  Add water, cover, and cook about 10 minutes, stirring often.
Stir in milk; add black pepper to taste.  Check to see if it needs more salt.  Whisk in the sour cream, and heat very gently.  Don't boil or cook it after this point.  Serve hot, topped with freshly minced parsley.
AURA'S NOTES:  I used three types of mushrooms:  fresh cremini (baby bella), fresh shiitake, and dried porcini mushrooms (reconstituted prior to cooking the soup).  Make sure to discard the shiitake mushroom stems because they are very tough and stringy.  The dried porcini added some woodsy-ness to the soup.
I love sour cream but for this soup, I kind of wish I would have left it out.  The milk made it creamy enough on its own.  I noticed right away that the soup wasn't nearly as attractive once the sour cream was added.  Next time I'll just add milk and maybe garnish it with a small dollop of sour cream instead of mixing it in.