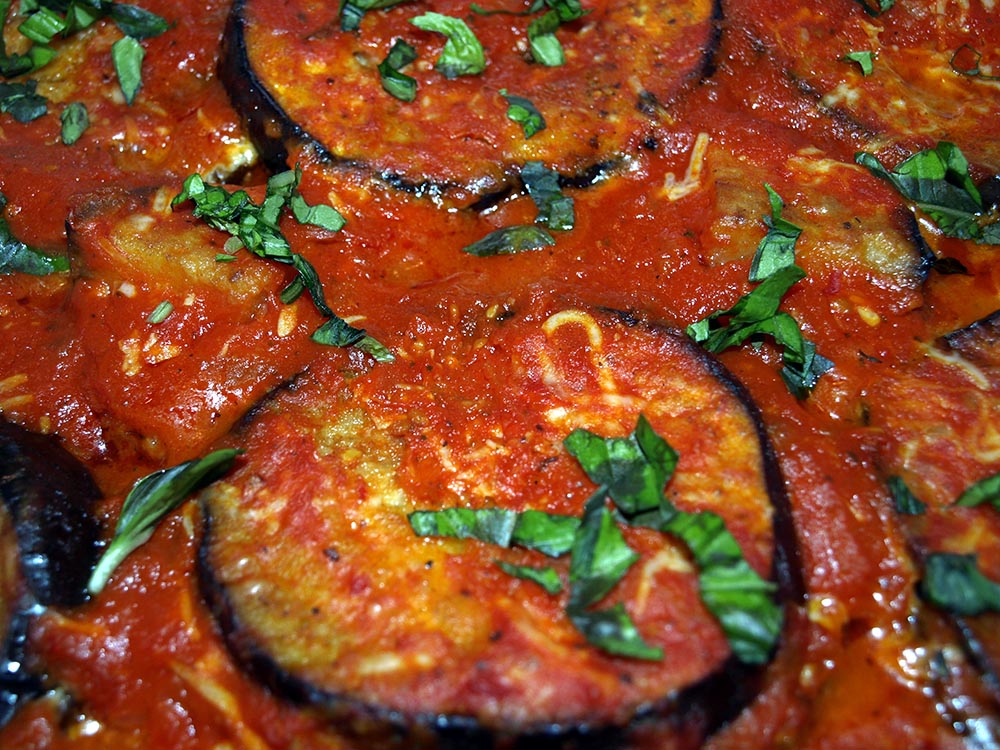 Tonight I made Eggplant Parmesan for the first time in years.  It was creamy, flavorful, and delicious!  I got the recipe from Mark Bittman's "How to Cook Everything."
Eggplant Parmesan
Makes 6 servings; Takes about 1 hour
2 Medium to Large eggplant
Olive Oil as needed
Flour for dredging
Freshly ground black pepper to taste
2 cups tomato sauce
1/2 pound grated mozzarella cheese, about 2 cups (optional)
1 cup freshly grated parmesan cheese, plus more if you omit the mozzarella
About 30 fresh basil leaves
Peel the eggplant if the skin is thick or the eggplant is less than perfectly firm.  Cut it into 1/2 inch-thick slices and salt it if you like.
When you are ready to cook, preheat the oven to 350 degrees F.  Place about 3 tablespoons of olive oil in a large skillet and turn the heat to medium.  When the oil is hot (a pinch of flour will sizzle), dredge the eggplant slices, one at a time, in the flour, shaking off the excess.  Place in the pan, but do not crowd; you will have to cook in batches.  Cook for 3 or 4 minutes on each side, until nicely browned, then drain on paper towels.  Add some pepper to the slices as they cook, as well as some salt if you did not salt the eggplant.  Add more oil to the skillet as needed.
Lightly oil a baking dish, then spoon a little of the tomato sauce into it.  Top with a layer of eggplant, then a thin layer of each of the cheeses, and finally a few basil leaves.  Repeat until all the ingredients are used up, reserving some of the basil for garnish.  End with a sprinkling of Parmesan.
Bake for 20 to 30 minutes, or until the dish is bubbling hot.  Mince the remaining basil and sprinkle over the top.  Serve hot or at room temperature.
AURA'S NOTES:  I only had 1 eggplant so I cut the recipe in half so there were 2 layers of eggplant/sauce/cheese in the baking dish.  I served it with some whole wheat spaghetti, which I just mixed with some olive oil, salt, and pepper and topped with some of the fresh basil.  Delicious!