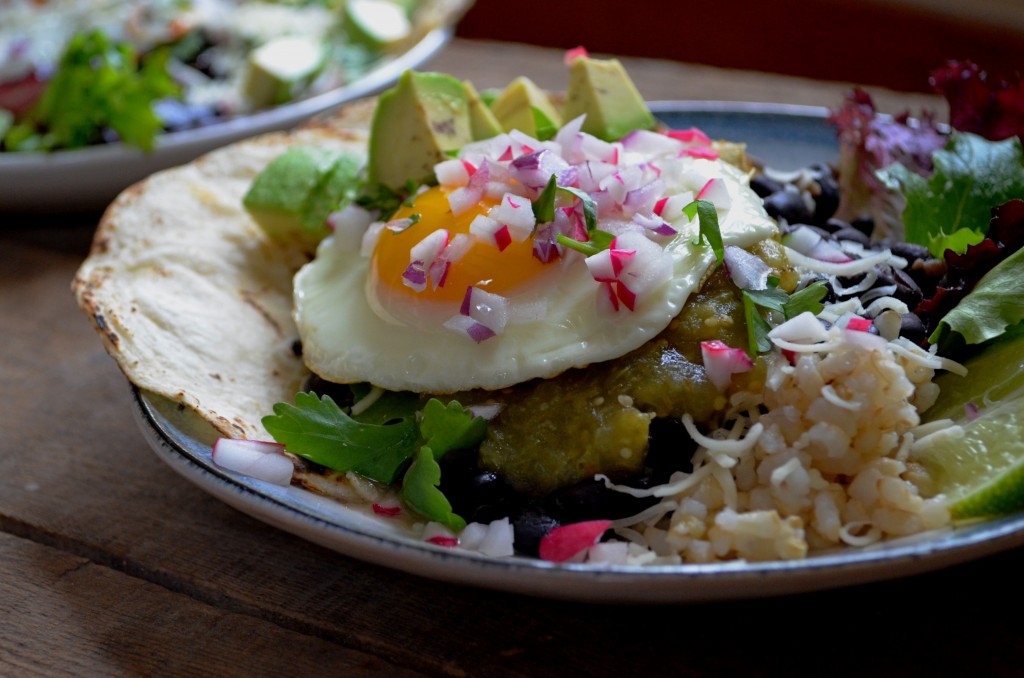 Order up! Many years ago, when I was in college, I worked at a vegetarian restaurant called Gaia Cafe. The restaurant is still open after almost 30 years, and the menu has changed very little over the years. When you have a good thing, why change it? It's one of my favorite places for breakfast or lunch, with a cozy, eccentric vibe and self serve, fair trade, and strongly brewed coffee so you never have to wait for your server to deliver your morning buzz. If I didn't cook all the time at home, I'd be a regular at Gaia–I sure do miss my almost daily meals there from my four years of serving.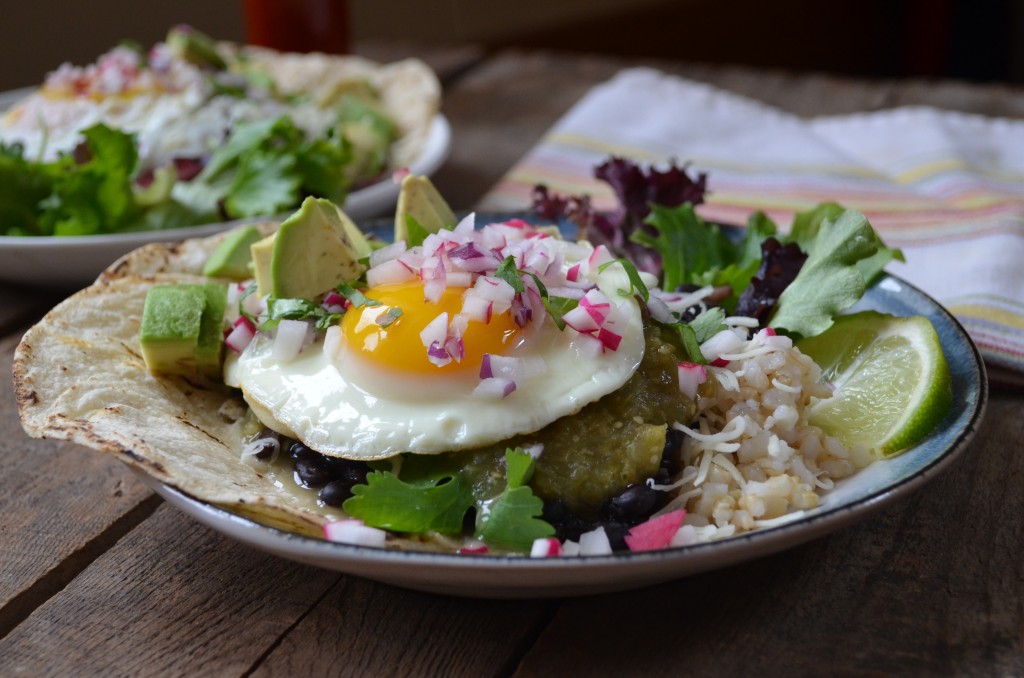 My favorite dish on the menu there is Cuban Eggs, Gaia's version of Huevos Rancheros. After their decades of perfecting the recipe at Gaia, I'm not sure that I could ever create anything that surpasses it, but my homemade take on Huevos Rancheros really holds its own.  Not to mention, it is a more economical breakfast for two, allows for every customization I could want (I'm looking at you, radishes, avocado and cheese), and spares us from trudging through the snow on a bitter January morning.  Oh…and the coffee?  It's fair trade, brewed strongly, and all-you-can-drink self-serve in my kitchen too.  And I can yell "order up!" just as loud as any line chef you know.
Now, I'm of the mind that you can eat Huevos Rancheros for breakfast, lunch, or dinner.  Cooking Light Magazine agrees–if you want to further modify this great dish, try their take on Huevos Rancheros- in taco form.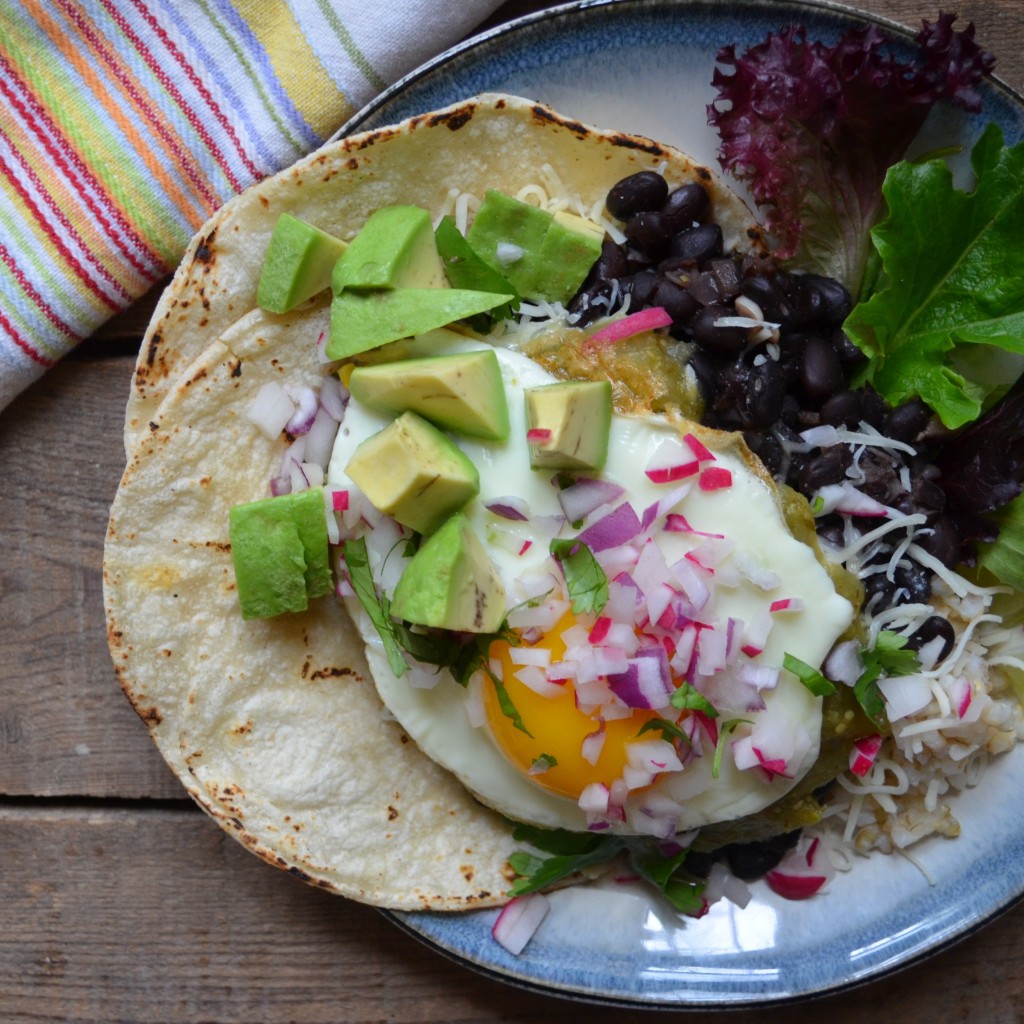 Huevos Rancheros With Tomatillo Sauce
Serves 2
1 cup prepared tomatillo sauce, either jarred/canned, or homemade (

see recipe below

)
1 cup prepared black beans (

see recipe below

)
4 corn tortillas
1/2 cup cooked short grain brown rice (optional)

1/3 cup shredded Monterey Jack cheese (or white cheddar, asadero, or other mild white melting cheese)

1 tsp olive oil
2 cage-free, organic eggs

1 radish, minced, for garnish (optional)

2 tablespoons green onion or red onion, minced, for garnish (optional)
2 tablespoons fresh cilantro, minced, for garnish (optional)
1/4 avocado, chopped, for garnish (optional)
Small handful baby lettuces, for garnish (optional)
2 tablespoons sour cream, for garnish (optional)
For the Beans:
1 cup cooked or canned black beans
1 tsp olive oil
1 clove garlic, minced
1/2 cup diced red onion
1 tsp cumin
1/2 tsp oregano
pinch of salt, if needed after tasting
For the Tomatillo Salsa:
1 pound fresh tomatillos, husked and rinsed
1 cup chopped onion
1 tablespoon brown sugar
2 tablespoons apple cider vinegar or lime juice
1 jalapeño pepper, chopped  (keep seeds for more spice, remove seeds for less heat)
1 teaspoon ground cumin
1/4 teaspoon salt
1/2 cup packed cilantro leaves
Prepare the salsa if you are using homemade:  To prepare salsa, place tomatillos in a saucepan with water to cover and cook until soft, about 5 minutes.  Drain and add to a blender with remaining ingredients.  Pulse until it becomes a sauce–you can leave it a bit chunky or blend until smooth.
Heat the tomatillo sauce:  Pour homemade or store-bought tomatillo sauce into a small saucepan and heat on low.
Prepare the beans: Heat oil in a skillet on medium and add garlic and red onion. Saute until translucent, 4-5 minutes. Add cumin, oregano, and beans. Stir to combine, and heat beans to a simmer. Turn to low to keep warm.
Heat the tortillas: My favorite way to heat tortillas is over an open gas flame. Turn flame to high and carefully place a tortilla onto the flame. Let heat for about 10 seconds and, using tongs, lift edge to see if there is slight charring. If you see some light charring, flip over and char other side of the tortilla. Remove and continue with remaining tortillas.

If you don't have a gas range or don't feel brave enough to try my method,

heat a skillet on high and add one tortilla at a time, allowing to heat and slightly bubble, about 30 seconds. Flip to other side and heat for 30 seconds. Continue with remaining tortillas.
Assemble plates: Place a small bunch of lettuces and two tortillas on bottom of each plate (or fold onto the side if you don't want any sauce on the tortillas). Place 1/4 cup brown rice onto tortillas on each plate. Add 1/2 cup black beans to each plate. Pour 1/2 cup tomatillo sauce onto each plate. Divide cheese between plates and sprinkle onto the tomatillo sauce.
Fry the eggs: Heat 1 tsp oil in a small frying pan (I use an 8 inch pan). Fry eggs until over easy or over medium, whichever you most prefer. Sprinkle with a touch of salt. Add one egg to each plate on top of the tortillas, rice, black beans, and tomatillo sauce. Top each plate with minced radishes, onions, cilantro, avocado, and sour cream.
Enjoy:  Serve immediately with hot sauce–I always have Sriracha, Valentino, Tapatio, and homemade habanero hot sauces on hand.