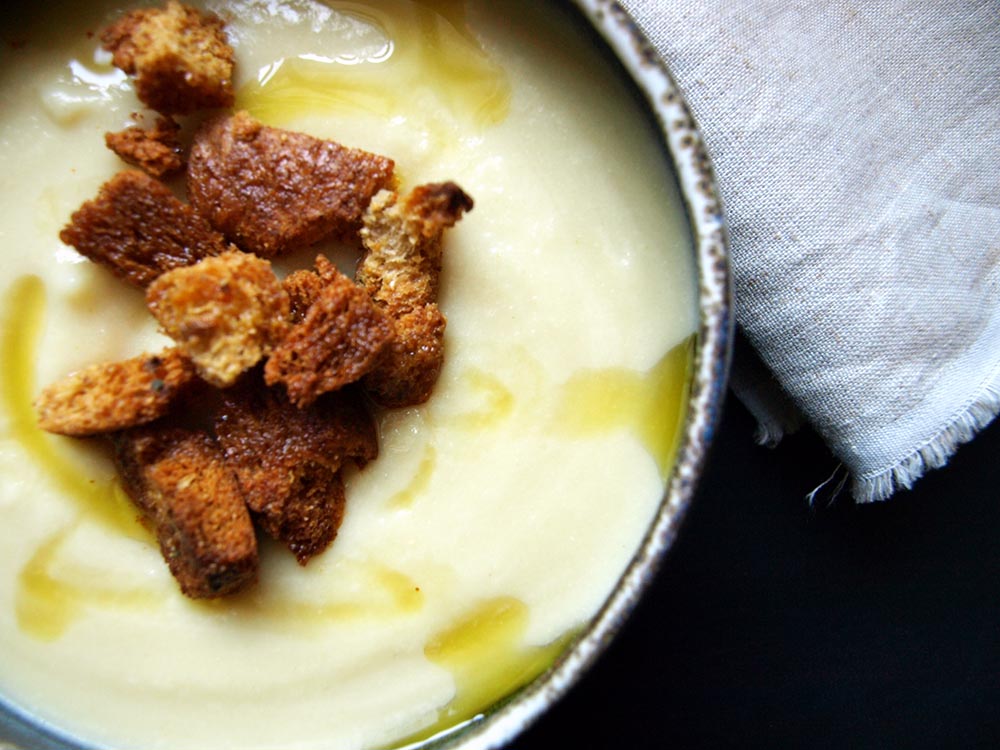 This week's Food Matter's Project recipe choice was Whole Cauliflower with Sausage, chosen by Gracie over at Food Fascination.  I had every intent of trying this recipe but somehow my head of cauliflower turned into soup instead–blame it on this cold weather I guess–and I'm going to go out on a limb and say it is probably the best thing I could have done with it.  This soup is decadent, creamy, warming, easy and wait for it….healthy to boot.  A complete surprise for me, having never made cauliflower soup before.  It is the first recipe I have tried from Heidi Swanson's cookbook, Super Natural Every Day and if this recipe is any indication, I'm going to really love cooking through and getting ideas from this book.  I've been a long time fan of Heidi's beautiful blog, 101 Cookbooks, so I'm thrilled to have her book in my home.  Beautiful!
If you are wanting to try the whole cauliflower with sausage (and it does sound good!) head over to Food Fascination for the full recipe.  For endless variations, head over to The Food Matters Project website.  Now onto this delicious soup recipe…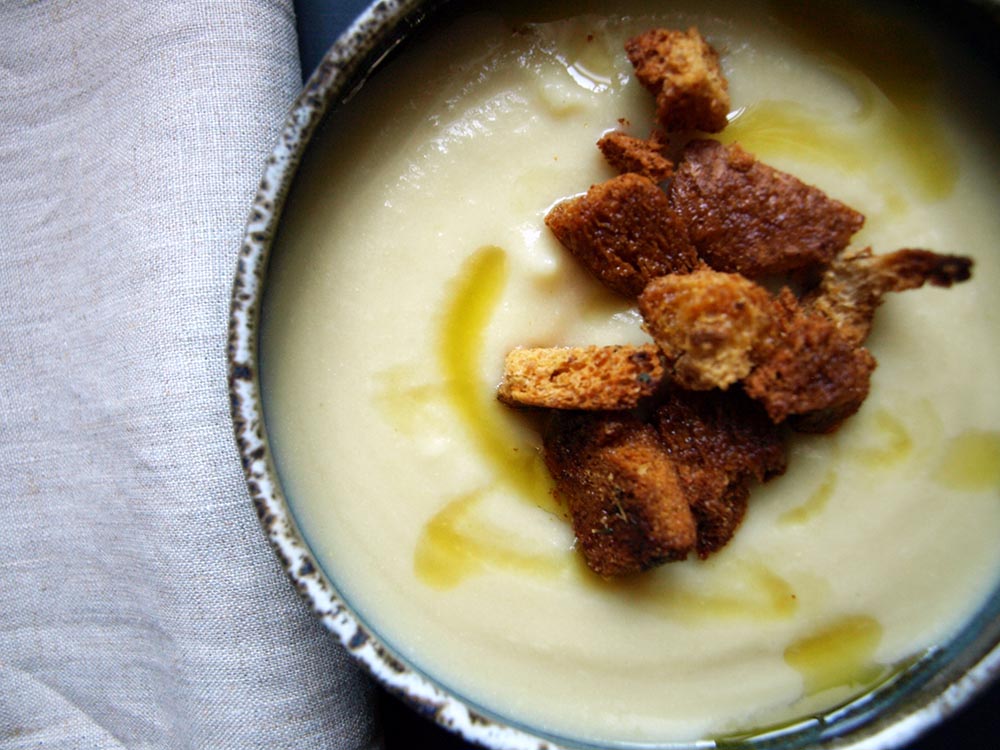 Cauliflower Soup with Sharp Cheddar and Homemade Croutons adapted ever so slightly from Super Natural Every Day by Heidi Swanson
For the croutons:
6 oz of whole wheat bread, torn or cut into little pieces (less than 1 inch)–will yield about 3 cups
2 tablespoons unsalted butter
2 tablespoons extra-virgin olive oil
1 and 1/2 tablespoons Dijon-style mustard
1/2 teaspoon fine-grain sea salt
1/4 teaspoon dried sage
For the soup:
2 tablespoons unsalted butter or extra-virgin olive oil
1 large sweet onion, chopped
Fine-grain sea salt
1 large potato, peeled and cut into tiny cubes
2 cloves garlic, shopped
3 and 1/2 cups vegetable broth or water
1 medium head of cauliflower, cut into small florets
2/3 cup of freshly grated aged cheddar cheese, plus more to top
2 teaspoons Dijon-style mustard
Extra virgin olive oil, to serve
Instructions:
Preheat the oven to 350°F with a rack in the middle of the oven.
to make the croutons, put the torn/cut bread in a large bowl.  In a small saucepan, melt the butter oer medium-high heat.  Whisk the olive oil, mustard, salt, and sage into the butter and pour the mixture over the bread.  Toss well, then turn the bread onto a baking sheet.
Bake for 10 to 15 minutes, until the croutons are golden and crunchy.  Flip them once or twice with a metal spatula along the way.
While the croutons are toasting, start the soup.  Heat the butter in a large saucepan over medium-high heat.  Stir in the onion and a big pinch of salt.  Saute until the onions soften, a couple of minutes.  Stir in the potato, cover, and cook for about 4 minutes, just long enough for the pieces to soften up a bit.  Uncover, stir in the garlic, then the broth.  Bring to a boil, taste to make sure the potatoes are tender, and if they are, stir in the cauliflower.  Cook, covered, for 3 to 5 minutes, just until the cauliflower is tender throughout.
Remove the pan from the heat and puree the soup with an immersion blender.  Stir in half the Cheddar cheese and the mustard.  Add more broth or water if you feel the need to thin the soup at all.  Taste and add more salt, if needed.  Serve sprinkled with the remaining cheese, some croutons, and a drizzle of olive oil.
Serves 4 to 6.