Happy spring, everyone!  Spring has finally arrived here in Grand Rapids, Michigan.  Spring is my favorite season.  It is a time of renewal, fresh starts, and an emergence of life and beauty long-forgotten and buried under layers of snow.  This winter was a particularly long one so this spring is unfolding as the most beautiful I can recall.  To wake up hearing birdsong is an incredible thing but it is even more incredible to walk outside and be surrounded by green grass, flowering cherry, pear, and magnolia trees, tulips, daffodils, myrtle and phlox.  My favorites are the tulips surrounding my house and scattered in vases throughout my house.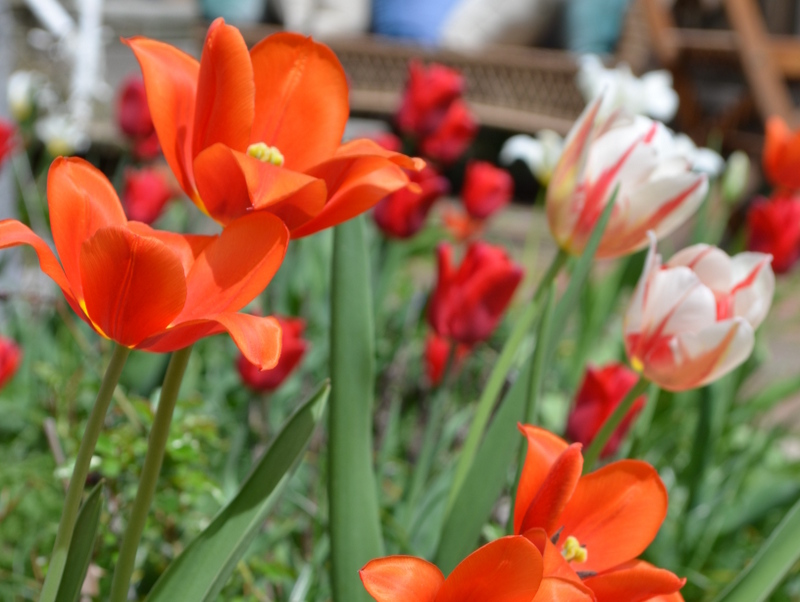 This spring has been one of change and fresh starts for me.  I have been so busy lately and am working really hard to find time to blog about all of the dishes I have been making.  For every five dishes I make, one makes it to the blog.  One of these days I'll take a blogging vacation, plop myself in a beautiful locale, and catch up on my posts….!  Luckily, the things that are keeping me busy outside of my busy work schedule are all positive things.  Over the last few months I have created a Back to Basics series for the Grand Rapids Cooking School and Uptown Kitchen, have begun a Meatless Monday feature on Dr. Mary MD's blog, was invited to participate in a Green Market Expo, and starting this week, will begin contributing a "Spotlight on Produce" series for the Uptown Kitchen blog and for The Rapidian, our hyper-local Grand Rapids news and culture source.  Each week I will shop at the Fulton Street Farmer's Market and feature a recipe about one of the in-season vegetables or fruits sold by our local farmers.  Very exciting stuff!
And now…for the BIG NEWS.
As if all of that wasn't enough, on Friday I received the most exciting email.  Cooking Light invited me to become one of their bloggers for the Cooking Light Bloggers Connection. Let's just say, I was so excited that I squealed when I read the email.  And I am so thrilled that this hobby of mine has been noticed by one of my favorite publications and will be shared with a wider audience moving forward!  I will be adding a Cooking Light Blogger badge to my site and a couple of times a month, will be letting you all know about a recipe or featured article on the Cooking Light website.  I have been a subscriber to Cooking Light for about ten years and have really enjoyed seeing them grow and become the fresh and exciting publication they are today so am really excited to share some of their recipes and features with you moving forward.  Cooking Light may also ask me to provide tips and articles to them for publication on their website (which would be SO COOL).  My profile will be added to the Cooking Light Bloggers Connection page in the next week or so and I'll share that when it becomes live.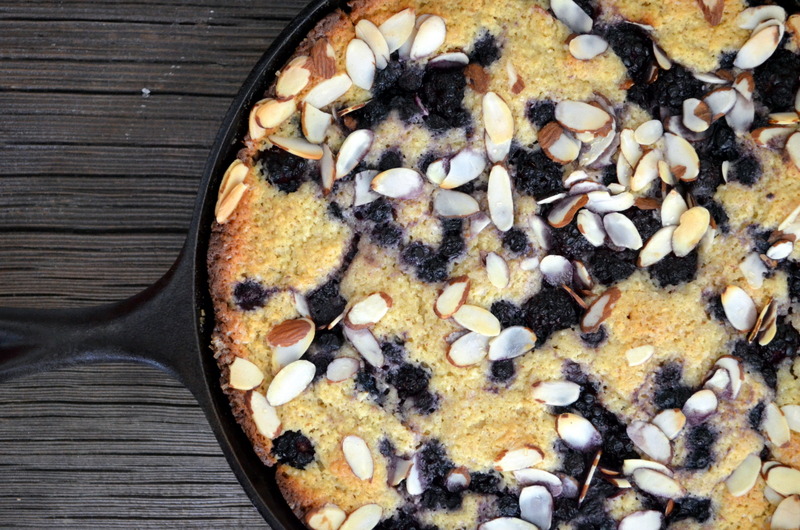 To celebrate this exciting news, I baked a cake.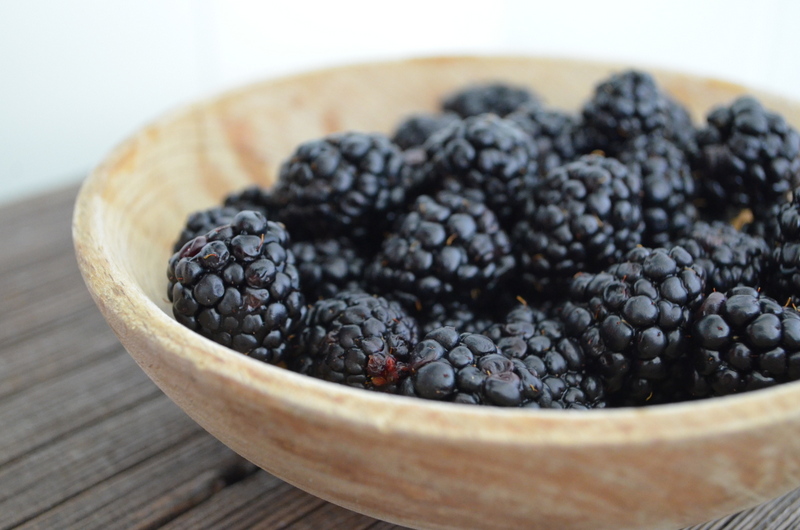 I have been coming up with any excuse to use my beautiful old cast iron skillets lately.  Growing up, we made cornbread in our skillets about once a week and I've never made it any other way since.  With that memory in mind, I set about making a sweeter cake with blackberries, blueberries, and almonds.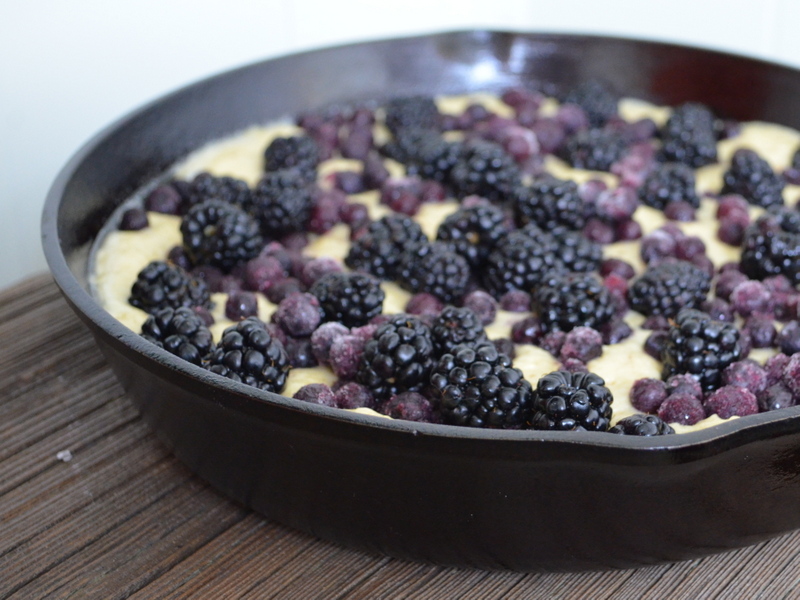 Both blackberries and blueberries are out of season so I used frozen blueberries and bought some organic blackberries from the grocery store.  In honor of Cooking Light, I made this cake using a couple of my tricks to reduce fat:  apple sauce and sour cream. This cake came together in minutes, filled the house with amazingly delightful scents, and turned out dense, moist, and just sweet enough to feel decadent.  As it turns out, it tastes even better eaten as a snack in the middle of an afternoon.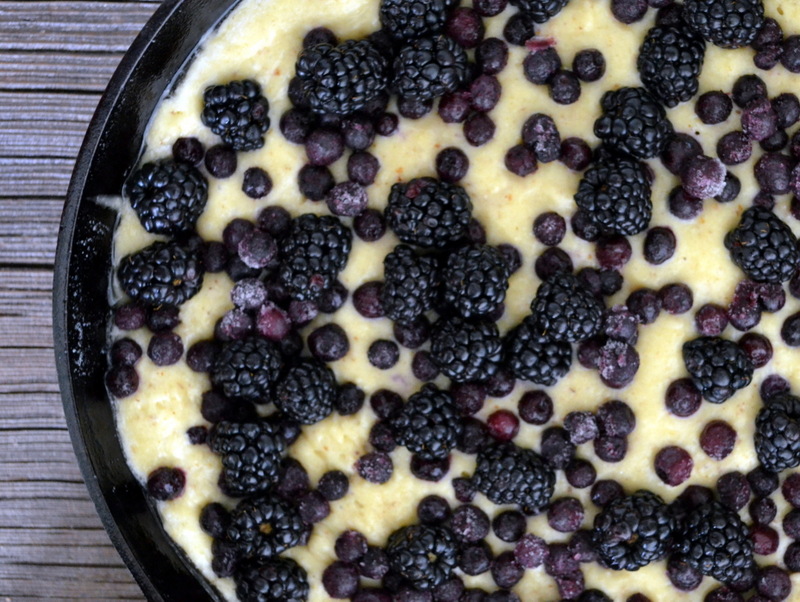 I hope you enjoy this as much as I did.  Thanks for your support and for being wonderful friends and followers.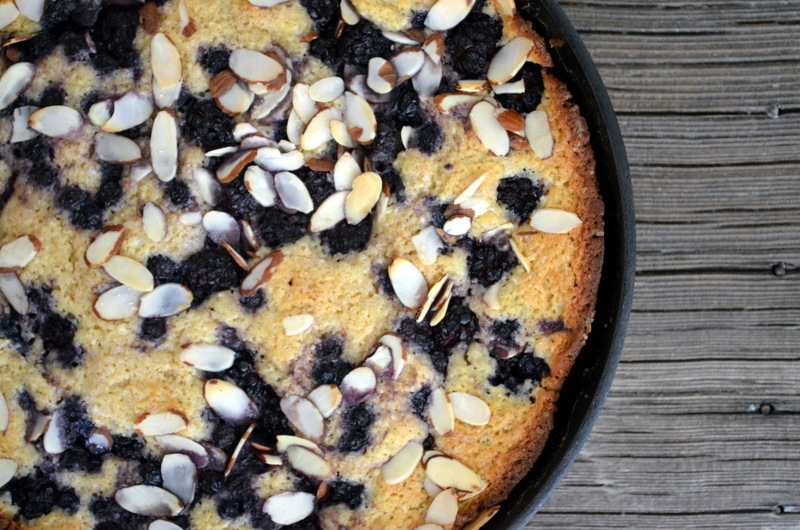 Berry Almond Skillet Cake
Makes 8 generous servings
1 1/8 cup of all purpose, unbleached flour

1/4 cup of whole wheat flour

1/2 cup of almond meal

2 teaspoons of aluminum-free baking powder

1 teaspoon of sea salt

1 cup of sugar

1/2 cup of low-fat buttermilk

1 tablespoon lemon juice

2 large eggs

3 tablespoons of butter, melted

3 tablespoons low-fat sour cream
3 tablespoons unsweetened apple sauce
1 1/2 teaspoon pure almond extract

1 tablespoon of butter to oil the skillet

1 cup blueberries (fresh or frozen)

1 5 oz container of blackberries

1/4 cup turbinado sugar
1/2 cup sliced almonds
Preheat your oven to 350°. In a large bowl, whisk together the flours, almond meal, baking powder, salt, and sugar.

In another bowl, whisk together the wet ingredients: buttermilk, eggs, lemon juice, melted butter, sour cream, apple sauce, and almond extract.

Pour the wet ingredients into the dry ingredients and mix to combine.

Add the remaining tablespoon of butter to a 10-inch cast iron skillet and place on a burner at medium heat until the butter is melted and the pan is hot. Swirl the butter to coat the skillet, then pour in the batter.

Scatter berries and sliced almonds on top and sprinkle with turbinado sugar.

Bake for 40-45 minutes, or until golden brown and a toothpick inserted into center comes out clean. Serve warm with vanilla ice cream or at room temperature with your morning coffee for an extra-special treat.