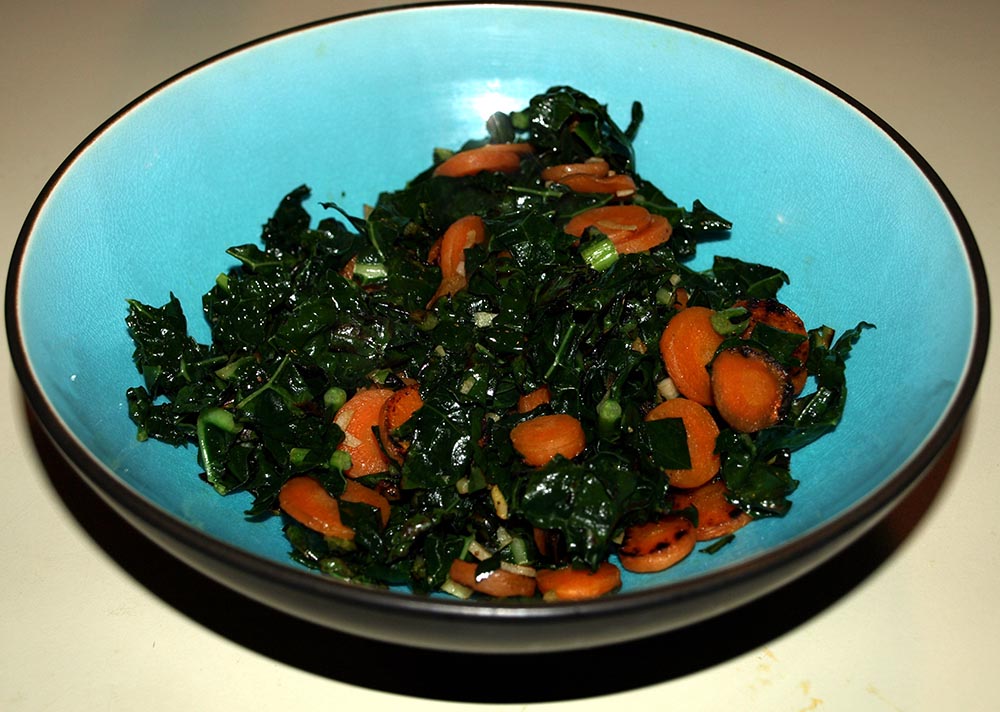 Tonight I made a sauteed kale recipe from Mark Bittman's "How to Cook Everything."  I love kale and most other greens and have had a lot of success with simply sauteeing greens with some garlic and olive oil.  Maybe it was because I was so hungry, but this resulted in the best bowl of kale I have ever had.
Collards or Kale, Brazilian-Style
Makes 4 servings; Time:  15 minutes
1 1/2 lbs young kale or collards, or other dark green, washed and very well dried
3 Tbsp olive or peanut oil
1 Tbsp minced garlic
Salt and freshly ground black pepper to taste
1/4 to 1/2 cup freshly squeezed lemon juice or red or white wine vinegar
Chop the greens into fairly small pieces; no dimension should be more than 2 inches.
Meanwhile, heat a 12-inch skillet or wok over high heat until smoking.  Add the oil to the skillet, let sit for a few seconds, then toss in the greens and the garlic.
Cook over high heat, stirring almost constantly, until the greens wilt and begin to brown, 3 to 8 minutes (depending largely on the power of your burner).
Season with salt and pepper and add a little lemon juice or vinegar.  Taste, adjust seasoning, and serve immediately.
AURA'S NOTES:  I used Lacinato (aka Dinosaur) kale for this recipe because that is what I had on hand.  I really like the texture of this kale more than any other green.  When I cut the kale, I removed the ribs and sliced them into 1/8 inch to 1/4 inch pieces.  I thinly sliced some carrots to add some color.  After the pan was smoking and the oil was added, I tossed in the carrot and kale ribs and let them cook for a few minutes before adding the kale and the garlic (I added a little extra because I minced too much).  I sprinkled a little bit of lemon juice, salt, and pepper on at the end of cooking.  The carrots not only added color, but they added some dimension and sweetness.  I'm making this again for dinner tomorrow!