I hope this day after Christmas finds everyone well.  For me, this cold and peaceful winter morning involved staying in bed late, drinking tea, and best of all, enjoying baked oatmeal.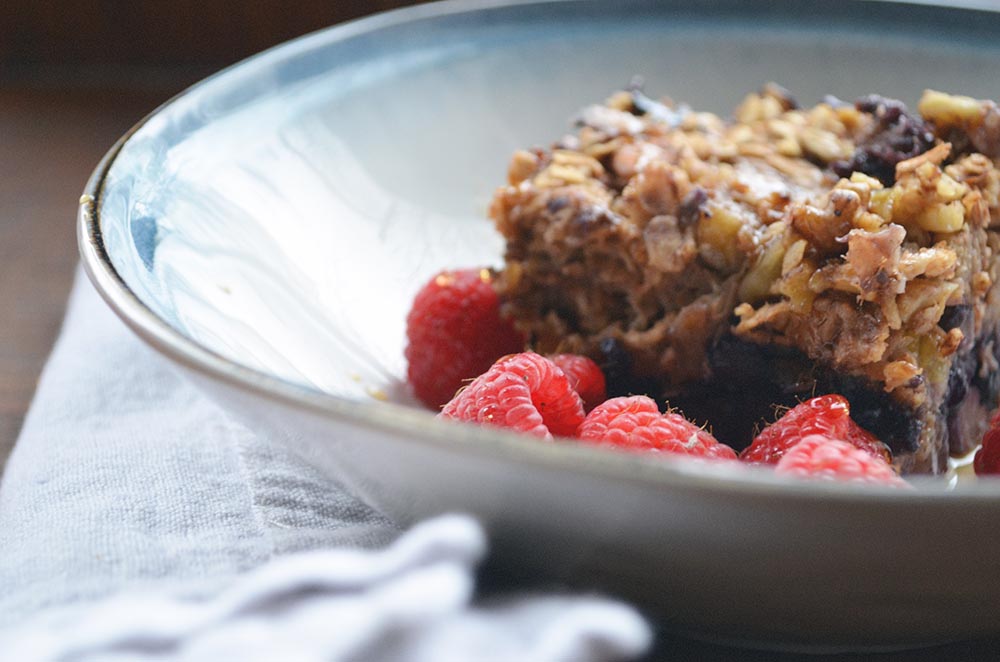 I am a bona fide oatmeal lover.  I never ever thought I would be such a goody-two-shoes that I would eat oatmeal every morning.  But somehow this routine has a solid foothold now.  I have rolled oats, steel-cut oats, quick-cooking steel-cut oats, quick oats and oat bran on hand at all times.  When I travel for work, I have BetterOats packets on hand for snacking and mornings in the hotel.  So when I came across baked oatmeal after hearing people rave about it, I had to try it.  I had noticed a recipe in Heidi Swanson's Super Natural Everyday and went at it.
We have been trying our hand at baked oatmeal recipes over the last week and I can't get enough of it.  Next week I'm throwing a brunch for my lovely former roommate and her out-of-town guests the day after her wedding.  Being that some guests are vegan, I tried my hand at making a vegan version of baked oatmeal, launching off from Heidi Swanson's baked oatmeal recipe from Super Natural Every Day.  Her version includes eggs, butter, and milk (and her version is delicious, I can attest) but with a few tweaks, everyone can enjoy the miracle of baked oatmeal.  I replace the milk with non-dairy almond milk (you can use soy if you prefer but I prefer the lighter taste of almond milk), the butter is replaced with oil, and the egg is replaced with a half of a mashed banana.  If you like oatmeal you will love this version, which is like a mildly sweet dessert for breakfast.  Without the guilt.  And having tried a dairy version and my vegan version, I can honestly say I liked the vegan version even better.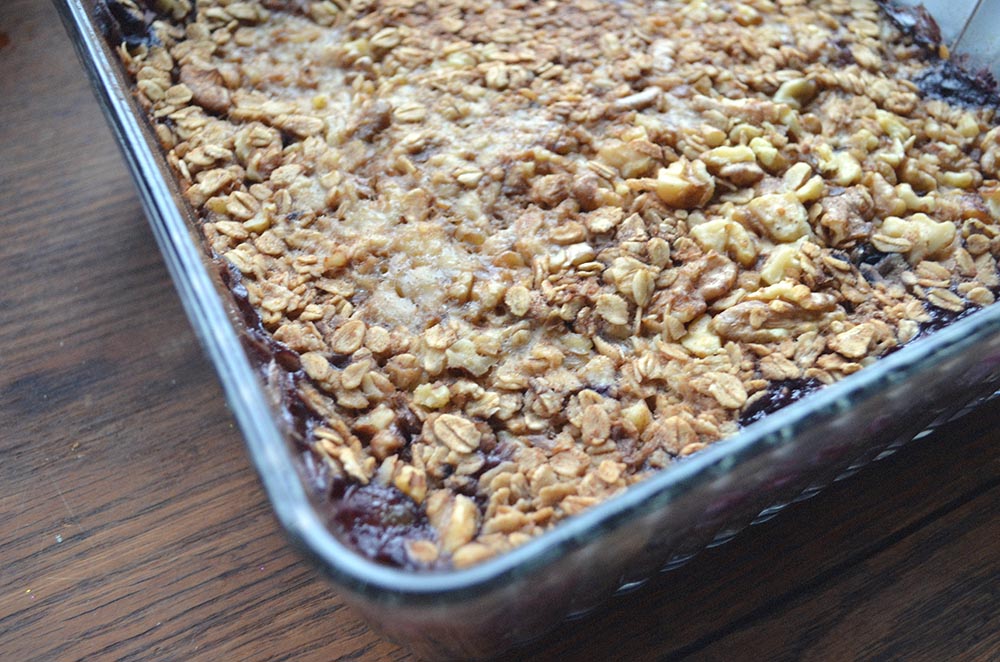 Vegan Baked Oatmeal with Apricots and Blueberries; adapted from Heidi Swanson's Super Natural Everyday
Serves 6 for Breakfast
2 cups of rolled oats (use 'old fashioned' oats, not 'quick' oats)
1/2 cup walnut pieces, toasted and chopped
1/3 cup natural cane sugar or maple syrup, plus more for serving
1 tsp baking powder
1 1/2 tsp ground cinnamon
Scant 1/2 tsp fine-grain sea salt
2 cups almond milk, soy milk, or other non-dairy milk
1/2 banana, mashed
2 Tbsp canola or coconut oil (melted if hard)
2 tsp pure vanilla extract
2 ripe bananas, cut into 1/2 inch pieces
1 1/2 cups blueberries (frozen or fresh)
1/2 cup dried apricots, cut into thin strips
Raspberries, to serve (optional)
Preheat the oven to 375° with a rack in the top third of the oven.  Oil the inside of an 8 inch square baking dish.
In a bowl, mix together the oats, half the walnuts, the sugar, if using, the baking powder, cinnamon, and salt.
In another bowl, whisk together the maple syrup, if using, the non-dairy milk, 1/2 mashed banana, the oil, and the vanilla.
Arrange the banana slices in a single layer in the bottom of the prepared baking dish.  Sprinkle two-thirds of the berries over the top.  Cover the fruit with the oat mixture.  Slowly drizzle the non-dairy milk mixture over the oats.  Gently give the baking dish a couple thwacks on the countertop to make sure the milk moves through the oats.  Scatter the remaining berries and remaining walnuts across the top.
Bake for 35 to 45 minutes, until the top is nicely golden and the oat mixture has set.  Remove from the oven and let cool for a few minutes.   Cut into squares and serve in bowls.  Drizzle with maple syrup and pool some almond or soy milk on the bottom.  Serve with a few raspberries if you have 'em.