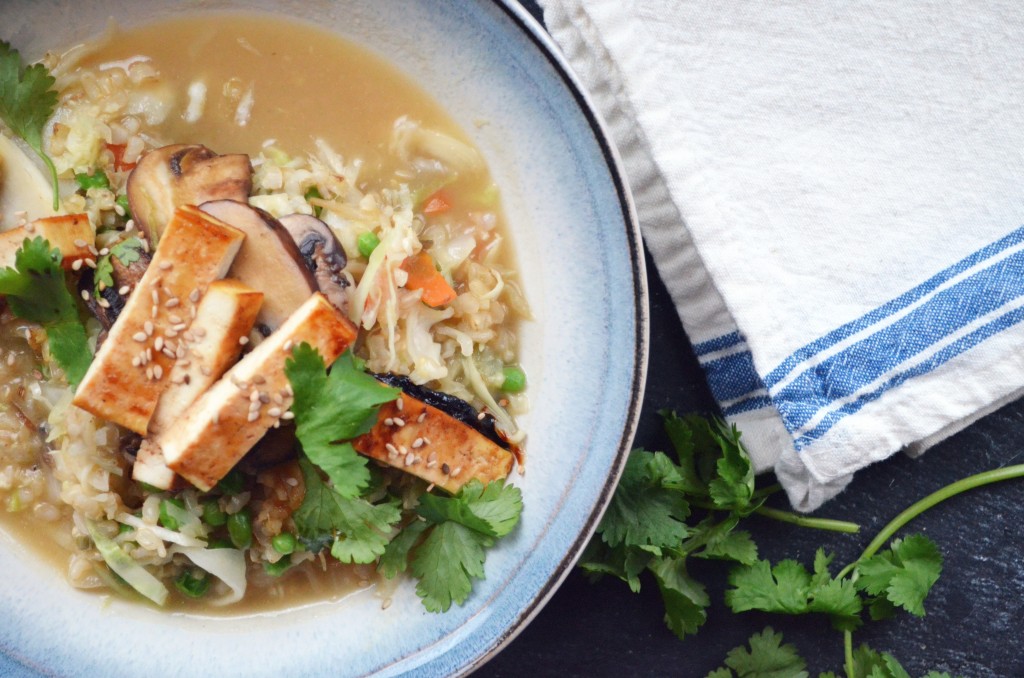 I'm officially getting caught up with life this week.  It's been a pretty hectic couple of weeks for me!  Where to begin?  Chronologically?  In order of importance?  Most exciting?  Yes.  I'll start there.
I am very excited to share the news that I am going to be blogging for the Grand Rapids Cooking School!  My first post (just an introduction to me and my blog) went up today!  Check it out here.  I am so excited to be working with Molly Clauhs and Kelly Lecoy on this new project.  We are going to start out with a "Back to Basics" series then move into a "Spotlight on Produce" series once spring and all of the wonderful Michigan produce we love to cook with come back to us!  Stay tuned…I'll be sharing my Grand Rapids Cooking School blog posts with you all too.
Next, I'm so excited to share that I stepped out of my comfort zone and attended StartUp Weekend Grand Rapids two weekends ago.  This is what it is all about:  "All Startup Weekend events follow the same basic model: anyone is welcome to pitch their startup idea and receive feedback from their peers. Teams organically form around the top ideas (as determined by popular vote) and then it's a 54 hour frenzy of business model creation, coding, designing, and market validation. The weekends culminate with presentations in front of local entrepreneurial leaders with another opportunity for critical feedback."  The event was just wonderful.  I spent the weekend on a team with 7 brainiacs developing the first draft of an app called The Diet Sherpa.  The app would help anyone find restaurants, stores, and farmer's markets that offer foods that fit their dietary needs (gluten free, diabetic, paleo diet, vegan, etc.).  Stay tuned–we are fine tuning our prototype and I'll share with you all when it is ready.
I'm happy to share that my boyfriend returned last week from a three week music tour to Texas, Kansas, and Oklahoma.  I was still cooking meals for myself, of course, but having him back gets me all excited to cook up new and exciting dishes.  He is a very gracious guinea pig for my new recipes and an excellent sous chef, I must say.  We whipped up an Indian meal for friends last week and I was overjoyed standing at the stove, stirring our respective dishes (his contribution was Chicken Tikka Masala and mine was Channa Dal).  We also got a ginger bug started, which we feed every day and will use to make ginger beer once it is ready!  My heart warms when I think of how happy I am to be hanging out with a lovely man who loves spending time in the kitchen with me.  My cup runneth over!
I am also excited (and sad and nervous) to say that my little sister is going to South Korea in a few weeks and came to visit me this weekend.  It was interesting getting to know about the town she will be living in (Changwon) and what she needs to pack.  I just got a little camera for her and am really looking forward to her sending some photos once she gets there.  I'm also really sad that I won't see her for a whole year!  We enjoyed the weekend together, hanging out and cooking a few dishes.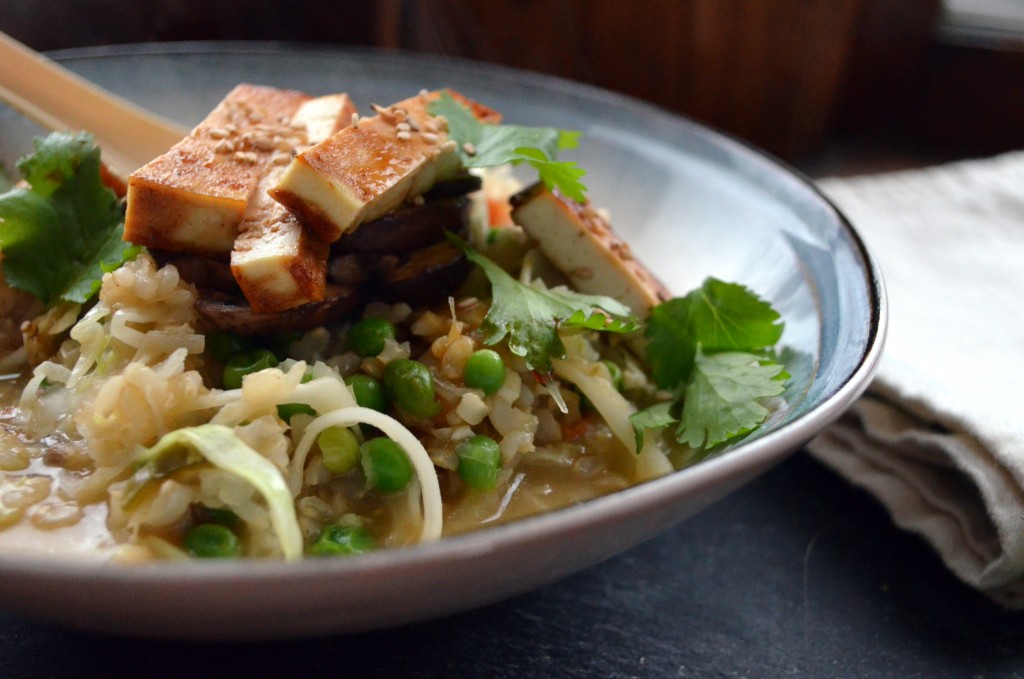 One of the dishes we enjoyed was this rice congee, or "jook".  Congee is basically a rice porridge that has cooked for a long time, allowing the rice to soften and create a thick and creamy consistency.  This was last week's Food Matters Project recipe, chosen by Erin from The Goodness Life.  Follow Erin on Facebook, Twitter, and Pinterest.  Check out what everyone else made here on the FMP website or here on the FMP Pinterest Board.
This recipe was a very comforting dish on a cold Michigan Sunday in January.  It did not blow me away or excite me too much, I'll be honest.  But if you are looking for a healthy and satisfying dish that will stick to your ribs and warm you up, this is a good one to try.  The original recipe includes chicken and can be found here.  Although my vegan version was satisfying, I can picture the chicken version potentially being even moreso!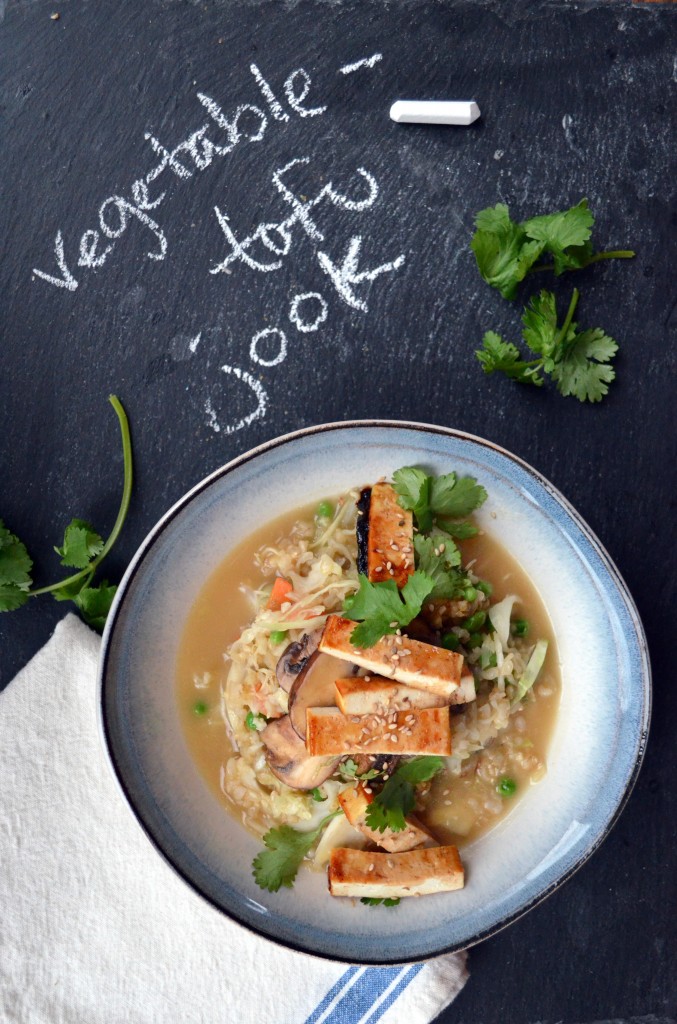 Rice Congee (a.k.a. Jook) with Vegetables and Baked Hoisin Tofu; adapted from Mark Bittman's The Food Matters Project Cookbook
Makes:  4 servings; Time:  About 3 hours, largely unattended
From Bittman:  This creamy Chinese rice porridge—also known as congee—is a perfect cold-weather soup, and a fine vehicle for delicious add-ins.  It takes a while for the grains to break down and thicken the water, but luckily you have options:  Jook cooks perfectly in a slow cooker (see the sidebar on page 119), or you can make the soup a couple days ahead and simply reheat it.  It also requires virtually no attention as it simmers, so making it on the stove is not all that much work.
3 tablespoons vegetable oil

Salt and black pepper

2 tablespoons minced garlic
2 tablespoons minced ginger
1 fresh chili (like jalapeno or Thai), minced
½ cup chopped scallions, plus more for garnish
1 cup short-grain brown rice
2 cups cabbage sliced into very thin ribbons
2 carrots, chopped
1 cup bean sprouts
1 container of extra firm tofu
3 tablespoons hoisin sauce
8 oz of baby bella mushrooms (you can also use white button mushrooms)
2 tablespoons soy sauce, plus more for serving
1 tablespoon sesame oil
½ cup chopped fresh cilantro, for garnish
Fish sauce for serving (for non-vegetarians)
Put the oil in a large pot or Dutch oven over medium-high heat.  When it's hot, add the garlic, ginger, chile, and ½ cup scallions and cook until they are soft, just a minute or 2. 

Add the rice along with 6 cups water.  Bring to a boil, then adjust the heat so it bubbles.  Partially cover the pot and cook for about 2 hours, stirring occasionally to make sure the rice is not sticking to the bottom. The congee should have a porridge-like consistency; if it becomes very thick too quickly, turn down the heat and stir in more water.  When it is done, the congee should be soupy and creamy but still have a little chew.
In the meantime, when the congee has about 1/2 hour left to cook, bake the tofu.  

Drain the tofu and wrap it in a clean towel. Place a small plate on it and let sit for a half hour to extract some of the liquid.  

Heat oven to 300 degrees. Lightly oil a baking pan.  S

lice the tofu into 1/2 inch slices. and place on baking pan. Brush with hoisin sauce on both sides and bake for 20-30 minutes.  

Click here for images on draining and baking tofu from my post on soba noodles with baked tofu.
Stir in the cabbage, carrots, bean sprouts, 4 tablespoons soy sauce and sesame oil; cook until the vegetables are just tender, another 5 minutes.  Taste and adjust the seasoning.  Serve, passing the cilantro, additional scallions, fish sauce (if using) and additional soy sauce at the table. Enjoy!